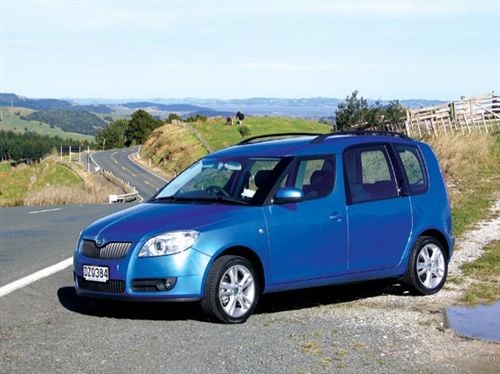 Or perhaps both – and some time after my launch drive I still can't work out which. Even Mr Skoda NZ, James Yates, initially thought; "Oh my god, we're not launching that." Mind you, he used to work at BMW…
At first glance, it looks something like a small commercial – a high-roofed, short-wheelbase, wagon-type thing, only with bigger windows and some smart detailing.
But look a bit closer and you'll find a heap of family-friendly details usually encountered in the more expensive and slightly bigger Citroen Picasso, Renault Scenic breed.
Those cars try to look like swoopy hatches, not sensible runabouts for the well-heeled.
This one doesn't bother. Function is as important as form.
Good news then, that it's really rather proficient at what it does – but whether it succeeds here may depend on whether the brand is now accepted.
Sales have been slow since Skoda's 2003 relaunch into New Zealand – a shame, because the cars are quite good. Think of a softer, more affordable VW and you've about got it.
Except the Roomster is the first Skoda not based on a VW and is only offered under this brand. That's right, there's no Golf platform under there – the Roomster is unique.
Not so the engines, which are VW-group fare. The 1.6-litre petrol in auto and manual forms offers 77kW at 5700rpm and 155Nm at 3500. That makes for 0-100km/h in a relaxed 10.9 seconds, and a claimed fuel economy of 7 litres/100km.
The 1.9-litre manual turbo diesel has the same power figure, delivered at 4000rpm, but 240Nm available at 1800rpm – good for an even more relaxed 11.5-second 0-100 time. Punch off the line is strong, though, and the car's hardly thirsty, with a claim of 5.4 litres/100km.
Looking over the stats it's hard to fault this car. The interior space is flexible – seating or luggage capacity, it's up to you.
There's a five-star crash rating to sweeten the deal; nice design touches like the integrated rear door handles; and a rear seat area that should score top marks with kids – at least those who don't know Skodas still aren't fashionable.
It'll score top marks with the grown-ups too, at least in terms of standard features.
Six airbags, traction control, a height and reach adjust steering wheel, two isofix child seat fittings, rear parking aids, steering wheel radio controls, a glass roof, 16-inch alloy wheels, a CD player with iPod capability and eight speakers, auto air, roof rails and tinted rear glass – whew – are all fitted to the $29,990 entry-level model.
The 1.6 auto and $35,990 1.9TDi auto add ESP stability control and tyre pressure monitoring. Want the base manual and ESP? No problem – just add $1000. Cruise control costs another $400.
You can't opt out of the sunroof and pay less, but it'll be part of the Roomster's child-friendly appeal. All that glass might look a tad "different" from the outside, but means rear passengers have fantastic views all round – helped by second-row seats sitting 46mm higher than the fronts.
There are three separate seats – the middle one a narrow afterthought – any of which come out; use all three, use the middle as a table, take it out and slide the outer two together… it's easy to do, and at 16kg and 11kg, they're manageable for the average-sized unfit female.
All three seats slide to and fro, and have adjustable backrests. Fold them, and there's 1555mm of luggage space; remove them, and stick 1780 litres of stuff back there; even with all seats in use and slid back as far as they'll go, the boot's 450 litres. Deceptive – the Roomster doesn't look that big. In fact, it's shorter than a Toyota Corolla, yet with all seats in use carries 167 litres more luggage.
The driving experience is a mixed bag. If you like a sporting response, you won't like this. But the Roomster handles itself much like any other 1.6 mid-sized hatch.
The engines work just fine, and its road-handling is as expected of a sensible hatch.
It's the cabin that impresses – with colour choices, that high spec and all the space and flexibility. At this price, it's hard to beat.
New Zealand now has seven Skoda dealers, including two in the South Island, plus service agents elsewhere. The good JD Power customer satisfaction reports continue – the brand's been a top-five performer for 12 years. It's got a new Fabia coming up in February, but meanwhile is hoping the Roomster will attract both private and fleet buyers.
It's done well overseas – it launched in Europe a year ago, and sold so many that production was increased to three shifts.