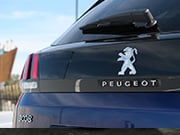 The mid-size SUV segment is the hottest one in Australia right now, as far as growth is concerned. While sales of regular passenger cars continue to gradually shrink, mid-strength SUVs are accelerating at a rate that's ahead of most other vehicular segments in this country.
Which is why Peugeot's 3008 is so important for the French brand. The time is ripe for Peugeot to capitalise on swelling demand for medium SUVs, but it needs the right product to win over consumers and make up for lost time. Peugeot isn't exactly new to the world of SUVs, but its previous attempts – largely made up of reworked Mitsubishis – were lukewarm at best.
The new Peugeot 3008 is different though. It's French, through and through, and it sets itself apart from the crowd not only through its design, but in how it drives as well. Europe can't get enough of it, and our first taste of the $39,490 (AUD) mid-grade Allure variant suggests the big Pug could take off Down Under as well.
STRENGTHS
Design – it's a standout feature of the 3008, especially so in the Allure variant. From the outside it looks dignified and upmarket, while on the inside it verges on concept car-like. The fabric dash trim looks and feels great, and is a welcome change from the leather-grained bare plastics and shiny silver-painted trim of many rival SUVs.
Other concept car touches include that ergonomic gear selector (which works better than you may imagine) and the tiny, almost hexagonal, steering wheel and high-mounted all-electronic instrument panel. It doesn't just look cool either – with the steering wheel adjusted properly (with the top of the rim entirely below the instrument panel), that display screen becomes the next best thing to an actual projected head-up display.
While some European SUVs suffer from a ride that's too sharp (we're looking at you, Volkswagen Tiguan), the 3008 manages to deliver a supple ride on ordinary roads. That said, it does tend to crash into potholes and other sharp surface imperfections.
The 3008's steering is a highlight, boasting perfect weighting and a generally effortless feel. The tiny steering wheel also makes short work of the 3008's 2.9 turns from lock-to-lock.
It's a car that accommodates people and their stuff very well. The front seats are exceptional in their comfort, conforming well around legs and torso to give excellent support. The rear bench can seat three at a pinch but is better with just two adults across it, while overhead map lights for the second row, rear face-level air vents and a wide fold-down centre armrest further improve cabin comfort.
The centre console box is simply massive, reaching deep down and stretching underneath the cupholders. At the base of the centre stack is a useful tray for phones that also incorporates a wireless charging pad – perfect for throwing some extra volts into your smartphone without having to wrestle with cables.
There are plenty of high-quality materials on display in the 3008, with the entire dash and front door card uppers being soft-touch plastic, the switches on the centre stack being finished in satin silver and the 'Brumeo' fabric trim panels boasting a fine texture that wouldn't look out of place on Saville Row. Unfortunately the rear doors don't get quite the same treatment – they're entirely hard plastic.
Driveability is better than you might expect for a tiddly 1.6-litre petrol. Its outputs of 121kW and 240Nm may seem on the low side, but the 3008 Allure pulls neatly from low RPM and steps away from standstill with plenty of urge. It runs out of puff in the upper reaches of its rev range, but the six-speed automatic does a great job of keeping the engine in the meat of its torque band.
WEAKNESSES
Autonomous emergency braking is a cost option on the Allure – which is a little hard to stomach given its comparatively high cost of entry. It's standard on the more expensive GT-Line and GT grades, along with a host of other driving aids like blind spot monitoring and lane keep assist.
The suspension tends to crash into potholes, which takes some of the sheen off what is otherwise a very accomplished and supple undercarriage.
Cruise control needs a rethink. Not only does the system flash up a deceptive "Active Cruise Control" message when you switch it on (active cruise is only standard from GT-Line grade and above), but the buttons are hidden behind the steering wheel on a stumpy paddle that's only navigable by feel. Unless you're familiar with it, it's a pain to use.
The infotainment system is one of Peugeot's best, and physical shortcut buttons below the 8-inch touchscreen improve its usability massively. However, basic operations such as changing the climate control temperature can only be achieved through the screen, complicating a task that should be much easier.
The glovebox is tiny, roughly half the size of what cars sold in left-hand-drive markets get. It's a recurring problem for Peugeots sold.
ANY RIVALS I SHOULD CONSIDER
Absolutely. The closest rivals to the 3008 in the medium SUV segment include the Volkswagen Tiguan, the Honda CR-V and Mazda CX-5 – all are compelling alternatives, but none quite match the 3008's upmarket feel and slick presentation.