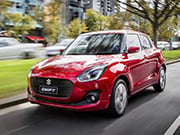 Spending some more time behind the wheel of Suzuki's newly-turbocharged light hatch reveals a car that's a lot more mature than it looks.
TELL ME ABOUT THIS CAR
The new-generation Swift has arrived boasting significant improvements in styling, equipment fit-out and powertrain tech, and it's the GLX Turbo that's the most impressive model of the bunch.
With so many major changes – not the least of which being its shift to a turbocharged three-cylinder engine from a naturally-aspirated four – the GLX Turbo warranted a more extended road test to discover its finer points.
At 82kW and 160Nm, the GLX Turbo packs significantly more muscle than the standard 66kW/120Nm 1.2 litre engine in the GL models – but what else does spending $22,990 for the top-grade Turbo net you?
STRENGTHS
Relatively grunty turbo engine has great tractability at low RPM, so the GLX Turbo rarely needs to be revved hard during regular driving. Only very steep hills will see the car drop down a gear or two, and the well-calibrated six-speed automatic gearbox doesn't hunt around either.
It's an engine that delivers on performance too. The manual shift paddles are great for keeping the 1.0-litre triple-cylinder within its meaty, torque-laded midrange, and the GLX Turbo's 915kg kerb weight means there's not a lot of mass to move in the first place. Compared to the naturally-aspirated 1.2-litre in the base GL model, the Turbo is an exceptional performer.
Fuel efficiency is great. Turbo engines often fail to deliver on fuel economy claims when subjected to real-world driving conditions, but the Swift GLX Turbo delivered an average consumption 5.5 L/100km during our week-long test – that's just 0.4L/100km off from its official claim, and perfectly reasonable considering the mostly urban driving it was subjected to.
The Swift's fairly spacious back seat is a result of the new-generation car's slightly longer wheelbase, and rear seat comfort is pretty good for a light car. Two adults should be quite comfortable back there, even on longish journeys.
Great handling and steering have long been Swift highlights, but the latest Swift range-topper goes a step further by adding a level of refinement to the way it handles. The steering is still fast and authoritative, but Suzuki has given it a more stable feel around dead-centre that makes it less of a chore to drive on highways.
The above hasn't come at the cost of the nimbleness that the Swift is renowned for, either. Lighter than before, the GLX Turbo responds to fast steering inputs with an agility that gives not only confidence, but a great deal of grin-factor as well.
In the context of budget-friendly light hatches, the Swift GLX turbo has a fairly premium fit-out. With a large, clear touchscreen giving drivers access to a built-in sat-nav system, phone functions, audio functions and smartphone mirroring, there's plenty of modern tech to keep you entertained and informed. There's also a push-button ignition, single-zone climate control, a lovely leather-wrapped steering wheel to help lift the ambience, and the cloth upholstery feels nice too.
Active cruise control and autonomous emergency braking are rarities at this end of the vehicular size spectrum, but the Swift GLX Turbo has both of these potentially life-saving features as standard.
Cabin comfort is better in the GLX Turbo, thanks to the provision of a steering column that adjusts for reach as well as rake – all other Swift models only adjust for rake.
WEAKNESSES
Vibration is very noticeable at idle and at certain points throughout the rev range. It's an issue for virtually every car with a three-cylinder engine, however, as that particular engine configuration is notoriously difficult to engineer to run smoothly.
There are a lot of hard plastics inside the Swift, which shouldn't come as any great surprise given light cars aren't known for having soft dashes and door cards (with very few exceptions). That said, the finish of the Swift's plastics is a little glossier than we'd like and makes an otherwise well-presented and tightly-assembled interior look less premium than it ought to.
Cabin noise is a common complaint for light cars, and though the new Swift is more refined than its predecessor, it does still suffer from elevated road roar when travelling at highway speed.
As good as the Swift's improvements in refinement are, the GLX Turbo nevertheless has a slightly sharp ride over smaller road imperfections like expansion gaps, manhole covers and corrugations.
Even though its six-speed automatic has a manual shift mode, it will automatically upshift when the engine nears its 6200rpm indicated redline – sometimes as low as 5500rpm. Not a major dealbreaker for a non-performance variant, but it may annoy drivers who enjoy the odd spirited drive.
We wish the GLX Turbo came with the option of a manual transmission, as it feels like the automatic – as agreeable as it is – is masking some of that engine's charm. The automatic also tends to shoot for the highest gear at the earliest possibility to help keep fuel consumption low, and it can take a moment to kick down to a more appropriate gear when you require more power.
ANY OTHER CARS I SHOULD CONSIDER
Mazda 2, Volkswagen Polo, Ford Fiesta and Peugeot 208 are the best matches for the Suzuki Swift GLX Turbo when it comes to light cars that are both well-featured and fun to drive.