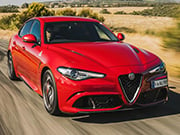 TELL ME ABOUT THIS CAR
Sitting at the top of Alfa Romeo's Giulia range is the Quadrifoglio, or QV for short. It's a fast, Italian, four-door sportscar that produces 375kW and 600Nm costs $143,900 (AUD).
STRENGTHS
Drivetrain: Alfa Romeo poached technicians from Ferrari and used them to develop the QV's 2.9-litre twin-turbo V6 engine. There are ties between it and Ferrari's triumphant twin-turbo V8, and it feels suitably exotic in the way it delivers power. It's an absolute rocketship and it sounds good, too. An eight-speed automatic gearbox is the only transmission available in Australia.
Dynamics: Once you adapt to the QV's ultra-fast steering, there's an extremely well-engineered chassis ready to be exploited. The QV is great to drive quickly and will stand up to track day use.
Styling: Every Giulia is gorgeous to look at, and the flagship QV is especially attractive. Its handsome proportions and elegant lines are enhanced with aggressive, sporty additions like a deep rear diffuser and carbonfibre accents. The engine start/stop button is attached to the steering wheel for yet another touch of Ferrari.
Comfort: The QV is better at keeping its occupants comfortable than most of the QV's rivals. It has a sophisticated adaptive damper setup that successfully softens off the ride to make it capable of daily driving. The QV also has excellent front seats.
WEAKNESSES
Space: Room in the back is a little limited inside the Giulia when compared to some rivals, and the QV's rear bench seat only accomodates two people. There is no middle rear seatbelt.
Brakes: Alfa uses a brake-by-wire system for the Giulia, which means a computer electronically controls the brakes based on pedal input, rather than connecting the pedal directly to the calipers. 
That means the pedal feel isn't as natural or progressive as expected, and at low speed it is difficult to use the QV's brakes smoothly.
Build: Some of the QV's minor controls and switchgear feels a little cheap. Our test car had a few other small blemishes in the overall build quality, including trim that wasn't correctly installed and a bonnet latch that wouldn't open. Not all QVs will be the same, but it is something to look at closely if buying one.
ANY RIVALS I SHOULD CONSIDER?
The QV is up against a strong set of competitors including the formidable BMW M3 and Mercedes-AMG C63 from Germany. However, the Alfa does things slightly differently and is definitely worth a look if either of those other cars are on your shortlist. It's Italian individuality makes it a highly attractive alternative to the norm.