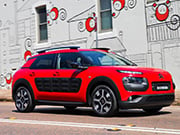 TELL ME ABOUT THIS CAR
The Citroen C4 Cactus is a compact SUV that has been around since 2016 in Australia. Its eccentric Gallic styling and high level of comfort were well received here, only for it to be let down by its two powertrain options – a gutsy, but manual-only, three-cylinder turbocharged petrol engine, or a 1.6-litre turbo diesel coupled with a clunky and unbecoming semi-automatic transmission.
Citroen finally saw sense late last year revamped its line-up, deleting the diesel and adding a version with a proper six-speed automatic transmission mated to the sweet 1.2-litre petrol engine. As before the C4 is available in 'Exclusive' trim solely, with the 1.2-litre manual costing $26,990 and the auto $29,690 (AUD).
STRENGTHS
The 1.2-litre 'PureTech' turbo petrol engine, coupled with the six-speed auto is a big improvement over the semi-auto diesel powertrain. It feels nimble around town but doesn't mind the open road either. It has a Sport mode for a bit of extra driving enjoyment, and Snow setting for slippery surfaces.
It's spacious inside. The back seat has the width to fit three grown men, though legroom is a little tight. Its cargo space is sizable at 358 litres, which is about average for a compact SUV.
The official fuel consumption rating is a frugal 5.1L/100km with the automatic transmission, not much more than the manual.
Once you work out what the steering wheel buttons do, you'll find it simple to operate the infotainment system, which is little like a labyrinth at first when trying to navigate via the touchscreen.
The cruise control is simple to operate from the steering wheel and there's even a quick speed-limit selector which shows common speed limits on the touchscreen to set your speed to.
The front seats are comfortable with a nice wide backrest and upward tilting cushion that supports your thighs.
The suitcase-style, upward-opening glovebox looks cool and can store quite a few things.
If you're reading this review you probably agree that the Cactus looks cool and has oodles of charm.
The air-bumps on the side of the doors help avoid scratches but are also available in a few different colours giving an opportunity to customise the look of your Cactus.
It's covered by Citroen's five-year warranty with five year roadside assist.
WEAKNESSES
The steering wheel doesn't have a reach adjust, which can make it difficult to find the best seating position, which is a shame because the seats themselves are comfortable.
Wind-noise and tyre-noise can be an issue in the back seats.  
Despite the interior space there aren't many cabin storage options beyond the big glovebox. There are a couple of tubs to put your keys and phone up front, but there's nothing at the back except for door bins, not even seat pockets.
The back windows pop out a few centimetres, which suits the Cactus' styling but isn't as nice as being able to roll them down fully on a nice day.
ANY RIVALS I SHOULD CONSIDER?

Cactus sits in a busy segment, though not all of its rivals are quite so characterful. Competitors include Mazda CX-3, Fiat 500X, Mini Clubman, Renault Captur, Jeep Renegade, Honda HR-V, Nissan Juke, Holden Trax and Ford EcoSport.