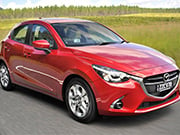 TELL ME ABOUT THIS CAR
The GT variant of the Mazda 2 sits at the top of the light-car range and is available as a hatch or sedan, and with the choice of a six-speed manual or six-speed automatic transmission to go with its 1.5-litre four-cylinder petrol engine.
It's incredibly well-equipped for a car priced below $25,000(AUD) with standard features including two-tone leather interior, head-up display and automatic emergency braking.
The GT retails at $21,680 (AUD) for the manual and $23,680(AUD) for the auto, with no differences between sedan and hatch pricing. We tested the automatic hatch.
STRENGTHS
The interior looks great for a car in this class. Our test vehicle had two-tone cream and black leather which really gave it an airy feel. Most surfaces had a premium, soft-touch finish including the dashboard and door trims.
The Mazda 2 seats four adults in comfort for short or moderate trips, with good legroom in the rear, though headroom is a little tight for longer bodies.
It's very well equipped, with a head-up display, cruise control, rear parking sensors, 7.0-inch touchscreen, digital radio, satellite navigation, LED headlights with LED daytime running lights, climate control air-conditioning, digital speedo, 16-inch alloy wheels, push-button start and auto-folding door mirrors.
Active safety in the Mazda 2 GT includes automatic emergency braking, rear-cross traffic alert, blind-spot monitoring.
Ride quality is good and it handles well in all but the trickiest of corners thanks to Mazda's G-Vectoring Control, which manipulates the engine when you turn the steering wheel to transfer weight to the front tyres in a way that is said to improve response and reduce driver fatigue.
The hard-working 81kW/141Nm 1.5-litre engine does well with the six-speed auto, though it is a little sluggish from a standing start in the default drive mode. Sport mode sends revs to redline before changing up gears, though sometimes you need to double tap on the accelerator for it to gear down again. The Normal drive mode does a much better job of holding engine torque once you get going.
WEAKNESSES
The Mazda's boot space is 250-litres, which is a little below average for a light hatch, and well below rivals including the Hyundai Accent (370 litres), Volkswagen Polo (351 litres) and Kia Rio (325 litres). If boot space is important, the Mazda 2 sedan holds a cavernous 440-litres.
Despite improvements to reduce cabin noise levels with the Mazda 2's more recent upgrade, there's still quite a bit of road and wind noise inside at higher speeds.
While it provides dependable performance the 1.5-litre engine is showing its age against the smaller but more powerful and efficient turbocharged units under the bonnets of its main rivals.
Also showing its age is the infotainment system, which is user-friendly but lacks Apple CarPlay/Android Auto connectivity and includes apps that are now defunct such as Pandora and Stitcher radio.
The rising rear window-line obscures side vision for children in the back seats.
ARE THERE ANY RIVALS I SHOULD CONSIDER
In GT spec the Mazda 2 is a class above many of its rivals and, despite being one of the older designs on the market, can be considered alongside European-built models such as the new Volkswagen Polo, Citroen C3 and Skoda Fabia, and against fellow countryman the Suzuki Swift GLX Turbo