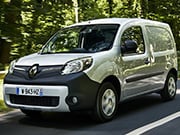 Renault's decision to import two of its most popular European-market battery-electric cars is one that should pique the interest of small business operators.
And it's not the stylish Renault Zoe city compact that will have their attention, but rather the more utilitarian Kangoo Maxi ZE that will accompany it here.
TELL ME ABOUT THIS CAR
Renault's electric Kangoo has been in Australia before, but only as part of a limited trial conducted by Australia Post with early-model Kangoo ZEs, with a limited range of between 80km and 125km. The 2018 model that's heading here, however, boasts a higher-capacity 33kWh lithium-ion battery pack that delivers between 120km-200km of real-world driving on a single charge.
Based on the conventionally-engined Renault Kangoo Maxi diesel, the Kangoo Maxi ZE (which stands for Zero Emission) is offered in a single specification with space for two – driver and a single passenger. Priced at $45,990 (AUD), Kangoo buyers will also need to factor in the cost of a 7.4kW charging unit, which can charge up a fully depleted battery in six hours.
The sales model for the Kangoo ZE is also slightly different from that of regular Kangoos. As with the Zoe, Renault Australia only intends to sell the Kangoo ZE directly to business and government fleets. Small business operators are welcome, but at this point only two dealerships will be set up to service and repair the electric van – one in Melbourne, the other in Sydney.
STRENGTHS
Low running costs is the Kangoo ZE's biggest virtue, with cheap electricity being the only thing it needs to get from depot to delivery. No diesel, no lubricants, no fuel additives. With a simple electric motor sitting between the front wheels, there's less opportunity for mechanical issues too – above all else, the Kangoo ZE should be cheap to run.
Cubic capacity measures in at 4000 litres, giving the Kangoo Maxi ZE the exact same cargo volume as the diesel-engined Kangoo Maxi. There's also left and right sliding doors and rear barn doors as standard, making it easy to get your stuff in and out. Meanwhile, a steel bulkhead separates people from cargo and makes the cabin a little more comfortable too.
Ease of driving is enhanced in the Kangoo ZE through its strong regenerative braking, which converts forward motion back into stored electrical energy the instant to lift off the accelerator. In layman's terms, it means the car slows down faster without the driver needing to touch the brake pedal, which can reduce help reduce fatigue during a long day's driving.
The Kangoo's single-charge range is comparatively limited when measured against conventionally-powered small vans, but if the van makes frequent returns to a depot throughout the work day its range can be stretched further easily. An hour on the charger will net around 35km of extra range, allowing more distance to be travelled if you plug it in frequently.
Driver comfort can be enhanced if you take advantage of the ZE's 'pre-conditioning' feature. Set the expected time of departure and plug it in to charge, and the car will get its airconditioning or heater running well before the van's work day begins. No more starting a shift in an ice-cold (or scorching hot) van, and it's all done using power drawn from the plug – meaning you won't waste energy by heating up or cooling down the car.
WEAKNESSES
While the cargo volume is the same as the combustion-engined Kangoo, the ZE's maximum payload tops out at 650kg – 180kg shy of what the diesel can carry. Batteries are heavy, after all.
The Kangoo ZE isn't suited for businesses that need to travel great distances throughout the day. Plumbers and electricians who make multiple house visits throughout the day will likely find the Kangoo's range to be insufficient.
Even with no cargo aboard, the Kangoo ZE is slow to accelerate. Its 44kW/226Nm electric motor has less torque and almost half the power of the diesel-powered Kangoo that it's based upon.
The cost is a drawback, and realistically means the Kangoo ZE will only find favour with companies that can not only deal with the limited range but also spare the extra cash to have an environmentally-friendly van in their fleet.
ARE THERE ANY RIVALS I SHOULD CONSIDER?
As far as electric commercial vehicles go, there are no competitors to the Kangoo. On pure cost terms, the Kangoo Maxi ZE competes with larger commercial vans like the Ford Transit Custom, Volkswagen Transporter and higher-spec versions of Renault's own Trafic.