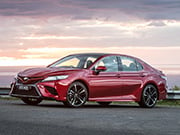 The top of the line Toyota Camry brings plenty of V6 grunt to the party
TELL ME ABOUT THIS CAR
The first fully-imported Toyota Camry in decades, replacing the Aussie-built version. The Camry V6 SL ostensibly fills the hole left by the departure of the Aurion, and sits atop the family tree as the flagship model.
STRENGTHS
Ride. Toyota has done great work improving the suspension and handling of the new Camry over the previous generation. Passengers are kept comfortable and isolated from bumps in the road, making the SL a commendable highway cruiser. The V6's suspension is slightly firmer than others in the range, but still supple without wallowing.
Power. With 224kW and 362Nm, the 3.5-litre naturally-aspirated V6 has a nice punch to it. It's not a performance car, but plant the right foot, and it will shift impressively.
Value. The flagship Camry will set you back $43,990, and while it doesn't have some of the treats of certain rivals (hello, seat heaters), it is well equipped for the price and Toyota's reputation for reliability exists for good reason.
Infotainment. A new Linux-based infotainment system in the Camry is a delight.
WEAKNESSES
Not as engaging as hoped. Toyota promised the new imported Camry would be the 'most dynamic yet'. While it is a solid improvement over previous models, the V6 SL still falls short for enthusiasts. The front can feel heavy upon corner turn-in, and the eight-speed automatic gearbox is reluctant to hold gears, or humour manual shifting with wheel-mounted paddles. But that's not the Camry's primary function, is it?
Seating position/rear headroom. Electrically adjustable front seats are comfortable, with good cushioning and soft leather. However they don't lower far enough for taller drivers, leaving you feeling perched in the cabin. Rear headroom is also significantly hampered by the impressive moon-roof. Six-foot plus passengers will have copious legroom in the back, only to have to tilt their heads.
Appetite for fuel. The V6 has a nice boost in power, but won't be sipping its fuel like a teetotaler. Official figures are 8.9L/100km, but you can expect that to swell in to double figures easily.
ANY RIVALS I SHOULD CONSIDER?
Yes, lots! The Volkswagen Passat, Mazda 6, Skoda Octavia, Honda Accord, Kia Optima, Ford Mondeo, Hyundai Sonata, new ZB Holden Commodore, and Subaru Liberty are all rivals to the Camry.