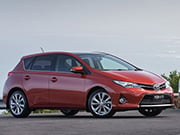 The Toyota Corolla is available in hatch and roomier sedan body shapes with a hybrid powertrain introduced as an alternative to the 103kW/173Nm 1.8-litre four-cylinder engine that powers the rest of the range. CVT auto is available across the range, with some models also offering a six-speed manual.
VARIANTS
There are five main specification levels starting with the Ascent priced from $20,190 (AUD) for the manual hatch, with a premium added if you want it with a CVT auto, or in sedan form.
Standard features in the Ascent hatch includes cruise control, reversing camera, rear parking sensors, 6.5-inch touchscreen infotainment system, and 16-inch steel wheels with hubcaps. There's also an optional safety pack for around $780 with auto emergency braking, lane departure alert, forward collision warning, and auto dipping headlights.
The Ascent sedan has a bigger 7.0-inch touchscreen with Toyota Link infotainment system, but fitted with smaller 15-inch steel wheels. The safety sense option in the sedan is only available in conjunction with 15-inch alloy wheels for $1571 (AUD).
The Ascent Sport is a hatch-only model with a few extras over the Ascent hatch including 16-inch alloy wheels, premium feel steering wheel, and the Ascent sedan's 7.0-inch touchscreen system. Satellite navigation is optional for about $1040, or around $1800 when bundled with Safety Sense pack.
The mid-spec Corolla SX comes in hatch and sedan form, though there are some differences between the two. The SX hatch only comes with the CVT auto and features 17-inch alloy wheels, satellite navigation, paddle gear shifters, sports front seats, and sporty body kit.
The SX sedan on the other hand comes with a CVT or manual option and keyless entry, but lacks the hatchback's sports seats and is shod with smaller 16-inch alloys.
The Hybrid hatch has the fuel saving battery assisted hybrid powertrain, which features the same 1.8-litre engine as the other models. It has similar features to the Ascent Sport, including 16-inch alloy wheels and plush cloth seats, as well as a string of extras including dual-zone air-conditioning, satellite navigation, keyless entry and start, and LED headlights with daytime running lights. It also has a different suspension setup to the conventional models with a double-wishbone design that improves grip and stability. There is no manual hybrid hatch.
The Corolla range is topped by the sporty ZR hatch and sedan which also lack a manual option. The hatch gets the sportier wheels and tyres from the SX, and the hybrid hatch's extra features. Its heated sports seats are trimmed in a combination of real and fake leather, and the driver's seat has power-adjustable lumbar support. It also comes with the Safety Sense pack as standard, which is an option in all the other models. You can also add a panoramic roof for around $1600 (AUD).
The ZR sedan is similarly equipped as the hatch, but gains eight-way power adjustable driver's seat though only equipped with single-zone air-conditioning. The panoramic roof is not an option for the sedan.
Corolla Ascent hatch manual – $20,190 (AUD)
Corolla Ascent hatch, auto – $21,790 (AUD)
Corolla Ascent sedan, manual – $21,240 (AUD)
Corolla Ascent sedan, auto – $23,490 (AUD)
Corolla Ascent Sport hatch, manual – $21,210 (AUD)
Corolla Ascent Sport hatch, auto – $22,790 (AUD)
Corolla SX hatch, auto – $26,000 (AUD)
Corolla SX sedan, manual – $23,820 (AUD)
Corolla SX sedan, auto – $26,070 (AUD)
Corolla Hybrid hatch, auto – $27,350 (AUD)
Corolla ZR hatch, auto – $30,020 (AUD)
Corolla ZR sedan, auto – $31,930 (AUD)
OUR PICK
The Toyota Corolla Hybrid Hatch represents exceptional value with its better suspension and state of the art powertrain that sips fuel at a rate of 4.1L/100km (combined cycle), compared to around 6.1L/100km for the similarly equipped petrol hatches.
Of the petrol-only Corollas the Ascent Sedan has decent interior space and good equipment, especially if you add the optional Safety Sense pack and more attractive alloy wheels.  
AVAILABLE OPTIONS
Toyota Safety Sense (all models except Accent sedan and ZR) – $784 (AUD)
Toyota Safety Sense and 15 inch alloy wheels (Ascent sedan) – $1571 (AUD)
Toyota Safety Sense and satellite navigation (Ascent Sport) – $1826 (AUD)
Satellite navigation (Ascent Sport) – $1042 (AUD)
Panoramic roof (ZR hatch) – $1597 (AUD)
Premium paint – $467 (AUD)