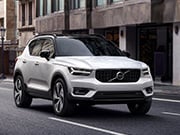 TELL ME ABOUT THIS CAR
Volvo's first small SUV has made a stylishly late entrance to the segment, with its handsome chiselled exterior and airy interior design. Built on an all-new architecture, the all-wheel-drive XC40 draws on the Swedish brand's success with the bigger XC60 and XC90, mixing style, function and safety with small but powerful turbocharged 2.0-litre diesel and petrol engines.
The XC40 range is priced between $47,990 (AUD) and $57,990(AUD) and is available in four key variants – T5 petrol and D4 diesel versions of the Momentum and sporty R-Design spec levels. We drove the T5 R-Design Launch Edition that costs $1480 more than the standard T5 R-Design's $54,990 (AUD) retail price, with the extra coin bringing a bunch of otherwise optional extras including a huge panoramic sunroof, heated front seats, Park Assist Pilot, adaptive cruise control, 360-degree camera to aid with parking, anti-theft alarm, tinted rear glass, power folding rear seat backrests, and a 13-speaker Harman Kardon sound system.
STRENGTHS
The spacious cabin is testament to modish Scandinavian design with plenty of attention to detail placed on aesthetics and convenience. The cabin has a wonderful airy feel that is accentuated by the optional orange 'Lava' carpet and door trims that highlight design elements such as the floating arm rests.
You're not lacking for storage, with huge front door bins that can hold a laptop bag, a handy removable rubbish bin in the deep centre console and even a flip-out handbag hook on the glovebox lid.
The exterior looks great too. Volvo's designers have managed to balance youthful looks that define most small-SUVs while maintaining the sophisticated stance and sculpted lines that help define the larger (and Wheels COTY winning) XC60. The sleek headlights with 'Thor's hammer' DRLs complete the look.
The XC40's 1652mm height results in plenty of headroom. The back seats will comfortably accommodate two six footers, with ample the legroom the match.
Despite its height, the XC40's taught chassis absorbs the high-centre of gravity well to minimise body roll around bends. 
It's fun to drive, with zippy handling and a composed ride. Any firmness from the 20-inch Pirelli Pzero tyres is well absorbed and controlled by the suspension, plus the front Nappa leather seats are ergonomic, comfortable and chic.
The 182kW T5 turbocharged petrol engine is a peach. It feels relaxed when driving around town and at highway speeds, but it comes alive when you put foot down to overtake with much of its 350Nm of torque available between 1800 and 4800rpm via the obedient and smooth shifting eight-speed automatic transmission.  
It's a quiet ride, with little tyre rumble though there is some wind noise around the wing mirrors and rear doors at higher speeds.
The boot space is decent for this class at 460 litres with the seats up, and makes the most of the space with four bag hooks and a false floor that reveals a deeper section to securely hold items such as shopping bags. The rear seats fold down with the touch of a button to increase capacity up to 1336 litres.
WEAKNESSES
While there's plenty of leg and headroom for two adults, the rear seats lack under thigh support. Bumps are keenly felt down back too, and the short arm rest only supports your elbow meaning there's not much to hold on to on winding roads.  
Side vision for smaller rear-seat passengers is hampered by window pillar and the rising shoulder line.
The steering is light, which helps to make the XC40 feel agile and wieldy in city traffic, but it lacks feel and is disconnected from the front wheels at higher speeds, which can sap confidence through bends.
The small leather gear shifter requires some familiarisation as it needs a double tap action to get from drive to reverse. Owners will no doubt get used it, but initially they find themselves trying to reverse or move forward while in neutral.

ARE THERE ANY RIVALS I SHOULD CONSIDER?
Similarly priced 2.0-litre turbocharged petrol competitors include the Audi Q2 2.0 TFSI, Audi Q3 2.0 TFSI, BMW X1 25i, BMW X2 20i, Jaguar E-PACE P250 and Mercedes-Benz GLA 250.