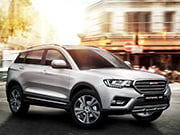 TELL ME ABOUT THIS CAR
After a relatively soft introduction, Chinese SUV specialist Haval is quietly rallying its troops for a reinvigorated assault on our potentially lucrative market at the end of the decade.
The strategy includes an all-new platform, a fresh model line-up likely to include the small H4 and an updated version of its 1.5-litre turbo four-cylinder engine, bolted to a seven-speed dual-clutch auto that the company developed itself.
We won't know exactly what is in store for Australia until closer to 2019, but a quick blast in the H6 Coupe in the brand's native China offered a glimpse of how the brand is attempting to evolve for a global audience.
The current H6 Coupe is powered by a 2.0-litre turbo petrol, so a first sample of the more sophisticated 1.5-litre and home-grown gearbox is an insightful barometer to the undertow of plans the car giant has in store.
STRENGTHS
While all aspects of the H6 Coupe are of interest, it is the drivetrain that is of most relevance and it is in this area that the model has made the biggest changes. Despite the downsizing, torque is relatively abundant at 285Nm, and comes in lower down the rev range. It might not have the outright grunt of the 2.0-litre that it replaces (124kW vs 145kW) but a diminutive 1.5-litre is surprisingly adequate.
The upside is that fuel consumption has dropped dramatically. The capacity downsize is partly to thank, but more advanced engine tech is also attributable to a new claimed combined figure of 6.8 litres per 100km, down from 9.8L/100km.
A snappy transmission pairs well with the upgraded engine and enables brisk acceleration off the mark. The odd awkward cog-swap was the only inconsistency in the otherwise smooth operation.
Out on the freeway the H6 hides its little engine well, with low NVH levels and enough torque to cruise effortlessly and without having to downshift for gradient changes.
Ride quality is also commendable on a variety of surfaces although the final call will have to wait for an evaluation on Australia's unique roads. The company is considering a local chassis tune similar to Kia and Hyundai's outfit, which would doubtless result in a better package.
Inside, there's a huge cabin with plenty of space in the second row for kids and adults and almost endless headroom despite this being the 'coupe' (with a sportier, sloping roofline) of the range.
As is the case with the version on sale in Australia, standard equipment is generous for the price and the standard of fit and finish in this updated H6 will become a selling point compared to other Havals. We liked the interior design which is different without having to resort to showiness to be memorable.
WEAKNESSES
Haval may be justifiably labeled a luxury SUV-maker in China but it has not yet earned that status in Australia's far more demanding arena. That doesn't mean the H6 Coupe cannot compete however, but in a more affordable segment.
The cabin still has too many cheap plastics to compete against Jeep's Compass and the Kia Sportage, for example, but the quality has incrementally improved and would be regarded as passable for many Australians shopping on a budget.
While infinitely better than the H6 (non-coupe, which isn't sold in Australia), the H6 Coupe's steering is on the vague side and would benefit from a little more weight in turns.
Disc brakes in all corners are effective but over-assisted and needlessly aggressive.
Power and torque has dropped from 145kW/315Nm to 124kW/285Nm, which dents outright performance to deliver better economy.
Pricing is yet to be confirmed, but how much a little-known SUV maker will ask for any model is critical to the company's success (or otherwise) in Australia. The current H6 Coupe retails for $29,990 but with the more advanced engine and extra tech, the 2019 equivalent might carry a slightly heavier sticker.
Brand equity still has a long way to go in Australia and that is likely to affect resale values as a majority of buyers stick to seasoned longstanding marques.
ANY RIVALS I SHOULD CONSIDER?
If you're in the market for a mid-sized SUV that won't break the bank or your spirit then the Hyundai Tucson and Kia Sportage should certainly be on your list of must drives.
If something a little left field is appealing then Jeep's new Compass is worth a look but will stretch the budget to equal the Haval's equipment level. Mazda has a strong following of the CX-5 for good reason but this again will need a slightly fatter budget to compare with a similar level of equipment, but offers better build quality and brand reputation (read: resale).