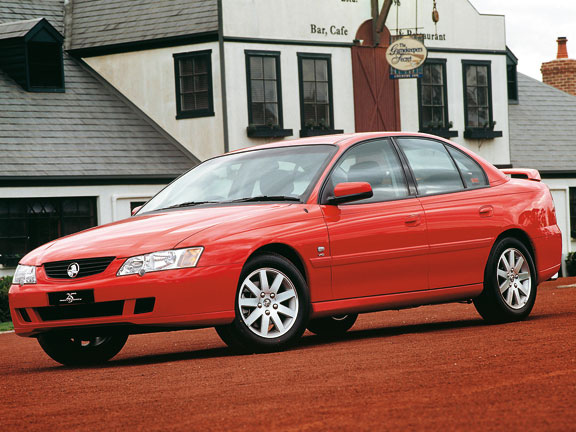 Big cars are out of vogue at the moment, and there are stories all over the trade of high-spec V8 Ford Falcons and Holden Commodores going for a song.
But despite the price of petrol, a big Aussie sedan need not break the bank every time you go to the gas pump.
Driven with care and letting the car do the work rather than mashing the throttle with your right foot, a Commodore, especially a V6-powered one, can return similar fuel economy to an options-loaded Japanese 1.8 or 2.0-litre car.
And there will always be highly collectable big Aussies, like the Falcon XR6 station wagon or special edition Commodores. The 25th anniversary Commodore is a case in point.
To celebrate the carline's 25th birthday in 2003, Holden released special limited edition versions of the sedan and wagon.
They had individual exterior and interior design treatments and a selection of extra comfort and convenience features.
Holden only built 4700, which went on sale that October 26, precisely 25 years after the original VB Commodore debuted.
They were available in six exterior finishes, had automatic transmissions, and Ecotec 3.8-litre V6s.
They got unique nine-spoke 16-inch alloy wheels and a chrome exhaust extension. 
Mirrors, grille surround, side mouldings, sills and lower facia were all finished in body colour. 
The sedan got a rear spoiler, and the wagon got a roof rack with body coloured roof rails and rear dust deflector.  Both wore special 25th anniversary badges.
Inside, there was unique velour knit fabric upholstery, a six disc in-dash CD changer, power windows all round, air conditioning and unique floormats. 
The steering wheel, automatic transmission selector and handbrake were leather-wrapped and door pulls finished in satin chrome. 
A '25th anniversary' appeared in the electronic multi-function display at start-up, and each car came with a silver anniversary key ring.
Otherwise, the cars had standard VY II Commodore equipment, including driver and passenger airbags. ABS braking system, Twilight Sentinel automatic headlight control, headlights-off programmable delay, cruise control and trip computer, steering wheel-mounted audio controls, road speed sensitive intermittent windscreen wipers, and there were aircraft-style cargo tie-down rails in the wagon's load area.
Options on both included side airbags and the sedan could be ordered with rear park assist.
Holden Commodore Fast Facts
In its first 25 years, the most popular Commodore model was the 1997–2000 VT with 303,895 produced
The VS (1995-1997) racked up 277,774 units, the VN (1988–1991) 215,180, and the VX (2000–2002) 207,339
Holden built Commodore sedans and wagons in left- and right-hand drive configurations at Elizabeth, South Australia. In earlier years, Commodores were also produced at Holden plants in New South Wales, Queensland and Victoria.
To September 30, 2003, Holden had built 2,048,180 Commodores, and exported  more than 180,000.
Export markets included New Zealand, the Middle East, Brazil, Southern Africa (badged Chevrolet, left-hand drive), Brunei and Fiji
The VR Commodore was the first Australian-manufactured vehicle to offer a driver airbag, in 1993
Its successor, the VS, was the first Australian-manufactured vehicle to offer driver and front passenger airbags in 1995, and in 1998, the VT became the first Australian-manufactured vehicle to offer side impact airbags and the first to offer a computer-optimised restraint system (1997)
The 2000 model year VX was the first Australian-manufactured vehicle to offer ABS across the range Holden says 53 percent of Commodore buyers replaced an existing Holden, 49 percent nominated the Holden brand as a major factor in the purchase, and 58 percent of Commodore buyers said they would buy a Holden next time