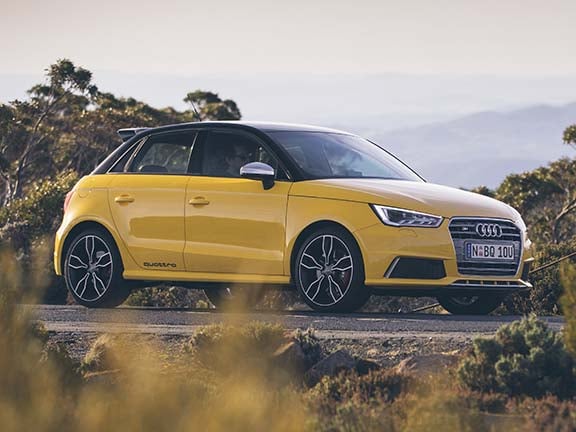 Base price: $59,900.
Powertrain and performance: 2.0-litre turbo petrol four, 170kW/370Nm, 6-speed manual, four-wheel drive, Combined economy 7.1 litres per 100km, 0-100km/h 5.9 seconds.
Vital statistics: 3975mm long, 1423mm high, 2469mm wheelbase, luggage capacity 270-920 litres, fuel tank 60 litres, 18-inch alloy wheels on 225/35 tyres.
We like: Frantic performance and handling, build quality.
We don't like: Expensive with expensive options on top, low-rent MMI screen.
How it rates: 8/10
WHAT DO I NEED TO KNOW? Despite a plethora of high-performance S and RS models in its ranks, Audi has never offered a really serious go-fast version of its A1 hatchback.
That has changed with the launch of the S1, which introduces a more powerful version of the 2.0-litre turbo engine from the Volkswagen Golf GTI and quattro four-wheel drive into this supermini-sized machine.
The S1 has a lot to live up to: it shares its badge with a legendary short-wheelbase version of the Audi Quattro rally car from the 1980s.
WHAT'S IT LIKE TO DRIVE? All comparisons with the Golf GTI end here, because the S1 has a very different character to its VW-Group cousin. The GTI is a great everyday car, whereas the S1 is really an enthusiast-only proposition: it's smaller and lighter, much more manic and with quattro there's a more determined handling character.
Because it has taken some work to squeeze the four-wheel drive system into the S1's tiny frame, Audi's dual-clutch automated transmission doesn't fit, so this car is available exclusively with a six-speed manual gearbox. As we said, enthusiasts only need apply.
This is a truly rapid car, rocketing to 100km/h in under six seconds. The powertrain is well-mannered, but if you are aggressive with the controls, the S1 can respond in surprisingly brutal fashion.
Same with the chassis: punch the throttle out of corners in a low gear and the S1 simply grips and goes. Great brakes, too. Drive hard and you'll find yourself both elated and exhausted.
Audi has made major changes to the A1's chassis for this model. The basic torsion-beam rear suspension has been replaced by a multi-link setup, while a torque-vectoring system can brake individual wheels to send more to the outside – in effect stabilising and speeding-up the car through corners.
IS IT EASY TO LIVE WITH? At under four metres long, the S1 is well within classic supermini dimensions. It's not a spacious model like a Honda Jazz, though: the rear seat is tight and the boot is tiny at just 270 litres. But that matters less in the hard-core performance S1 than it does in the more mainstream A1 models.
The interior is typically Audi: a touch conservative perhaps, but beautifully finished. The only off-note is the pop-up screen for the sat-nav and other Multi Media Interface (MMI) functions: it's absurdly small by current standards and it's not even powered. It's spring-loaded and you just click it up and down as required. It wasn't very smart back in 2011 when the A1 was launched and it's even more low-rent now.
It's not hard to spice up the S1 interior, providing you're willing to spend the money. For $4500 you can order a quattro interior package that includes sports front seats with a high-gloss plastic finish on the back (colour to match the exterior), more gloss trim for the centre console/vents and special floor mats.
SHOULD I BUY ONE? The S1's performance and handling are utterly addictive. If you're a driver who likes to feel a really close connection with a car, you'll love the S1 – not just due to three-pedal gearbox, but also the responsive and strong engine.
The S1's Q-car status is also quite appealing: it's pretty hard to pick it from a cooking A1. However, it is possible to dress it up with a $3500 quattro exterior package that brings red trim for the headlights and brake calipers, alloy-look trim for the front spoiler, a large wing on the roof and 'quattro' decals on the rear doors.
Add the exterior and interior packages and you will have pushed the S1's price up to $67,990, which is ridiculous for a five-door supermini. But we have no doubt there will be buyers who will do just that: the S1 is a really special car and it's easy to get carried away.
EQUIPMENT CHECKLIST
Blind spot warning: No
Lane guidance: No
Cruise control: Yes
Automatic lights/wipers: Yes/yes
Parking radar: Rear
Self-parking technology: No
Head-up display: No
Satellite navigation: $3500 with Technology Package, also includes Parking Aid Plus
Keyless entry/start: No
Stop-start: No
Air conditioning: Climate
Heated/ventilated seats: No
Power seat adjustment/memory: No
Leather upholstery: $3250
Power boot or tailgate: No
Split/folding rear seats: 60/40
Browse Autotrader's range of Audi cars for sale.