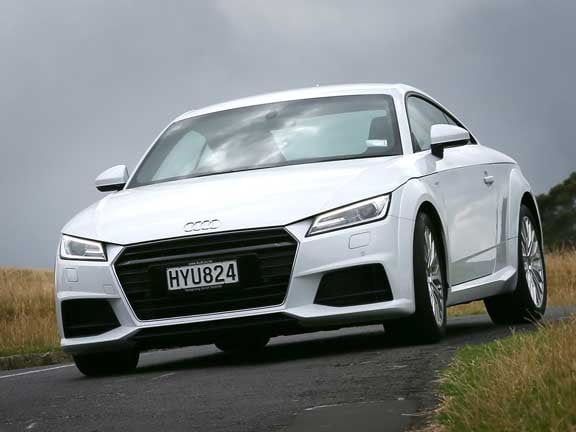 Base price: $91,800.
Powertrain and performance: 2.0-litre turbo petrol four, 169kW/370Nm, 6-speed automated dual-clutch transmission, front-drive, Combined economy 6.3 litres per 100km, 0-100km/h 5.9 seconds.
Vital statistics: 4177mm long, 1353mm high, 2505mm wheelbase, luggage capacity 305-712 litres, fuel tank 50 litres, 19-inch alloy wheels.
We like: Sensational performance, accomplished chassis, high-tech dashboard.
We don't like: Needs quattro to be credible, too many driver-assistance features relegated to options list.
How it rates: 8/10
WHAT DO I NEED TO KNOW? The world's most famous fashion coupe is back, in an all-new third generation model.
Like so many cars in the Volkswagen Group universe (and it really does seem like a universe), the TT is now based on the ubiquitous MQB platform, which means it's closely related to any number of mainstream VW and Skoda models.
With a starting sticker of $92k and that svelte styling, the real challenge for the TT is to justify its price point with great dynamics and cut-above quality.
WHAT'S IT LIKE TO DRIVE? On paper, the TT is not off to a great start. It's been launched in New Zealand in front-drive form only to begin with. A pseudo-sporting Audi sans quattro four-wheel drive seems like a hard thing to swallow. The more powerful (and even more expensive) TTS quattro is due to be launched any day now.
But for now, we're left with a TT that's pulled along like a family hatchback.
Well, it's not quite that bad. The 2.0-litre turbo engine produces a lot of power, the S-tronic dual-clutch gearbox changes cogs mighty fast and as a result the TT can rocket to 100km/h in under six seconds. That's fast by any measure.
But what about the corners? The TT is a very well sorted front-driver, with the wheels multi-tasking (steering/accelerating) in fine fashion. In truth, the powertrain configuration only becomes an issue if you're really aggressive with the throttle in tight corners and/or the road is wet. This is supposed to be a sporting car and it rains sometimes, so neither can be ignored. But it's an impressive piece of engineering all the same.
You can adjust the character of the car with the Drive Select menu and if you're really serious you can specify adaptive suspension with magnetic ride control.
IS IT EASY TO LIVE WITH? Style and technology are the TT's main weapons. The former you can judge for yourself: the look is a bit more aggressive than past models, while retaining some familiar design cues such as the wheel arches that breach the bonnet line.
The single-frame grille dominates the front and underlines a TT fact: this is the only Audi model except for the R8 that wears its four-ring logo on the bonnet.
The cabin is dominated by another design statement: the Audi Virtual Cockpit. The entire instrument panel is a 12.3-inch high-resolution digital screen, which means you can configure it in different ways.
There are two basic layouts. In classic view you get something close to a conventional instrument panel, with a speedometer and tachometer in the foreground and other information clustered around them.
But in infotainment view you get a massive central screen that can showcase anything you want from the Multi Media Interface (MMI) menu – a satellite navigation map or audio tracks, for example – with the regular dials squeezed down to the side. It looks amazing and is quite intuitive to use, once you're mastered the various physical controls provided on the steering wheel and dashboard that enable you to navigate around the screen.
The Virtual Cockpit has also provided the impetus for Audi to have a massive cleanup on the rest of the dashboard. It's gone completely minimalist, with clean lines and the controls for the air conditioning relocated to the centre of the vents themselves.
Fit and finish is flawless in true Audi fashion. The materials are gorgeously tactile and the quality is second to none.
A high-end experience then, even if there are a few odd omissions. For example, the layout of the Virtual Cockpit precludes the front-seat passenger from having anything to do with controlling sat-nav or audio, because everything has been relocated to the driver's zone. There's no centre-console screen like you get in other Audis.
The air conditioning is single-zone only – again, bad luck passenger – and you can't even get a reversing camera as an option, which seems like a waste of that screen and perhaps also a safety issue on a car with such limited rearward visibility.
SHOULD I BUY ONE? In theory, a TT based on a front-drive VW Golf platform sounds problematic at the very least. But the execution is exceptional, with serious performance, composed handling and outstanding cabin quality. As it should be for $92k.
So this is a promising start, but we can't help feeling that the TT is not fulfilling its full potential. It's too accomplished to rest on its status as fashion icon, so we'll wait for the 228kW/380Nm TTS quattro, thanks.
EQUIPMENT CHECKLIST
Blind spot warning: $1600 with side assist package
Lane guidance: $1700
Cruise control: Yes
Automatic lights/wipers: Yes/yes
Parking radar: Rear
Self-parking technology: No
Head-up display: No
Satellite navigation: Yes
Keyless entry/start: Yes/Yes
Stop-start: Yes
Air conditioning: Climate
Heated/ventilated seats: Yes/No
Power seat adjustment/memory: Yes/No
Leather upholstery: Yes
Power boot or tailgate: No
Split/folding rear seats: 50/50
Browse Autotrader's range of Audi cars for sale.