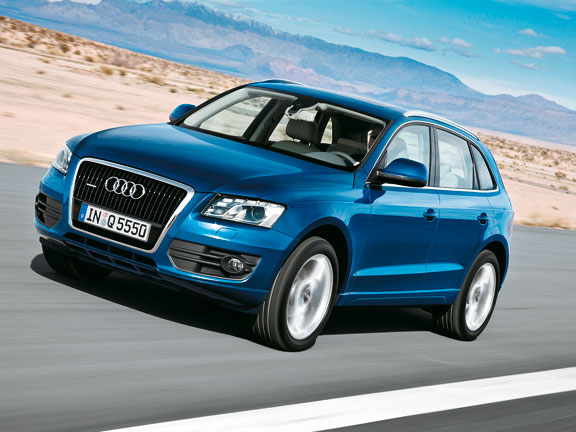 Audi says its new high-performance SUV, the Q5, combines the dynamism of a sports sedan with a versatile interior.
At the car's international media launch this week, Audi said the Q5 will be available with a choice of three engines, quattro permanent all-wheel drive and sports suspension.
Two models have a seven-speed S tronic dual-clutch transmission.
Audi says the Q5 is the sports car of its SUV range, and it will go on sale in Europe late this year, and in New Zealand in 2009.
It's 4.63 metres long and 1.88 metres wide, but only 1.65 metres tall, giving it sporty proportions. Its drag coefficient is 0.33.
Audi's trademark large single-frame grille dominates the front end, and the headlights can be supplied with xenon plus bulbs and LED daytime running lights as options.
The side view is dominated by large wheels and rising lines; the roof contour, crowned by flat roof rails, accentuates the Audi Q5's slim, coupe-like appearance.
There are two body packages. The S line exterior package creates an even sportier look, and the offroad style package has a more gritty look thanks to the underbody guard at the front and rear, and 19-inch wheels.
The seats are ergonomically shaped and of a flexible design. The angle of the rear seatbacks can be adjusted and they can be laid flat, increasing the cargo capacity from 540 to 1560 litres. There is a second storage compartment beneath its floor panel.
Audi is offering two diesel and one petrol engine in the Q5. All are direct injection units and turbocharged.
The 2.0 TFSI has been redesigned completely. The four-cylinder engine combines turbocharging, petrol direct injection, and variable control of valve lift. Its 350Nm of torque is delivered at 1500rpm and is maintained constantly up to 4200rpm.
The 2.0 TDI develops 350Nm (from 1750 to 2500rpm). It has a power output of 125kW and average fuel consumption of 6.7 litres/100km.
The 3.0 TDI V6 develops 176kW and peak torque of 500Nm between 1500 and 3000rpm. Top speed is 225kph and the vehicle is capable of achieving fuel consumption of 7.5 litres/100km.
The 2.0 TDI has a six-speed transmission, but the 3.0 TDI and 2.0 TFSI use an S tronic dual-clutch transmission which now has seven gears. The hi-tech unit changes gear within a few hundredths of a second. The driver can set the seven-speed S tronic to change gear automatically or can shift manually, using paddles on the steering wheel.
The Q5's quattro permanent all-wheel drive system distributes the engine's power 40:60 between the front and rear wheels, producing a slightly rear-biased, sporty characteristic.
If need be, the quattro powertrain can divert up to 65 percent of the torque to the front wheels, or as much as 85 percent to the rear.