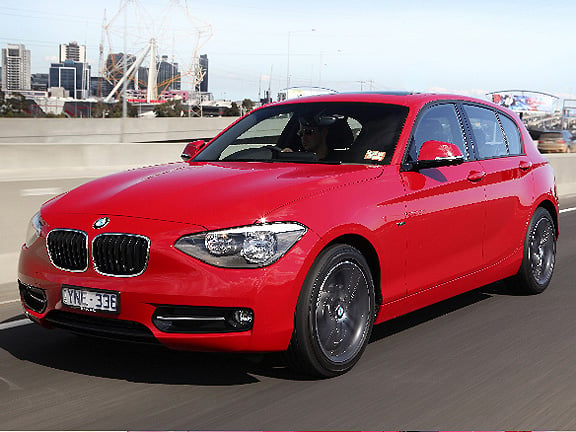 The company that once claimed to make the 'ultimate driving machine' is now highly focused on a new tagline, 'EfficientDynamics'. The new 1-series, with claimed economy of 4.5 litres per 100km for our 118d test car, is the perfect example of this ethos.
That's amazing fuel economy. Is it a hybrid or something?
No, if you're looking at the on-paper essentials the 118d is a pretty conventional BMW: 2.0-litre turbo diesel engine, automatic transmission and rear-wheel drive.
However, the 118d is loaded with so-called EfficientDynamics technology – stuff that ensures optimum thrift while having minimal impact on the driving experience.
The 2.0-litre turbo diesel engine is quite powerful with 105kW/320Nm, but as you'll probably know modern diesels have sophisticated injection and turbo technology that makes them ultra-frugal when you're not working them hard.
A class-first eight-speed automatic gearbox helps, even if it can seem a little busy at times. So does an auto-stop system that shuts down the engine at traffic lights. Then there's the less obvious EfficientDynamics features, such as an electrical system that cranks up the alternator charge when the car is decelerating or running downhill.
From the driver's seat, you can select from one of three modes that changes the way the throttle, gearbox and other control systems of the car behave. Comfort and Sport are self-explanatory. But new for the for 1-series – and now appearing on other new BMW models like the forthcoming all-new 3-series this year – is an EcoPro setting that puts the 118d into maximum-economy mode.
I'm a bit worried about this: are BMWs still about a sporty driving experience?
Worry no more. BMW is still very committed to its core values of near-perfect weight distribution and rear-drive. The 1-series is still a brilliant vehicle to drive in anger, with the front wheels free to steer and the rear wheels pushing the car through corners with complete agility and beautiful balance.
Having said that, the ride is on the firm side for what's still essentially a town car and road noise was a niggling issue in our evaluation vehicle. But what fun.
The old one was stupidly tight on cabin space. Is that still the case?
A rear-driver will never be as space-efficient as a front-drive small car, but BMW has enlarged the new 1-series enough to mean packaging is no longer a deal-breaker for a family buyer. It's 85mm longer overall and 30mm of that has gone into the wheelbase – the dimension that matters most for rear-seat passengers. The boot is now pretty decent, too: it's up 30 litres over the old car and the rear seat has a novel 40/20/40 split.
No great sense of being second-best with a 1-series, either. The cabin quality is vastly improved over the old car, you get nice details like the ergonomically shaped gearlever carried down form larger models, and if you're willing to pay you can even have a massive widescreen display for the (also optional) sat-nav. Albeit for $4000.
Should I buy one?
With prices starting at $46,600 for the 116i turbo-petrol, the 1-series is a very tempting entry point to what is a proper premium brand. Our $56,600 118d Sport is a little more costly than that, but it's an incredible little car when you consider the way in which it combines a sporty powertrain/chassis with hybrid-rivalling economy.
In truth, you still have to be of an enthusiast bent to get the most out of the 118d, as there are compromises in its rear-drive configuration. But if you value sheer driving pleasure and want to feel smug about having one of the greenest cars on the road at the same time, this is the compact hatchback for you. Everyone else can buy a Volkswagen Golf.