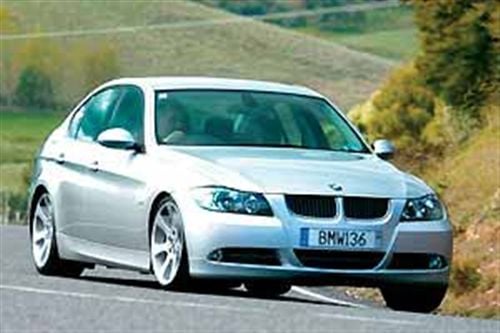 First on sale is the flagship model, the 190kW 330i, which will be followed by 320i, 320d and 325i versions. A 330d diesel will arrive late this year.
The 320i, 320d and 325i are all available in standard and luxury SE specification; the 330i and 330d will be available only in the top SE specification.
The new 3-Series is wider, longer, and slightly higher than the outgoing version.
The 330i and 325i run ultra-light six-cylinder engines that make extensive use of magnesium alloy for key components.
The four-cylinder models are the 320i with 2.0-litre Valvetronic petrol engine, and the 320d with high output new-generation 2.0-litre common-rail turbodiesel. All 3-Series petrol motors have BMW's Valvetronic induction systems for enhanced flexibility and performance and reduced exhaust emissions. It's the first time Valvetronic has been available on a BMW six-cylinder.
Both the manual and automatic gearboxes are six-speed, and the auto has a Steptronic manual shift function.
Occupants are protected by an array of airbags which are electronically networked to provide optimum crash safety in a fraction of a second. Driver and front passenger airbags feature dual stage activation to maximise protection.
Active safety includes electronic driving aids: Dynamic Stability Control (DSC), Corner Braking Control, Dynamic Brake Control and Dynamic Traction Control.
Refinements to the DSC include an anticipatory function that moves the brake pads closer to the disc surface when the system detects the beginning of emergency braking; and a rain sensor that moves the brake pad close to the disc to clear away excess water.
BMW's Active Steering system, which varies steering assistance according to vehicle speed and steering input, is available on some new 3-Series models.
The 3-Series application includes a yaw stabilisation function that automatically corrects for small variations in directional stability. BMW says it's especially useful in wet weather or when the driver is forced to brake mid-corner.
Active Steering is optional on the 325i and 325i SE and is offered standard on the 330i SE and 330d SE. BMW says the new 3-Series bodyshell is the most rigid yet.
BMW has adapted the Intelligent Lightweight Construction programme used on the 5-Series and 6-Series to the new 3.
On the 3-Series, Intelligent Lightweight Construction uses new steel-forming technologies, new engineering design principles and high-strength steels along with aluminium to significantly reduce the bodyshell weight while improving rigidity 25 percent over the outgoing model.
Standard equipment on SE models includes cruise control, automatic air conditioning with microfilter, leather Dakota upholstery, and electric front seats with memory.
Cruise control with braking function is standard from the BMW 325i upward.
BMW's Multifunction steering wheel, onboard computer, Professional radio and Compact Disc player with MP3 functionality, ISOFIX child seat mounting system and rain-sensing windscreen wipers are standard across the range.
Other technologies such as BMW's factory-fit navigation system, iDrive and Bluetooth phone systems are available as options on all models.
Engines and performance
The 3.0-litre engine in the BMW 330i SE delivers 190kW at 6600rpm, and produces peak torque of 300Nm at 2500rpm.
With the six-speed manual gearbox, it propels the 330i SE to 100km/h in 6.3 seconds. Top speed is limited electronically to 250km/h.
Fuel efficiency, at nine litres per 100km, is said to be 12 percent better than the outgoing 330i's on the combined EU urban and highway test cycle.
As a 2.5-litre in the 325i and 325i SE, the engine develops 160kW at 6500rpm and 250Nm at 2750 rpm.
Manual 325is will hit 100km/h acceleration in 7.0 seconds and go on to a top speed of 245km/h.
EU test cycle fuel efficiency is 8.4 litres/100km.
BMW has also upgraded the 2.0-litre four cylinder engine fitted to the 320i, giving it more power and reducing exhaust emissions.
The new version develops 5kW more power – 110kW at 6200rpm. Peak torque is 200Nm at 3600rpm.
With a six speed manual gearbox, the 320i/320i SE accelerates to 100km/h in 9.0 seconds. Top speed is 220km/h. Official EU test cycle fuel economy is 7.4 litres/100km.
The 2.0-litre common-rail turbodiesel develops maximum power of 120kW at 4000rpm. Torque rises steeply from 160Nm at 1000rpm to a peak of 340Nm at 2000rpm, maintaining the peak until almost 3000rpm.
Six-speed manual 3-Series accelerate to 100km/h in 8.3 seconds, and have a top speed of 225km/h.
Fuel economy is listed as 5.7 litres/100km.