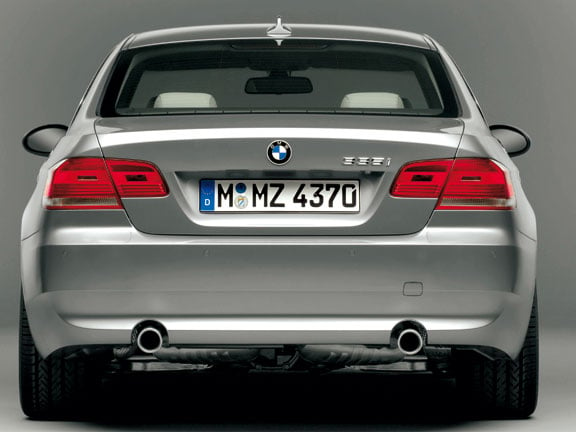 BMW's new 3-Series Coupe range includes a model powered by the first twin-turbo petrol-powered engine ever fitted to a production BMW. Despite its close technical ties with the 3 Series Saloon and Touring (station wagon) variants, designers aimed to make the new Coupe more distinct from the other 3-Series models than its predecessors had been.
From the front, side and rear, the car is clearly related to other 3 Series models but has a distinctive elongated shape. It has traditional BMW coupe proportions of long wheelbase, short overhangs, long bonnet, cabin set to the rear and a low, sleek roofline.
Key highlights in exterior design are the kidney grilles and restyled headlights that give a bold, elegant frontal view. At the rear, the broad rear lights use horizontal light rods with bright LED illumination to accentuate the rear end's low, wide appearance.
Another change from the other models in the 3 Series range is the use of lightweight materials in the body construction. Though all 3 Series models use Tailored Blanks that increase panel thickness where structural rigidity is needed, and reduces thickness where it's not, the Coupe also uses plastics in its construction. As a consequence of its lightweight plastic front fenders, the new Coupe is an average 10kg lighter than the saloons.
All new 3 Series Coupes come with a close ratio six-speed manual gearbox as standard. The optional auto uses an innovative torque converter and software set-up, the new automatic gearbox offers a 40 percent improvement in the response time to throttle inputs and a gearshift time nearly half that of a conventional automatic transmission. Whenever a driver wants to take control of gear changes a pair of selection paddles located behind the steering wheel can be used to change gears.
Front suspension has a double-joint tie bar set-up with spring struts made almost entirely from aluminium. At the rear is a five-link independent set-up. Dynamic Stability Control Plus, BMW's latest traction control system is standard. Other comfort and safety systems include brake pads that are dried in wet weather conditions and brakes that are applied harder when any possible brake fade is detected. This ensures the car remains under maximum control at all times. Rack and pinion steering is standard, but buyers can opt for BMW's Active Steering system that varies the steering ratio as a proportion of road speed.
The new 3-Series Coupe range will also include 320i petrol and 320d diesel models. Details of those models will be announced later.
The composition of the NZ Coupe range is yet to be announced.
Twin turbo motor
The twin-turbo 3.0-litre engine in the new BMW 335i SE develops 306hp and 400Nm of peak torque, the latter between 1300 and 5000rpm.  BMW says the 335i SE Coupe accelerates 100km/h in 5.5 seconds. Top speed is limited electronically to 250km/h.
The two turbochargers each supply compressed air to three cylinders. The use of two smaller units ensures that the turbochargers react more quickly to changes in the throttle position all the way to the 7000rpm red line while also eliminating turbo lag.
The turbocharged engine is considerably lighter than a naturally aspirated powerplant of equal power. In the case of the 335i, the new twin-turbo six-cylinder engine weighs approximately 70kg less than a V8 of corresponding performance. The weight advantage benefits both fuel economy and weight distribution.
BMW's all new high-precision Direct Injection system also helps those high levels of performance while also benefiting economy. Piezo injectors, located centrally in the combustion chamber between the inlet and exhaust valves, deliver atomised fuel in a conical burst into the chamber to ensure a smooth, efficient burn.
Piezo crystal injectors work when an electrical current is passed through the crystal to create a very precise and consistent fuel delivery. Only the exact volume of fuel required is delivered into the combustion chamber on each cycle guaranteeing that all the vapourised mixture is burnt. This method of injection also serves to aid combustion chamber cooling, thus offering a higher compression ratio. As a consequence, the new car delivers an average fuel consumption of 29.7mpg on the combined cycle.
The new 325i SE Coupe variant has 218bhp and 250Nm of torque from its 2.5-litre inline six-cylinder, with 0-100klm/h acceleration in 6.9 seconds. BMW says it can achieve 33.6mpg on the combined cycle.
The 325i Coupe benefits from the magnesium-aluminium composite cylinder block first seen on the BMW 630i. The lightweight combination of materials reduces the overall mass of the car and helps achieve the near-perfect 50/50 front/rear weight distribution for improved handling.
The 2.5-litre engine uses an electrically-powered water pump. This not only eliminates the engine power normally needed to drive a conventional crankshaft driven unit but also reduces the engine heat-up time to improve engine efficiency and occupant comfort.
Other engine derivatives will include a 272bhp natually-aspirated 3.0-litre six-cylinder engine that offers 6.1-second 0-100km/h acceleration and 32.1mpg.
The 330d Coupe diesel will offer 231bhp and 500Nm of torque, 0-100km/h in 6.6 seconds, and 43.5mpg.