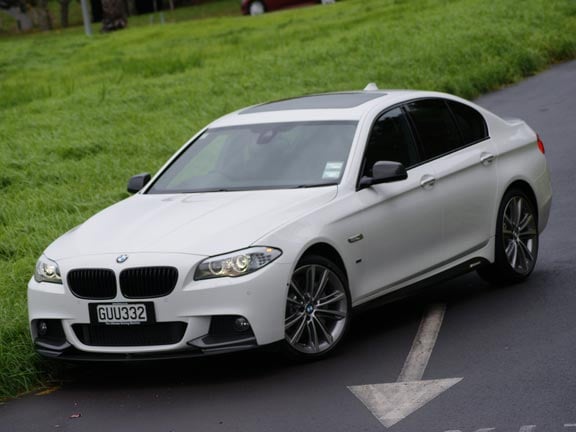 Base price: $131,900.
Powertrain and performance: 3.0-litre turbo-diesel six, 190kW/560Nm, 8-speed automatic, rear-drive, Combined economy 5.2 litres per 100km, 0-100km/h 6.0 seconds.
Vital statistics: 4899mm long, 1464mm high, 2968mm wheelbase, kerb weight 1760kg, luggage capacity 520 litres, fuel tank 70 litres, 20-inch wheels on 245/55 tyres.
We like: Base car is superb, Performance Edition adds $40k of toys for no charge.
We don't like: Some detailing looks garish, 5-series due for facelift soon.
How it rates: 8/10
WHAT DO I NEED TO KNOW?
BMW New Zealand does not like to use the word "runout". Nor does it like to be rushed. So when a model is coming to the end of its life, it takes innovative action a long time in advance to keep sales of the soon-to-be-replaced version ticking along.
Meet the 530d Performance Edition. The 5-series is due for a fairly substantial facelift (although BMW does not like that word either, so it'll be a Life Cycle Impulse, or LCI) this year, so for the past few months it's been selling this Performance Edition of the model. It carries $40,000 worth of extras for the same $131,900 price as the standard car: carbon fibre spoilers/mirror caps/dashboard inserts, Electronic Damper Control (EDC), the virtual dashboard that will soon become standard on the new 5-series – the list goes on.
WHAT'S IT LIKE TO DRIVE?
Any 5-series is brilliant. The 530d is far from the fastest model in the range – but it is still extremely fast, with 190kW/560Nm from its 3.0-litre turbo-diesel six. The prodigious torque of this powerplant and the sensationally smooth eight-speed automatic gearbox make for effortless performance at virtually any speed.
The latest 5-series arguably errs more towards comfort in its chassis setup than previous generations. However, a softer BMW is still more sporty than most other cars in the class and with the EDC fitted as standard to the Performance Edition, you get the option to set the car up with a more aggressive handling attitude.
A bonus with the new computer-generated instrument panel is that you get different graphics depending on which driving mode you select: Eco Pro, Comfort, Sport or Sport Plus.
Some delusions of grandeur may result from the Performance Edition's flat-bottomed steering wheel, complete with suede trim and a red line top-centre – so that you tell where straight-ahead is when you're drifting on a track.
IS IT EASY TO LIVE WITH?
There is very little compromise to comfort with the Performance Edition package, even on those monster 20-inch wheels. The car still rides beautifully and even though you're sitting on so-called sports seats, the extra bolstering does not undermine the impression of luxury.
The 530d Performance Edition is also laden with surprise-and-delight driver-assistance features. Standard are gas-discharge adaptive headlights that automatically dip for oncoming traffic, BMW's excellent head-up display (which projects important information onto the windscreen), the top-specification navigation system and keyless entry/start.
SHOULD I BUY ONE?
Well, you do have to go into this car with your eyes open: the current 5-series is coming to the end of its life, so you won't be driving the very latest and greatest for long.
That notwithstanding, the Performance Edition take what is arguably still the best car in its class (the 5-series is a former New Zealand car of the Year winner) and adds a tempting array of equipment. No charge.
EQUIPMENT CHECKLIST
Air conditioning: Dual climate
Audio: CD, iPod compatible
Automatic lights/wipers: Yes/yes
Blind spot warning: No
Bluetooth: Yes
Cruise control: Yes
Driver footrest: Yes
Gas discharge headlights: Xenon
Head-up display: Yes
Heated/ventilated seats: Yes/No
Keyless entry/start: Yes/Yes
Lane guidance: No
Leather upholstery: Yes
Parking radar: Front and rear with camera
Power boot or tailgate: Yes
Power seat adjustment/memory: Yes/Yes
Remote audio controls: Yes
Satellite navigation: Yes
Seat height adjustment: Yes
Self-parking technology: No
Split/folding rear seats: No, centre load-though/ski hatch
Steering reach adjustment: Yes
Stop-start: Yes
Trip computer: Yes
Find a BMW 530d HERE