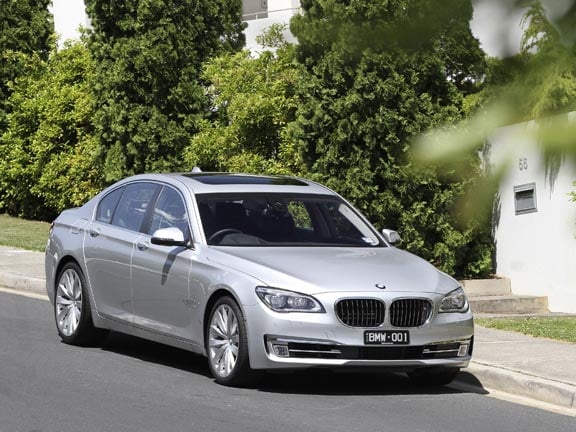 Base price: $234,500.
Powertrain and performance: 4.4-litre turbo petrol V8, 330kW/650Nm, 8-speed automatic, rear-drive, Combined economy 8.6 litres per 100km, 0-100km/h 4.8 seconds.
Vital statistics: 5039mm long, 1491mm high, 2990mm wheelbase, luggage capacity 510 litres, 20-inch alloy wheels.
We like: Low-profile luxury image, chassis more sports car than limo.
We don't like: Perhaps too similar to 5-series, facelift far from obvious.
How it rates: 7/10
WHAT DO I NEED TO KNOW?
Super-luxury cars sometimes have sneaky facelifts. And just like high-profile celebrities, while you're certain that they are looking a bit more perky, you might have to look very closely indeed to identify the changes.
With BMW pseudo-limo, the 750i, you'll need to count the number of slats in the grille (nine, previously 12) and squint to see the headlights, which are now full LED units. Nice, not exactly radical.
However, there's a bit more to the new 750i than that, which has benefitted from some major changes under the skin and some serious equipment upgrades.
WHAT'S IT LIKE TO DRIVE?
Let's get started: the revised 750i has BMW's latest 4.4-litre twin-turbo V8, which offers 10 percent more power than the previous-generation powerplant but is also 25 percent more thrifty. The new 750i also finally picks up an eight-speed automatic gearbox – incredibly, it's been soldiering along with a six-speeder until now.
Engines: BMW's quite good at them. The big V8 is a magnificent thing, made even better by the outstandingly smooth eight-speed transmission. You can choose from five different levels of powertrain tuning via the revised iDrive menu – everything from Eco to Sport Plus.
BMW has also worked hard to ensure that size and weight are not corrupting factors for the 750i's handling. It picks up electric power steering, which is not as communicative as the old hydraulic system but does save fuel and allows for self-parking technology.
The 750i also has four-wheel steering as standard, which gives it an incredibly nimble feel. Dynamic Drive is also fitted as standard on the rear axle, which reacts instantly to eliminate body roll in hard cornering.
IS IT EASY TO LIVE WITH?
Cars like these are all about luxury: the new 750i is swathed in leather and boasts limo-like features such as a rear-seat entertainment system with its own controller, Internet access and a soft-close function for all four doors and the (powered) bootlid. Up front, the driver gets a new instrument panel which is completely digital, the high-res screen mimicking conventional dials but also giving you different display options depending on which driving mode you have selected.
SHOULD I BUY ONE?
The odd thing about the 7-series is that it's BMW flagship sedan, yet it's been right at the back of the queue to pick up major changes like the revised V8 (already in the 5-series and 6-series) and eight-speed gearbox.
Still, the new model is now bang up to date and for those who simply must have the biggest and best, it's now the complete package.
But it has to be said that it's getting harder and harder to see the value in the 7-series these days beyond mere status, when the smaller 5-series (the two models were developed simultaneously and share many components) offers almost as much luxury and presence in a more compact, more dynamic package.
EQUIPMENT CHECKLIST
Air conditioning: Dual climate
Audio: CD, iPod compatible
Automatic lights/wipers: Yes/yes
Blind spot warning: Yes
Bluetooth: Yes
Cruise control: Yes
Driver footrest: Yes
LED headlights: Yes
Head-up display: Yes
Heated/ventilated seats: Yes/No
Keyless entry/start: Yes/Yes
Lane guidance: Yes
Leather upholstery: Yes
Parking radar: Yes with camera and surround view
Power boot or tailgate: Yes
Power seat adjustment/memory: Yes/Yes
Rear ventilation outlets: Yes
Remote audio controls: Yes
Satellite navigation: Yes
Seat height adjustment: Yes
Self-parking technology: Yes
Split/folding rear seats: 60/40
Steering reach adjustment: Yes
Stop-start: Yes
Trip computer: Yes
Find a BMW 750i HERE