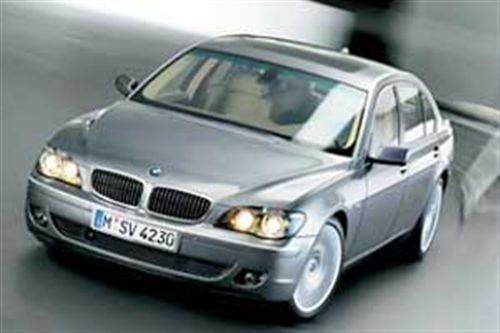 But the big surprise is that changes to the car's styling, which drew sharp criticism from the international motoring media when the current 7-Series debuted, are relatively minor.
BMW calls the styling update "a subtle re-interpretation."
Non-afficionados will be hard-pressed to see any real difference between the old and the new.
The styling changes include a power dome in the bonnet, and subtle changes to the kidney grille, headlights and the front air dam.
Rear-end surfaces and body panels have clearer contours, a new chrome trim strip, modified taillights and a re-designed rear air dam. At the side there is a more pronounced light contour in the side sills.
BMW says the revised car will offer a significant improvement in performance without any loss of fuel efficiency.
Though it has been slated for its styling and for the complexity of its iDrive onboard computer system, the current 7-Series has already outsold the previous model at the same point in its model life.
It leads the luxury market in Germany, and has sold more than 160,000 units worldwide in 38 months.
7-Series sales in Asia, Oceania, the Middle East, Eastern Europe and Africa have more than doubled in the same period.
The revised range starts with the 740i V8 which produces 225kW and 390Nm of peak torque and runs the 0-100 sprint in 6.8 seconds.BMW lists fuel economy at economy of 11.2 litres/100km.
The 745i/Li V8 drops from the range and is superceded by the 750i.
It runs an enlarged 5.0-litre development of the Valvetronic V8 engine. The 5.0-litre develops 270kW and peak torque of 490Nm.
The car hits 100km/h in 5.9 seconds; fuel economy is 11.4 litres/100km.
The flagship 760Li, model retains BMW's V12 which is unchanged from the current 7-Series.
Maximum power is 327kW and peak torque is 600Nm. The 100km/h sprint takes 5.6 seconds, and BMW says fuel economy is 13.4 litres/100km.
All 7-Series have six-speed automatic transmissions with Steptronic manual shift.
BMW has retuned the 7-Series' handling and driving dynamics, and has optimised the 760's chassis and suspension.
Wider track improves cornering and stability. The Seven will also get Adaptive Drive, an evolution of the Dynamic Drive active anti-rollbar control system and BMW's EDC electronic damper control introduced with the current 7-Series in 2002.
Dynamic Drive is designed to almost completely eliminate body sway in corners, and improves the car's handling through fully variable front and rear anti-roll bars. EDC adjusts damper characteristics to changing road, load and driving conditions, ranging from very comfortable to sporting and firm.
The iDrive control system has been made easier to use.
The new 7-Series makes its international debut in July.