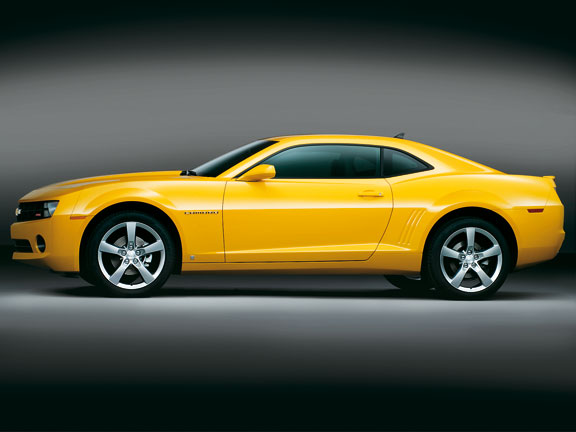 Chevrolet's long-awaited Camaro pony car has arrived, in stonking V8 versions, and with a V6 motor which the bowtie brand says is capable of achieving 26mpg.
The new Camaro, on sale next year as a 2010 model, borrows styling cues from the 1969 model; though rather than labeling it retro-influenced, Chevy's spin doctors are referring to it as "a heritage-inspired sports car for the 21st century".
It's built on General Motors' new Holden-developed global rear-wheel drive architecture, which debuted on the VE Holden Commodore.
In the current high fuel price climate, Chevy is offering two V6 models, the LS and LT – and the V8-powered SS.  All models and powertrain combinations include "fuel-saving six-speed transmissions".
The Camaro is the second US pony car to arrive this year, following on from Dodge's Challenger, which also took its styling cues from an earlier generation model – the 1970 Challenger.
The cars were inspired to some extent by the phenomenal success of Ford's current retro-look Mustang. But unlike the muscular Mopar and Chevy pony cars, Ford has had a Mustang in continuous production since 1964.
Chevrolet's new Camaro's engines have direct injection and Active Fuel Management to create a balance between exhilarating performance and good fuel economy.
Chevrolet boss, Ed Peper, says the 2010 Camaro "exemplifies GM's global development process".
The design concept originated in the United States; engineering was directed by GM's global rear-wheel drive team in Australia; validation was conducted on roads around the world and the car will be built at the Oshawa factory in Canada.
LS and LT models are offered with a 3.6-litre direct-injected V6 with variable valve timing and a choice of six-speed manual or automatic transmissions.
The SS (for Super Sport) runs a 6.2-litre V8 with Active Fuel Management on automatic-gearbox cars (AFM shuts down four cylinders under light load or when cruising). A six-speed manual transmission is available.
Unlike the live rear axle Mustang, the 2010 Camaro has a four-wheel independent suspension system. The variable-rate power steering rack is mounted ahead of the front axle for greater driver feel.
Four-wheel disc brake systems are standard on all models, including four-piston Brembo callipers on SSs.
All models get the Stabilitrak stability control system which uses sensors tied to the ABS anti-lock braking system to help the driver maintain control during emergency manoeuvres.
The system provides increased vehicle control by continuously monitoring the car's steering angle, individual wheel speed, brake pressure, lateral acceleration and yaw rate.
The information is then used to compare the direction the driver is steering with the vehicle's actual path, so the system can make the necessary corrections to help keep the vehicle on track.
Traction control is also standard on all models.
SS Camaros get a Competitive/Sport mode for the stability system. On six-speed manuals, it includes launch control.
Wheels are available in 18-, 19- and 20-inch diameters.
The finely detailed interior has heritage-inspired design, excellent attention to detail and available ambient lighting via LED light pipe technology.
Safety equipment includes six airbags, along with head curtain side-impact airbags.
An RS appearance package, available on LT and SS, includes HID headlights with integrated halo rings, a spoiler, kit-specific taillights and 20-inch wheels.
"The new Camaro is just that – new," says GM global design chief, Ed Welburn. "We acknowledge the nameplate's strong heritage in the design, but recognise that keeping this modern sports car relevant meant more than simply honouring a classic car.  The line forms, stance and overall execution are consistent with other new Chevrolets." 
The inside story
A pair of deeply recessed instrument binnacles that feature round gauges in square housings are a nod to classic Camaros.
An optional ambient light package offers advanced LED light pipe technology to give the cabin a distinctive and inviting glow.
Cloth upholstery is standard; heated leather-appointed seats are available.
Details such as large, chrome-trimmed controls, low-gloss surfaces and premium fabric or acrylic appliqués convey a richness that is unprecedented in previous Camaros.
An optional centre-console gauge cluster takes its cue from a similar option on 1969 Camaros.
It displays oil temperature, oil pressure, state-of-battery and transmission fluid temperature, all highlighted with modern LED backlighting.
The engine room
Chevy says the 3.6-litre V6 motor's direct-injection technology helps the engine deliver more power through increased efficiency, while maintaining fuel economy and lowering emissions. It says there's a 25 percent drop in cold-start hydrocarbon emissions.
Variable valve timing optimises performance and fuel economy across the rpm range.
The V6 develops 224kW of maximum power and 370Nm of peak torque.
A six-speed manual gearbox is standard with the V6; a Hydra-Matic 6L50 electronically controlled six-speed automatic, with TAPshift (manual change) control, is available.
Standard six-speed manual SSs run the 6.2-litre LS3 engine, developing 315kW and 553 Nm.
The LS3 debuted on the 2008 Corvette and uses high-flow cylinder heads based on the Corvette Z06's LS7 engine to enable great low-end torque and high-rev power. It's mated to a TR6060 six-speed transmission.
A new, L99 V8 is used on automatic transmission-equipped SSs. It's based on the LS3 and carries all of its high-performance design features, but also includes GM's fuel-saving Active Fuel Management. It enables the engine to run on only four cylinders during light-load driving conditions, such as highway cruising.
The L99 V8 develops 299kW and 535Nm, and drives the rear wheels through a Hydra-Matic 6L80 six-speed transmission.
Chevy says the auto SS can deliver highway cycle fuel consumption of 23mpg.
Holden engineered chassis
Chevrolet is building the 2010 Camaro on GM's Holden-engineered global rear-wheel drive architecture. Its strong body structure is designed to enhance safety, quietness and handling.
Chevy says high build quality and attention to detail are made possible by features including one-piece body side stampings and very precise tolerances between body panels.
Front and rear independent suspensions are mounted to the rigid chassis.
At the front there's a multi-link strut arrangement with a direct-acting stabiliser bar and a double ball-joint configuration.
At the rear is a 4.5-link suspension that is double-isolated from the chassis for a smoother, quieter driving experience.
Two suspension packages are available. LS and LT models receive an FE2 (sport) suspension, and the SS receives the FE3 (performance) suspension, including a lower ride height. Each is tuned to match the performance capabilities of the respective powertrains, as are the wheel-and-tyre combinations. LS and LT models get single-piston brake callipers all round, with mass-reducing aluminium rear callipers. SSs have larger disc brake rotors that are acted upon by four-piston, aluminium Brembo callipers.
They're designed to stand up to the severe use encountered on racetracks, delivering good feedback and pedal feel, as well as fade-resistant performance.
For more on the new Chevrolet Camaro, grab this week's issue of Auto Trader