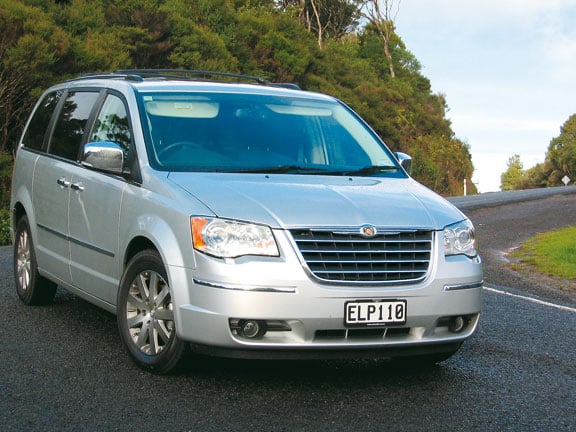 MPVs  are the automotive equivalent of leaving your curlers in to go shopping, or staying home for the rugby because it's raining.
They're giving up on life, or at least the joy of driving. Trouble is, that's easy to say unless you've used one as it's designed to be used – by a large family.
In reality MPVs are damn useful. Spend a bit and they're often loaded, too.
It's easy to get sucked in by the features list of a car like the newly updated and larger Chrysler Grand Voyager.
A DVD player with dual screens; a 10-speaker surround-sound audio system with a 20G hard drive in the infotainment system; a hands-free 'communication system'; stow and go seating. Lots for your money there – which is lucky, as at $74,990, it isn't the cheapest MPV on sale.
It's also easy to get hung up on the gimmicks – that stow and go seating, for example. Or the electrically-opening doors, also found on the much cheaper Kia Carnival. Surely just another gimmick?
Well, yes and no. Yes if it's you on your own in the car; no if you've got young children to carry, as I discovered during one baby-sitting-and-supermarket stint.
I'd thought driving this would be like self administering a frontal lobotomy, and truthfully, despite the golden expanse of 'woodwork' and the joy of playing with the buttons and dials, it was just like driving a van – and one in which the ergonomics aren't the greatest.
Not all the fascia controls were as easy to reach as I'd like, there's no reach adjust for the steering wheel and the slightly offset pedals take getting used to.
Cruising out of town, I found there's a bit more noise than I'd expected from a family runabout – it's hardly a tarted-up delivery van, but damping noise in what's effectively a one-box vehicle clearly isn't easy.
Handling from the updated suspension isn't bad – for a van – though the steering's somewhat numb and understeer surfaces early. So far, so unexciting.
Then I picked up my niece and a shopping list, and things began to look up. The higher-than-a-car pews made fitting the baby seat a doddle. There's plenty of space for it – and for several other passengers too.
The large buggy fitted across the boot with all three rows of seats in use, the door closing electrically as I moved round to the front.
Shopping completed, I found myself with a baby, baby blanket and teething toy, spitting rain and no free hand to haul the door; a fumbled thumb on the button and it was opening automatically, the boot door rising as I trotted round to stow the shopping.
One rear seat folded into the floor, buggy next to the remaining one, shopping bags on hooks and sitting in that luggage well, and we were ready to go – two seats occupied, four in reserve. Shopping with baby has never been so easy.
Shame the Grand Voyager is such a boring looker.
Honda made the Odyssey attractive but it's not this big. So you can forget Chrysler's statements about bold, aggressive styling; there's a solidly American nose stuck on a van.
Even forget, if you will, that all the seats fold into the floor to take the standard 638-litre boot to 3298 – potentially useful, but how often?
But there's still plenty to appreciate in the everyday stuff; the in-floor stowage bins, electric doors, rear view camera and yes, even the DVD infotainment system.
Though my passenger was too young to appreciate it, those with older kids will bless its ability to keep 'em quiet on longer trips, while still allowing folk in a different row to plug in a game, or listen to music via their headphones.
You, meanwhile, are storing songs into the hard drive – it'll take up to 2500 of them – or at least boasting to your friends about its ability to do so.
Bluetooth lets you use your cell phone as a hands-free, and more sensible spec includes ESP and side airbags now added to the dual front, and full-length curtain airbag safety tally.
You'll note we haven't said much about the improved suspension, which is comfort-oriented, as you'd expect.
Or the updated engine, a 142kW/305Nm 3.8-litre V6 that propels the vehicle along briskly enough without offering much excitement, and drank at a reasonable-for-the-size 12.5 litres/100km fuel use over a varied test drive. That's because this thing isn't about power, or acceleration, or handling. It's about being the ultimate two-wheel drive family vehicle; about doing the job well, if not stylishly.
And overall, it does do the job very well – better still in September, when the new diesel arrives.
Toyota's similarly-priced Previa may arguably be a whiff better to drive, and Kia's Carnival is price king.
But big families with a Grand Voyager will have little to complain about function – even if it does lack style.