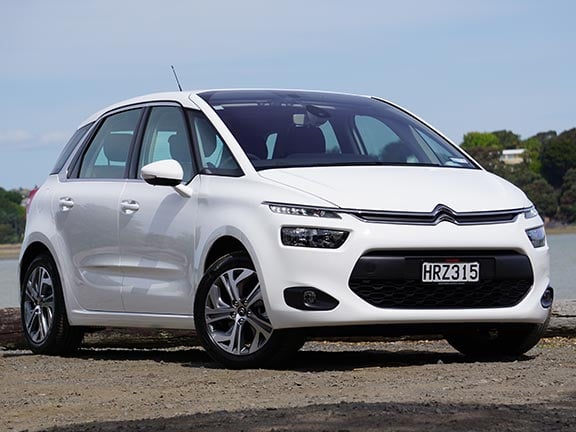 Base price: $38,990.
Powertrain and performance: 1.6-litre turbo petrol four, 121kW/240Nm, 6-speed automatic, front-drive, Combined economy 5.6 litres per 100km, 0-100km/h 9.3 seconds.
Vital statistics: 4470mm long, 1680mm high, 2785mm wheelbase, luggage capacity 630-1851 litres, fuel tank 60 litres, 17-inch alloy wheels on 205/55 tyres.
We like: Avant garde looks, surreal cabin environment, superb practicality.
We don't like: Erratic automatic transmission, chassis certainly not built for speed.
How it rates: 8/10
WHAT DO I NEED TO KNOW? The French do love their midi-people movers. When something a bit larger than an average family car is required, they're much more likely to look to a multi-purpose vehicle than the sports utilities we favour here.
So yes, French carmakers are rather good at these kinds of vehicles. That's not to say they always translate well to the Kiwi new-car psyche (see above), but Citroen is certainly having a try. It has launched not one, but two versions of the C4 Picasso people-mover: first was the Grand seven-seater, but that's now been joined by the standard, shorter and (dare we say) sportier five-seat model.
WHAT'S IT LIKE TO DRIVE? It might look like an oddity to our SUV-trained eyes, but the C4 Picasso is based on pretty solid underpinnings: it rides on the newest platform from Peugeot-Citroen (PSA), called EMP2. It's currently shared with the Peugeot 308, although the Picasso got it first.
Our test car features the familiar 1.6-litre turbo-petrol unit with a six-speed automatic gearbox. Nothing new there and unfortunately the transmission has the all-too-familiar French trait of being indecisive in easy running and a little too aggressive under load.
It's at odds with the rest of the driving experience, which is very much along the lines of relax-and-enjoy-the-trip. There's a surreal quality to travel-by-Picasso which should be reflected more in the behaviour of the powertrain: you sit high, surrounded by glass, and operate the gearbox via a small wand on the steering column (although you can take manual control with the standard paddle shifters).
The ride is comfortable and brisk cornering can be accomplished as long as you're smooth with your inputs. The Picasso doesn't appreciate unexpected changes of direction: there's quite a bit of body roll and a lot of weight transfer if you're over-enthusiastic with the steering wheel.
IS IT EASY TO LIVE WITH? Passengers are what the C4 Picasso is all about and yes, this Citroen is a great way to travel. The egg-shaped body (a feature of the model since it was first launched in 1999) allows a spacious cabin and massive glass areas.
Up front there's a certain space-ship feel to the Picasso, with an expansive dashboard that's quite minimalist in appearance: most major displays and cabin controls are contained within centrally mounted twin screens. The display on top contains speed and revcounter graphics (all digital), while the bottom touch-screen handles information and entertainment, including the standard satellite navigation; this second screen is actually a standard piece of kit from the Peugeot-Citroen parts bin and the same as the one you'll find in a Peugeot 308.
The rear seat is actually three individual chairs that can be moved and/or folded individually. The outboard occupants get airline-style fold-up tables on the seatbacks in front, complete with strap to secure drinks or small items when the car is on the move.
The rear seatbacks can be folded in one stage, but for maximum loadspace there's a rather complex hinging system on the squabs that allows you to stow the whole assembly for a completely flat load area.
As expected, the cargo area is massive, with up to 1851 litres and access is excellent, with a low loading lip and high roofline.
SHOULD I BUY ONE? The C4 Picasso is certainly a different way of looking at family transport. Very French, very fashion-forward.
Whether the idea of a people-mover appeals will be very much a matter of personal taste. But you cannot deny that the C4 Picasso's ability to combine high style with extraordinary fitness for purpose makes it a truly impressive machine.
EQUIPMENT CHECKLIST
Blind spot warning: No
Lane guidance: No
Cruise control: Yes
Automatic lights/wipers: Yes/yes
Intelligent headlights: No
Parking radar: Rear with camera
Self-parking technology: No
Head-up display: No
Satellite navigation: Yes
Keyless entry/start: No
Stop-start: Yes
Air conditioning: Dual climate
Heated/ventilated seats: No
Power seat adjustment/memory: No
Leather upholstery: No
Power boot or tailgate: No
Split/folding rear seats: 40/20/40
Browse Autotrader's range of Citroen cars for sale.