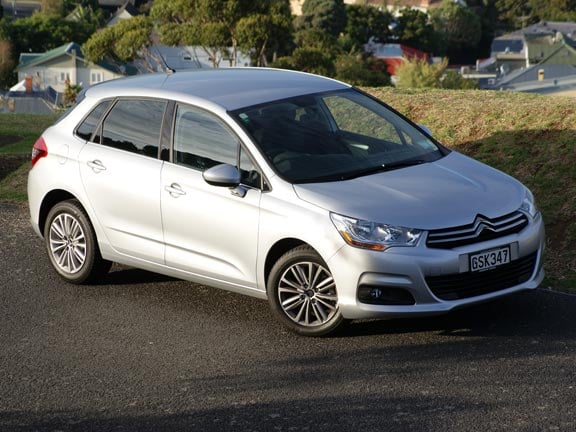 Base price: $28,990
Powertrain and performance: 1.6-litre petrol four, 88kW/160Nm, 4-speed automatic, front-drive, Combined economy 6.9 litres per 100km, 0-100km/h 12.5 seconds.
Vital statistics: 4330mm long, 1490mm high, luggage capacity 408 litres, fuel tank 60 litres, 16-inch wheels.
We like: Quietly elegant look, cabin quality, lots of equipment for the price.
We don't like: Underwhelming powertrain, confusing cabin controls.
How it rates: 6/10
WHAT DO I NEED TO KNOW?
Citroen is under new management in New Zealand and it's on a mission to increase volume substantially. The only way is up really, because the French brand sold fewer than 300 cars last year. New distributor Sime Darby (which also has Peugeot) reckons it can sell 400 this year, 600 next year… and so on.
The plan is to rationalise model ranges and rethink prices. While a Citroen might be a lot more interesting than a Toyota, there's no real reason why it should cost more. It's a mainstream brand in Europe.
There's some avant garde stuff in the local lineup, especially the DS-branded models. But a good example of Citroen's pragmatic new attitude is the C4 tested here. At $28,990, it's a European alternative to a Toyota Corolla that's not only swish-looking – it's a lot cheaper too.
WHAT'S IT LIKE TO DRIVE?
Here's where you might need need to modify your expectations somewhat. The C4 is a pleasant enough conveyance, but it's no ball of fire. The 1.6-litre engine is modestly powered – no harm in that – but it's also saddled with a four-speed automatic gearbox. That's pretty old-school when a Corolla has a Continuously Variable Transmission (CVT) and the rival Volkswagen Golf opens with a seven-speed dual-clutch gearbox.
The Citroen's self-shifter is blighted with a slightly French calibration as well: it sometimes lurches between ratios and will hang onto gears far too long if you are too enthusiastic with the throttle. In some respects it encourages you to drive like you're in a manual car, which is not surprising: automatics are still regarded as second-rate by the French (over there, the market is dominated by manuals, both conventional and robotised).
You can have a conventional manual, by the way, which will save you $3000 and probably transform the C4 into a very capable car. Because there's not a lot wrong with the way it steers, rides and handles. It's a very well sorted small hatch – not surprising when you consider that the platform also underpins the sports DS3 and DS5 models.
IS IT EASY TO LIVE WITH?
Again, a bit of a mixed bag. The C4 is spacious and you'll be very impressed by the quality of the interior: it looks good and there are more soft plastics than you could possibly expect from a car at this price level.
Same goes for the standard equipment. You might get change from $30k, but this entry-level C4 still comes with curtain airbags, rear parking radar, cruise control with speed limiter, Bluetooth cellphone connectivity and a good quality sound system.
However, there are a few ergonomic eccentricities of the kind we've come to expect from Citroen. The information menus are none too clear and some of the switchgear is just plain baffling. There's a four-way controller for the information menu whose individual buttons are positioned in a way that bears little resemblance to the direction they actually send you in. That sort of thing.
SHOULD I BUY ONE?
As you've probably guessed by now, the C4 has more than its fair share of flaws. But for all that, it's a very likeable car and while you have to endure a few frustrations, at this price it's also possible to forgive them.
The C4 looks great without being controversial, it's nicely made and pleasant to drive around town. If doesn't the depth of ability of its rivals – both Japanese and European – but where it succeeds is in being an inexpensive car that doesn't feel cheap. Might even impress the neighbours.
EQUIPMENT CHECKLIST
Air conditioning: Dual climate
Audio: CD, iPod compatible
Automatic lights/wipers: Yes/yes
Blind spot warning: Y
Bluetooth: Yes
Cruise control: Yes
Driver footrest: Yes
Gas discharge headlights: Bi-xenon
Head-up display: Yes
Heated/ventilated seats: Yes/No
Keyless entry/start: Yes/Yes
Lane guidance: Yes
Leather upholstery: Yes
Parking radar: Yes with camera
Power boot or tailgate: Yes/no
Power seat adjustment/memory: Yes/Yes
Remote audio controls: Yes
Satellite navigation: Yes
Seat height adjustment: Yes
Self-parking technology: No
Split/folding rear seats: 60/40, one-touch electronic folding
Steering reach adjustment: Yes
Stop-start: Yes/no
Trip computer: Yes
Find a Citroen C4 HERE