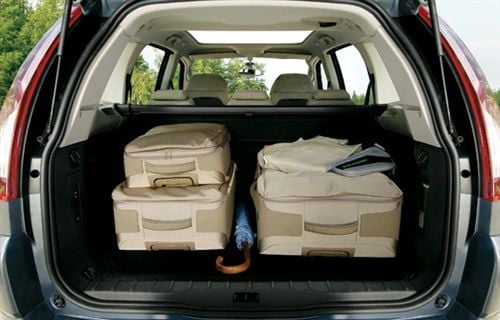 Perhaps it's our love of big cars; perhaps it's that family life isn't sexy.
Certainly with the French pair it's also that few people know about them – or the many advantages of a mini MPV – a hatchback that carries seven; a car-come-van; a European badge with more to recommend it than snob appeal.
Certainly the last time I sampled one – by giving mums and preschoolers a lift to Playgroup – it caused a sensation among gathered parents who'd never heard of it, and hadn't realised you don't need a van or SUV to get seven seats and a versatile interior.
This newest Citroen C4 Picasso has a few other tricks up its sleeve. Initially, I'd thought that massive windscreen, which climbs from the dashboard way past the rear-view mirror to a cross-beam somewhere above your head, was a gimmick.
I'm not a fan of lots of glass, and Australia – where I first drove it – seemed way too sunny for so much of it to be comfy. But in the event it proved a hit.
The sun visor's on an easy-to-use slide-down extension to the roof – now you see it, now you don't.
When the sun's firing at you, slide it down and you're in a conventional car.
When it isn't, slide it back and even without a sunroof there's a panoramic view of trees, sky, or cityscape – the kids should love it.
You'll check up on them easily too: this is one of those cars with an extra, curved rear mirror to check the back seats with just a flick of the eyes.
These mirrors are underestimated by anyone without young children, but the added safety of not having to turn your head to discern disputes (or the need for a sick bag) must pay dividends in terms of safety.
There's plenty of other stuff to recommend this car, too. It's 330mm longer than the C4 hatch, 97mm wider, 232mm taller, and offers a 1951-litre maximum boot volume, 868 more than the hatch.
The wheelbase is naturally longer to cope – this is not just a rejigged hatch, with all the compromises that implies. Yet it has the easy-park dimensions of a hatch – it may carry two more people than a Mazda 6 wagon, or the same five seats but over 70 litres of additional luggage space, but it's actually 100mm shorter, a packaging miracle if ever there was one.
Under the bonnet there's a 2.0-litre petrol engine or a 2.0-litre turbodiesel. Neither will win the traffic light drag race wars, but that's not what they're about.
They're about convenience – hence the standard automatic gearbox – and in the diesel, at least, about not spending too much time at the pump. Citroen quotes a 6.1 litres/100km thirst for that TD; certainly its 8.9 litres/100km claim for the petrol was more-or-less borne out on our launch drive.
That was also when we confirmed how surprisingly settled the Picasso is on bumpy open roads.
The chassis is based on the C4's, with a MacPherson strut front suspension set-up but a new flexible beam transverse rear axle to cope with the extra loads.
It does so admirably. Ride is comfy without being as soft and bouncy as expected – and it really impressed over the very bumpy roads of our test route, proving impressively compliant.
Useful stuff abounds. Up to seven seats – the rear two pop up out of the boot floor – mean yes, you can take the kids' friends to school.
The third row isn't too hard to access. The boot light is a detachable torch – how long before the kids nick it? – and there are nice touches such as puddle door lights, an integrated air freshener and drinks cooler, and plentiful cubbies – including some under the floor. Row two gets fold-down tables; mum can check if any of the seven occupants has a seatbelt unfastened; can set cruise control via that eye-catching fixed-hub steering wheel.
There's quad-zone climate-control air-conditioning with rear controls, side-window sun blinds, an auto fuel flap – the list is truly comprehensive, and the same for both versions.
As standard, the petrol Picasso retails at $45,990, the TD at $49,990 – more if the standard features list isn't enough for you.
Add the $8000 premium pack for 32 ambient lighting positions, wrap-around sports seats, full leather interior with electric adjustment for the front seats, piano lacquer trim, folding door mirrors and tailored floor mats.
Add $2000 for the sunroof.
Safety stuff? That's standard – including ESP stability control and seven airbags, all of which earned a five-star NCAP crash rating.
Last but not least, this is a stylish car, taking a leaf from the Honda Odyssey's book by supplying sleek lines that may appeal on their own account, not just because it doesn't look bad for an MPV.
Citroen hopes this Picasso will be a want- to-buy not need-to-buy proposition.
Whether that works will depend on the news getting out, of course.
And that includes the news that though the Picasso ain't cheap, it delivers.
Forget the free steak knives, Citroen's designed the car to do a job, do it well, and to exceed your expectations.
By Jacqui Madelin