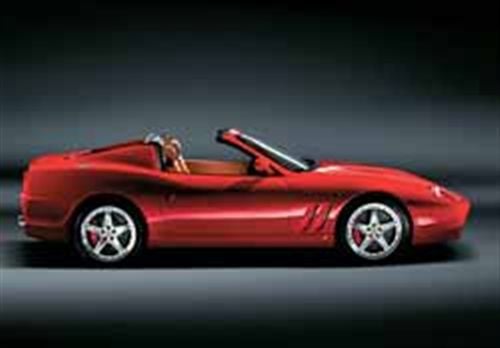 The Fioravanti-patented electric rotating roof movement allows the Superamerica driver to drop the top in 10 seconds.
The Superamerica's unusual electric roof has been dubbed Revocromico to highlight the unique combination of its rearward rotation movement and electrochromic technology.
It is made from carbon fibre, and the luggage boot capacity remains unchanged whether the roof is open or closed. The glass rear window doubles as a wind deflector when the roof is down.
The use of electrochromic glass means that the driver can completely control the level of light entering the cockpit. There are five tint levels available and the glass can go from dark to light in under a minute, at the touch of a button.
Ferrari is quoting a 320km/h top speed for the Superamerica which will be built in limited numbers.
It will be available with either a Formula 1-style sequential shift clutchless gearbox or a conventional manual unit.
The 5.7-litre motor has been uprated to deliver 540bhp.
Ferrari is offering the Superamerica with its GTC handling package which includes carbon ceramic brakes.
Ferrari will give the Superamerica its public debut at the Los Angeles and Detroit motor shows next January