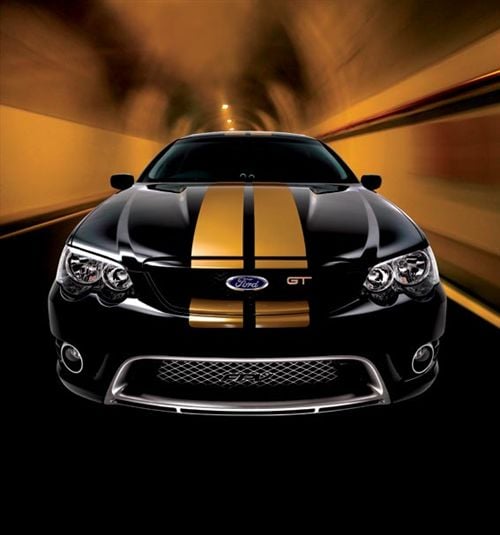 Ford Performance Vehicles developed a limited edition model to mark the 40th anniversary of the Falcon GT range which began with the gold-painted XR in 1967.
An XY GT sold at auction in Melbourne this week for $Au52,000, but GTHO models with matching numbers and in pristine condition can fetch more than 10 times that amount.
Ford New Zealand got only 15 of the 200 FPV GT 40th Anniversary Falcons built and wished it had got more – it could have sold them, even at $73,990. Each 40th Anniversary model came with a unique build number badge and certificate of authenticity.
All vehicles were in silhouette black with a gold over-body stripe kit, reminiscent of the classic GT stripe kit last seen on an Australian-built Ford model with the XC Falcon Cobra Hardtop in 1978.
Gold GT lower body stripes with a 40th Anniversary decal, accent colour treatment on the side skirt flutes and rear spoiler pillars, and special GT-P 19-inch alloy wheels with gloss black accents completed the exterior package.
FPV GT 40th Anniversary models were sold with either a six-speed manual or six-speed automatic transmission.
The interior of the anniversary model got FPV sports seats finished in a combination of leather and suede, featuring silver thread highlights and an embroidered GT logo.
FPV floor mats with 40th Anniversary logo inlay matched the exterior touches, and an iPod/MP3 audio player connection, was fitted as standard.
In addition to the unique 40th Anniversary features, FPV also designed a new suspension package.
The R-Spec handling pack incorporates an advanced level of suspension tune, allowing customers to fully exploit the potential of the GT 40th Anniversary in track days and club sprint events.
It has a higher capacity oil cooler on automatic transmission models, which increases the efficiency of the transmission cooling system under the extreme conditions and temperatures often experienced on race tracks.
"We're constantly monitoring the feedback of existing and potential FPV customers and a track pack version has been high on customer wish lists since the launch of the first FPV GT in 2003," said Prodrive AT Asia-Pacific boss, Bryan Mears.
"The new R-Spec package will allow drivers of this unique limited edition model to extract the best possible performance out of their vehicle."
Mears said a critical element of the engineering of the R-Spec package was the need to optimise the racetrack potential of this special FPV model without compromising the car's ride and handling balance.
"This package is aimed at those people who want a daily driver that can also mix it with the best at a club sprint event."
Prodrive chassis engineering manager Peter Ford said his team considered several options in developing the track pack.
Racing tyres and a competition spring set-up were two popular options early, but were dismissed because of their prohibitive cost.
"Research from customers showed us the cost of racing tyres, particularly replacing them, was out of their reach.
"And a customised racing spring set-up – the cost of which would have been significant – would have negative impact on the ride and handling of the vehicle, while also compromising tyre wear and potentially adding more cost.
"We had been thinking there was enormous tuning potential within the standard damper set-up, and the Delphi engineers (Delphi supplies FPV's dampers) were confident a sportier level of suspension tune was easily available.
"The traditional approach to twin-tube damper tuning is to let the compression, or base, valve handle damper forces in the compression direction and to let the rebound, or piston, valve handle the rebound damping forces.
"By allowing the piston to handle more load in the compression direction, we learnt we could share the damping forces by both the piston and the foot valve.
"This had two immediate benefits, namely reduced valve lag and increased valve response."
He said the secret to the improved handling characteristics of the R-Spec package is the revised balance of pressures between the piston and base valve, resulting in a more progressive transition to disc opening speeds.