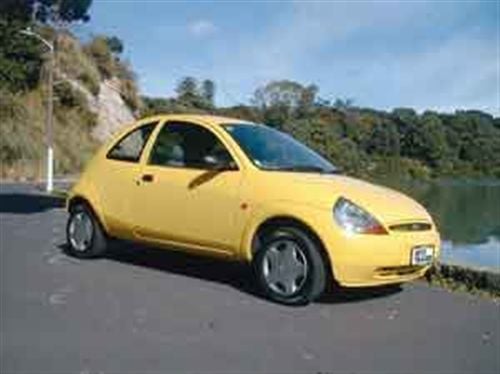 We're absolutely convinced of that, even if an apparently large number of people don't agree.
The Ka performs briskly, rides even corrugated loose metal roads with aplomb, will turn on a five-cent coin, has absolutely unshakeable grip and vice-free handling.
As the British magazine Autocar sums it up, the Ka is "terrific fun" to drive.
We couldn't agree more and it's long been atop our choice of small cars.
But Autocar adds, ominously: "sales figures say otherwise, though."
The same is true here, we figure, given the small number of Kas we see on the roads of New Zealand's largest city.
Given, too, Ford's current re-launch of the Ka with more environmentally-friendly and cheaper-at-the-petrol-pump 91-octane motor.
The new spec gives the Ka air-conditioning and a Compact Disc player as standard, factors which may or may not improve its showroom appeal.
The fact is you either love the way it looks or you hate it.
New edge design means a truncated, sort of elongated egg shape with prominent "eye"-like headlights, a wheel at each corner and – originally – dark grey plastic bumpers.
The latter are great for parking space nudges but do little for the Ka's looks unless the body is painted a dark colour anyway. On white versions they look hideous.
The new-spec Ka picks up body-coloured bumpers – previously an option – as standard.
Our test car, an older 96-octane not-so-green model, had painted bumpers: "a great improvement," said the guy pumping the 96 into the car during a gas stop.
The consensus around the office swayed towards the negative when the way the Ka looked was discussed.
I like it, but I and a few others were the minority, and, I guess, an accurate reflection of the marketplace.
"Just wait till you drive it," I said forgetting for a moment that that was a Nissan slogan.
It's true, though, for the Ka is one of the best and most fun cars on the road.
The chassis has more finesse and agility than the motor's relatively modest power can ever embarrass. It would be an ideal vehicle for a learner driver, one in which the skills of driving could be learnt thoroughly in a car with totally vice-free road manners and a sufficient level of power.
The Ka handles superbly. Turn-in is sharp without being abrupt and the car follows your chosen line faithfully and without wavering, even if it encounters mid-corner bumps.
The harder you push it the better it becomes, though the test car had more of a feeling of rear-end movement than we recalled from previous Kas we've driven.
On a favourite road it was completely unflappable, the chassis displaying massive reserves of handling and roadholding. Never once did it put a foot wrong; never once did we have an anxious moment, even when pressing on very hard indeed.
We simply came to the end of the drive fizzing with enthusiasm.
If we wanted anything from the Ka it was more power. Hills could require some extra effort from the 1.3-litre motor and occasionally – just occasionally – it seemed to get breathless with the exertion.
It was equally good on gravel, with a ride quality that belied its size and low weight and a predictability that belied its front-wheel drive nature.
Never once did it get the pendulum effect that can mar some front-drivers on gravel.
Its poise was equally good on thickly-gravelled roads or on relatively "swept" hard-based roads.
The gearshift is quick, light and precise and the clutch action is light; factors which enhance its commuter appeal and make it fun on the open road.
There's some road and mechanical noise – but no more that you'd expect in a small car – and wind noise is moderate.
Our major gripe was some difficult to pinpoint rattles from the back of the car. We hadn't encountered anything like them in other Kas we've driven and they were annoying enough to have caused us to drive the dealer mad if we'd bought the car.
Brakes – a disc front, drum rear set-up – were strong, efficient and absolutely fade-free.
The willing little four cylinder motor (1299cc to be exact) produces 44kW which though not a lot is typical for a 1300. Peak torque is 105kW.
It translates to brisk performance, with 100km/h arriving in around 14.8 seconds and top speed in the 150-155km/h range. That's not fast, but the Ka's chief enjoyment comes from its handling and ability in tight and difficult going.
Performance in city traffic is excellent and the car will more than hold its own. Its compact bodywork and wheel at each corner layout make it ideal for inner city streets and the cut-and-thrust of urban driving. Manoeuvrability is helped by the tight 9.9 metre turning circle.
The only downside is a reluctance to get off the line instantly at traffic lights. Maybe you need to use more throttle than I was willing to, but we found a slight hesitation in getting under way.
The Ka is ultra-compact, measuring 3620mm long, 1368mm high and 1827mm wide (including mirrors).
It rides on a long – for its overall length – 2448mm wheelbase.
That wheelbase puts a wheel at each corner of the car – literally – as they used to say of the Mini. It's a major reason for the car's stability, its nimbleness and its relatively-good ride for such a small and light vehicle (its kerb weight is a mere 871kg).
Interior room, though, is very good. Headroom peaks at 991mm in the front, dropping to a best of 923mm in the rear seats. But the rear seat headroom is about the most cramped taller passengers will get in the Ka. There's plenty of front headroom for tall drivers and passengers and there's no premium on legroom.
Shoulder room is also good and despite the Ka's external compactness, you and your passengers never feel as if you're sitting on top of each other.
Clever packaging gives good rear seat legroom even when you're sitting behind a tall driver.
We were less happy with the front seatback design. Shoulder support was good, the seats were shaped well but I found the non-adjustable lumbar support a little severe.
Cargo volume, especially with the rear seatback upright, is fairly tight. In fact, you won't get a lot more than a packed supermarket trolley's worth of goods into the luggage compartment with the rear seat in use. Peak volume then is 205 litres which improves to 451 litres with the Ka used as a two-seater.
Standard equipment is reasonably good, and improves with the recent revisions which see a Compact Disc player become standard.
The test car was the older 96-octane model, and it came with driver's airbag, fabric upholstery, carpeting, central door-locking, electrically-wound front windows, air-conditioning (an essential in a small, well-glazed car like this which fogs up quickly in damp weather), body-coloured bumpers (a dealer-fit option which is standard on new 91-octane Kas), analogue clock, and a cassette sound system.
The stereo provides reasonable sound.
We've been enamoured of the Ka for some time and we'd buy one at the drop of a hat if we had spare cash for a small, fun-to-drive car.
The odd looks, though, seem to scare off most potential buyers.
And that's a pity. They don't know what they're missing or just how good and rewarding to drive the Ford Ka is.
AutoPoint road test team.