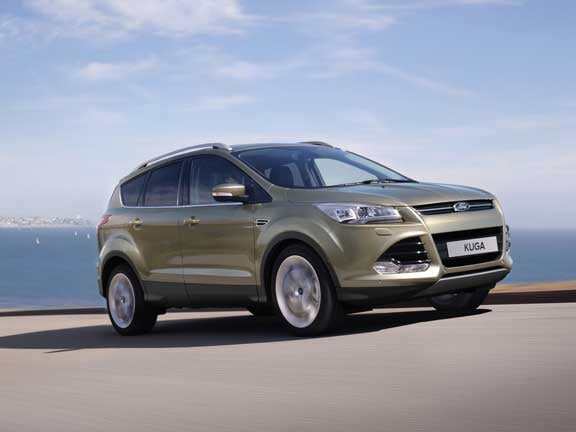 Base price: $54,990 .
Powertrain and performance:
· 2.0-litre turbo diesel four
· 120kW/340Nm
· 6-speed automated transmission
· Full-time four-wheel drive
· Combined economy 6.2 litres per 100km
Vital statistics:
· 4524mm long
· 1690mm high
· Luggage capacity 406-1603 litres
· Fuel tank 60 litres
· 19-inch alloy wheels on 235/45 tyres
We like: Style, dynamics, equipment, perceived quality.
We don't like: Diesel engine outclassed by rivals, some cabin quality really is only 'perceived'.
How it rates: 7/10
WHAT DO I NEED TO KNOW?
Ford keeps things pretty simple with its Kuga crossover: there are a variety of specifications, but each is available with petrol or diesel power and it's one of only two models in this massive and highly competitive segment that comes exclusively with all-wheel drive (the other is the Subaru Forester).
Assuming personal preference and/or price dictates the specification for the potential Kuga buyer, the biggest decision is the powerplant. We've already tested the top-specification Kuga Titanium in petrol form – now it's the turn of the turbo-diesel version.
WHAT'S IT LIKE TO DRIVE?
Diesel is so well accepted in the crossover/SUV segments, with some models it's a no-brainer to go with compression-ignition. Things are a little more complex with Kuga, though: the petrol version has Ford's very latest EcoBoost engine technology, giving it hero status in the range (and a $2000 price advantage). The diesel version has a 2.0-litre powerplant that brings benefits in torque and fuel economy, but is a much older design.
The diesel boasts an extra 14kW/100Nm over the petrol version and drinks 1.5 litres less fuel per 100km (according to the official figures). That extra torque in particular gives the TDCi an edge in real-world driving, but the downside is that it's just another diesel, whereas the EcoBoost petrol has beautifully linear performance and quite a bit of character.
In any form, the Kuga is dynamically adept – even in the context of what is a very talented segment of cars. Superb ride and handling is Ford's thing in mainstream models and the Kuga is no exception.
In Titanium form it also has the odd surprise-and-delight feature, such as self-parking feature that can identify a suitable space and handle the steering all by its self. All you have to do is work the pedals and supervise.
IS IT EASY TO LIVE WITH?
Kuga is certainly on the compact-crossover A-list. It looks good, it's well-engineered and it's great to drive in whatever form.
It's right up there in terms of comfort too, although the cabin is a bit of a mixed bag. In terms of perceived quality it's hard to fault: the dashboard is covered in (very) soft-touch plastic and the bright switchgear has a nicely tactile feel.
However, under the surface the Kuga is a bit creaky. Quite literally if our last two test cars are indicative of general build quality, with suspicious rattles and discoloured areas of interior trim. There's every reason to think the Kuga may not be quite as solid as it feels.
Ergonomically the car is a bit haphazard in places as well: there's an explosion of small buttons on the centre console and a tiny screen for the infotainment systems and satellite navigation. Finding your way around the menus can take a while.
However, the fundamentals of Kuga are excellent. It's a feel-good car to drive and it has a feel-good cabin too, with an excess of equipment in Titanium trim and support seats.
It's practical for a compact-crossover too, with split/folding rear seats and (on our Titanium) Ford's trick remote power tailgate: simply wave your foot under the rear bumper and the hatch opens up.
SHOULD I BUY ONE?
This is arguably the most competitive and well-populated segment in the New Zealand market, so you really have to consider how the Kuga stacks up against the competition.
Overall, Kuga is a front-runner for sure. In petrol form especially, because the engine technology is right at the cutting edge of what's available in the class.
The Kuga TDCi is a little harder to make the case for, when so many rivals have more modern powerplants – putting Ford's diesel up against Mazda's advanced SkyActiv engine shows the Blue Oval in a poor light, for example.
So Kuga? Yes, absolutely. Kuga diesel? Think hard, because that's more of a maybe.
EQUIPMENT CHECKLIST
Air conditioning: Dual climate
Audio: CD, iPod compatible
Automatic lights/wipers: Yes/yes
Blind spot warning: Yes
Bluetooth: Yes
Cruise control: Yes
Driver footrest: Yes
Head-up display: No
Heated/ventilated seats: Yes
Keyless entry/start: Yes/Yes
Leather upholstery: Yes
Parking radar: Yes with camera
Power boot or tailgate: Yes with under-bumper sensor
Power seat adjustment/memory: Yes/Yes
Remote audio controls: Yes
Satellite navigation: Yes
Seat height adjustment: Yes
Self-parking technology: Yes
Split/folding rear seats: 60/40
Steering reach adjustment: Yes
Stop-start: Yes
Trip computer: Yes
Find a Ford Kuga Titanium TDCi HERE