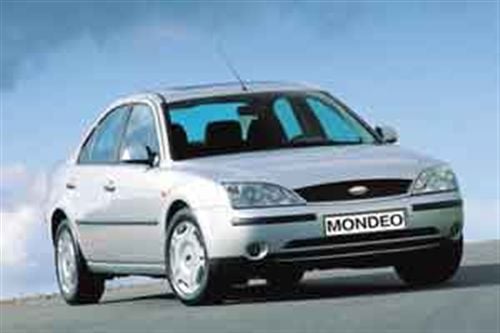 The new car is built at Ford's factory in Genk, Belgium. It's bigger and much roomier than its predecessor and is seen by some critics as having the potential to shake up some of the similarly-sized offerings from prestige car makers.
The Mondeo range offers two engines. Only one – the 2.5-litre Duratec V6 – is carried over from the previous model, but has been enhanced.
The V6 produces 125kW at 6000rpm and peak torque of 222Nm at 4250rpm.
Joining it is the all-new 2.0-litre four-cylinder Duratec HE petrol engine.
The 16-valve aluminium HE four is lightweight and compact. It produces 105kW at 6000rpm. Peak torque is 222Nm at 4250rpm.
The Mondeo's manual gearbox is the proven MTX-75 with refinements for effortless and refined shifting and a longer service life. It has revised gear ratios and a cable-shift mechanism for higher efficiency and greater shift precision. Its shorter travel and positive gear engagement are noticeable improvements.
The CD4E automatic four-speed transmission option has been specially developed for front-wheel drive.
There are four ratios with an overdrive top gear and a lock-up torque converter.
The Mondeo has a particularly roomy interior, rivalling much larger vehicles.
The new Mondeo's wheelbase is 50mm longer than its predecessor's, giving good rear seat legroom.
The new Mondeo is 150 mm longer overall; has a higher H-point (the height position of the hip joint in the driver's seat); larger door openings; ergonomically designed seats; optimised outward visibility; and a flat-floor boot.
The interior is completely new, reflecting a fresh direction for Ford interior design.
The new design has a contemporary and elegant feel and a "technical" finish featuring metal-look trim accents.
The new fascia design features a smooth-textured soft-feel top, a well-defined instrument binnacle for the driver, and a fully integrated centre console.
Mondeos have 16-inch wheels across the range.
Virtually every component of Mondeo's suspension system has been revised. The MacPherson front suspension system now includes a rigid suspension subframe mounted with rubber mounts and dual-path upper strut mounts for enhanced ride comfort. The rear suspension of the sedan and hatch uses the proven multi-link suspension design, but has a new subframe mounting system featuring rubber bushings.
A special compact independent suspension has been specifically developed for the Mondeo Wagon to provide load compartment width and minimum wheelarch intrusion. It uses a different subframe system that combines a channel section crossbeam with a tubular extension to support a low package height short/long arm (SLA type) suspension system. That results in a wider track (by 33mm) to reduce body roll and allow clearance for wider tyres.
The rack-and-pinion steering has hydraulic power assistance.
The car's body structure was optimised to provide an ultra-rigid zone of protection for the occupants, surrounded by energy-absorbing crush zones.
Side-impact protection is enhanced by ultra-high-strength steel reinforcements inside the doors, positioned at various heights to absorb impact energy.
All Mondeos have four wheel disc brakes, and ABS anti-skid braking.
High-performance halogen headlights are standard on all new Mondeos.
The Mondeo has an Intelligent Protection System which is standard equipment across the range.
Adaptive dual-stage front airbags have an advanced detection system that analyses frontal crash severity, driver position and passenger-seat occupancy.
Front seatbelts have ore-tensioners and load-limiting retractors.
There are chest-protecting side airbags for front-seat occupants.
Inflatable side curtains for front and rear-seat occupants are standard on the Mondeo Ghia.
The controls and key systems have been arranged to minimise distracting the driver from the business of driving. A remote audio control unit on the steering column allows the driver to change stations, adjust volume and even switch to another Compact Disc in the in-dash six-CD player (ST and Ghia only) without taking either hand from the steering wheel.
Since the original Ford Mondeo was launched in 1993, more than 2.5 million vehicles have been built for sale in more than 60 markets around the world.