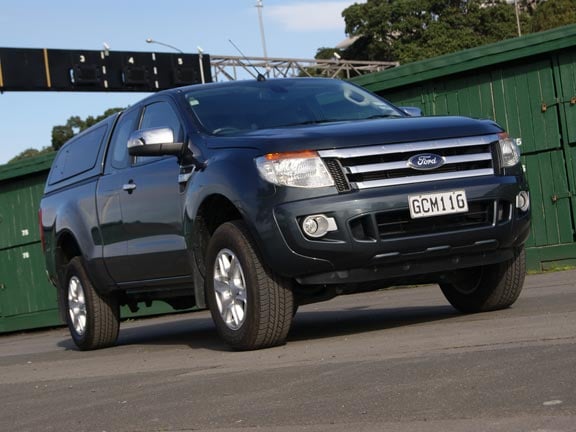 Base price: $47,340.
Powertrain and performance: 3.2-litre turbo-diesel five-cylinder, 147kW/470Nm, 6-speed automatic, rear-drive, Combined economy 8.4 litres per 100km.
Vital statistics: 5359mm long, 1804mm high, kerb weight 1921kg, maximum payload 1279kg, fuel tank 80 litres, 16-inch wheels on 255/70 tyres.
We like: Plenty of grunt, polished chassis, and extra tray length of supercab model.
We don't like: Intrusive diesel needs a load on board to give rear wheels traction in wet.
How it rates: 8/10
WHAT DO I NEED TO KNOW?
Two things, really: that the Ford Ranger still has the wow-factor of a one-tonne light-commercial with incredibly car-like performance, ride and handling. It really is a groundbreaking model for its segment.
Secondly, by the time you've mixed and matched body styles with powertrains, Ranger comes in an incredibly broad range of models.
Our test vehicle illustrates the point: a so-called Ranger supercab with four doors, comprising two conventional ones at the front and two rear-hinged 'suicide doors' (although they hate it when you call them that) at the back. Our Ranger supercab was delivered in Hi-Rider specification, which means it has the same ground clearance as the four-wheel drive models but is actually rear-drive only.
WHAT'S IT LIKE TO DRIVE?
Car-like for certain, although to keep things in perspective no Ute can be exactly like a car. You have to accept a noisy diesel engine and slightly unsettled urban ride if you are serious about driving one of these as a SUV-substitute (which many do).
However, in other respects Ranger fits the bill nicely. The five-cylinder turbo-diesel engine has a lot of character and a lot of muscle. The six-speed automatic transmission is beauty too, although there's also the option of a manual gearbox.
One of the things that really sets Ranger apart from old-school Utes is its steering and on-road chassis behaviour. The tiller is taut and turn-in is particularly crisp for a light commercial. You won't believe how briskly you can drive a Ranger over a winding road, notwithstanding its sheer size. It's sharp but it still takes up a lot of road.
Now comes the part where I should say that despite its user-friendly nature, it's still a highly capable off-roader. But it's not in this instance, of course, because it's rear-drive. The Hi-Rider is still dynamically impressive, but having rear-drive on a large ute with little weight in the rear means you have to exercise caution on wet roads or low-traction surfaces. The Ranger's excellent stability control system keeps the vehicle in check at speed, but it won't stop you getting stuck if you're parking on a hill or maneuvering on wet grass.
IS IT EASY TO LIVE WITH?
In context of it being a Ute, yes. Ranger is over five metres long and you certainly have to be aware of that in urban driving and/or parking. Rear radar assistance is standard on the XLT as tested, which is just as well because the (optional) canopy removed any pretense of rearward visibility. The problem is that you have a glass rear window for the cabin, then another glass window for the canopy, so when you look behind all you see is what's in front of the car because of the reflection between the two pieces of glass. Frustrating.
The Ranger cabin strikes the right balance between macho styling and good functionality. The plastics are hard (your local Ford salesperson would probably say 'durable') but it's still a pleasant place to be. The front seats are particularly good for a light commercial.
The supercab rear doors won't open unless the front apertures are opened first, which can be a hassle. But they do open in very tight spaces and give good access to rear seats that are better than occasional, if not quite as fulsomely shaped as those in the front. But that's pretty standard for a Ute anyway. You also get some neat storage bins under the seats in the back.
Choosing a supercab does entail some passenger compromise compared with the (much more popular) double cab, but the payoff is payload: an extra 298mm in load length, which is considerable when we're talking about a working Ute. Or even a recreational one if you're looking to fit bikes or jet skis in the back but still need space to seat the kids.
SHOULD I BUY ONE?
Ranger is still a standout model in the utility segment. As an all-rounder, it's only worthy rivals are the Mazda BT-50 (which is the same vehicle under the sheet metal) and the Volkswagen Amarok. So buy with confidence.
But if the budget allows, don't discount the possibility of taking up the all-wheel drive option even if you're not planning to go off-roading. You'd be surprised how valuable the extra traction is in all kinds of driving.
EQUIPMENT CHECKLIST
Air conditioning: Manual
Audio: CD, iPod compatible
Automatic lights/wipers: No
Blind spot warning: No
Bluetooth: Yes
Cruise control: Yes
Driver footrest: Yes
Head-up display: No
Heated/ventilated seats: No
Keyless entry/start: No
Lane guidance: No
Leather upholstery: No
Parking radar: Rear
Power boot or tailgate: No
Power seat adjustment/memory: No
Remote audio controls: Yes
Satellite navigation: No
Seat height adjustment: Yes
Self-parking technology: No
Split/folding rear seats: Rear seat squabs lift, storage underneath
Steering reach adjustment: Yes
Stop-start: No
Trip computer: Yes
Find a Ford Ranger XLT HERE