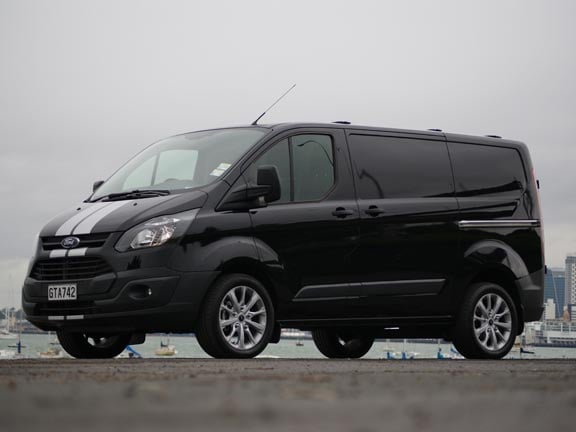 Base price: $49,490.
Powertrain and performance: 2.2-litre turbo-diesel four, 114kW/385Nm, 6-speed manual, front-drive, Combined economy 6.6 litres per 100km.
Vital statistics: 4973mm long, 1974mm high, kerb weight 1730kg, load space (SAE) 5.95 cubic metres, fuel tank 80 litres.
We like: Style, car-like cabin, engaging powertrain.
We don't like: Having to ask for stripes and alloys as extras. A Custom deserves them as standard.
How it rates: 9/10
WHAT DO I NEED TO KNOW?
That vans can be cool! That's always been the case of course – light commercials have often led the way in powertrain technology and styling smarts.
But it's especially true of the new Ford Transit Custom, which is a lot of fun to drive and looks the part too, with many styling cues from the brand passenger-car range. Of course it doesn't hurt when you deck it out in stripes and alloys, as per our test car.
The Transit range has been split in two for the new generation. Custom is essentially the one-tonne option. The second model – yet to be launched – is the larger version for those who need much longer-wheelbase and/or high-roof cargo carriers.
WHAT'S IT LIKE TO DRIVE?
Great, actually. Custom comes with a variety of engine outputs from the factory and Ford New Zealand has chosen the most powerful. The 2.2-litre turbo makes an impressive 114kW/385Nm and is matched to a six-speed manual transmission.
A sports car it's not – but then some bits are quite similar. With the gearlever mounted up on the dashboard, the shift is right next to the steering wheel, just as it would be in a low-slung roadster, where you sit low and the gearlever is high on the console. Not convinced? Understandable.
The diesel engine is sprightly though, the steering good and the (unladen) chassis remarkably responsive. The Custom comes with the full suite of active safety equipment you'd expect on a passenger car (traction and stability control, for example) and even a touch of the exotic: like torque vectoring, which apportions power between the driven wheels to maximise traction out of tight corners. It's the sort of technology that not so long ago was the preserve of premium makers like Porsche, although you get it on a Fiesta ST now. Which might explain its presence here.
Low running costs are paramount with vans and the Custom returns 6.6 litres per 100km, thanks to eco-friendly features like stop-start and regenerative braking.
IS IT EASY TO LIVE WITH?
Depends what you want from a van. In terms of load space it'll come down to numbers, such as the Custom's 2.9-metre wheelbase, 5.95 cubic-metre cargo volume and 1170kg payload.
Up front, it's fantastic. The cabin has three-abreast seating and the dashboard looks like an upscaled version of the Ford Fiesta: same angular shapes and mobile-phone-inspired switchgear for the multimedia.
Custom also has Ford's Sync voice control system. It's only a generation-one setup so nowhere near as sophisticated as that in a Focus, but it's still an intuitive and practical technology once you master the basic commands.
SHOULD I BUY ONE?
Well, I should think so. The Transit brand is legendary anyway, so fans of the Blue Oval won't need too much convincing. The rest might well be swayed by the Custom's high style, car-like cabin and engaging powertrain. It's fun, whether you're carrying anything or not…
EQUIPMENT CHECKLIST
Air conditioning: Manual
Audio: CD, iPod compatible
Automatic lights/wipers: No/No
Blind spot warning: No
Bluetooth: Yes
Cruise control: Yes
Driver footrest: Yes
Gas discharge headlights: No
Head-up display: No
Heated/ventilated seats: No
Keyless entry/start: No
Lane guidance: No
Leather upholstery: No
Parking radar: No
Power boot or tailgate: No
Power seat adjustment/memory: No
Remote audio controls: Yes
Satellite navigation: No
Seat height adjustment: Yes
Self-parking technology: No
Split/folding rear seats: No
Steering reach adjustment: Yes
Stop-start: Yes
Trip computer: Yes
Find a Ford Transit Custom HERE