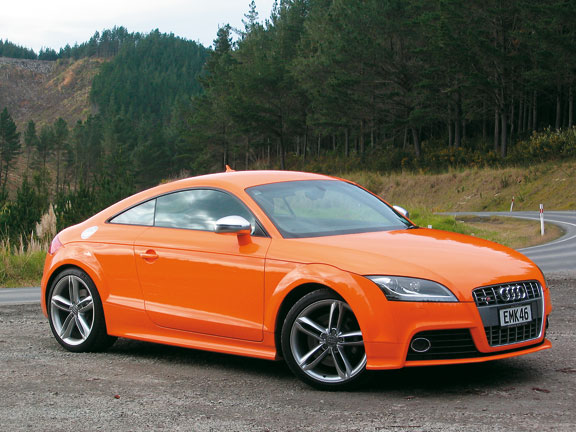 Talk about joi de vivre: however wintry, life is never grey in a tangerine-orange Audi. The brand may be known for subtle designs, but when it goes wild, it really does go wild. That's the only explanation for the orange panels inside, or this peculiarly vibrant shade of paint.
But once you get over the shock, the vibrancy rather suits the car.
There's a tendency to write the TT off as all mouth and trousers; as if good looks and performance don't go together, or only the fastest car can wave the performance flag.
Balls. The silver medal winner may not be the fastest Olympian, but he or she is still bloody quick in real world terms.
The original TT wasn't the hardest, fastest car out there: its chassis wasn't clever enough for that. But it was quick enough to offer more than most buyers could use.
The latest generation matched more restrained looks to a better-handling chassis; a lightweight, mixed aluminium and steel body mated to a more advanced suspension.
Now there's a more powerful engine to make the most of it, too. The fettled, fuel-injected 2.0-litre turbo whips out 200kW at 6000rpm, and a rather useful 350Nm of peak torque anywhere from 2500 to 5000rpm.
That'll take it from zero to 100 in a claimed 5.2 seconds when mated to the double-clutch S-tronic auto, or 5.4 with the six-speed manual.
We got the manual. It may be a whisker slower but delivery feels more direct when it's accessed at the flick of a wrist.
Snick into first, floor it and this car sounds as keen as the flaming colour suggests, and far more feral than any 2.0 has a right to.
It's a rip-snorting hard-charging beast that requires some fancy wrist-work to avoid harsh changes at full noise.
Sit the car in the midst of that torque band and she's bloody quick, with fantastic levels of grip and a joyful nimbleness once you get the hang of it.
And you do need to, for she's a tad nose-heavy. Spear into that tightening bend to invite understeer, closely followed by a flicker of ESP, a disappointing combination in an otherwise confidence-inspiring sports car.
Gain assurance, lift off a nudge and she'll settle, squat and charge out as you ease on to the power; get used to it and you're driving on the throttle – not the ideal approach for rain-slick public roads, but fun nonetheless.
Particularly with this engine. The extra power came via a suite of changes. The balancer shaft turbo uses a variable length induction system to breathe more freely when needed, while variably timed inlet valves feed the Garrett turbo's combustion chamber. The block was reinforced, the connecting rod pins and piston rings redesigned, and a new silicon alloy slathers the cylinder head.
But you don't notice this when you're driving. What you do notice – at least you do under hard acceleration – is that effervescent soundtrack.
Trail the throttle, though, and apart from the need for precise gear action, this car will happily act as a city hack.
Select 'normal' from the magnetic ride adaptive dampers and you've got impressive compliance for a sporting car.
Up the pace, tap sport and she's a harder, keener proposition altogether.
This system uses electric currents to alter damping response to the conditions; certainly it proved impressive on the lumpy winter roads I traversed for this test.
So, would the $109,500 TTS beat a well-driven Porsche Cayman over those same roads?
I doubt it. But there's more than enough hairy sporting enjoyment on offer to please most people, most of the time. And it comes in a sharp-looking package, with Audi's fine levels of quality and finish and a generous features list that includes the everyday comforts – cruise control, cupholders – often forgotten in sporting cars.
The smart cabin, with its deeply supportive front seats, offers good ergonomics, with the dash easily angled for the driver to reach and sporty touches including that rather effective flat-bottomed wheel.
The rear seats are too small to be practical, but the boot – aided by the massive liftgate – is surprisingly useful, if shallow, for its 290 litres, and the rear seats will fold to offer 700. Shame that fat rear pillar compromises left-side rear view, and the mirrors spot the car's curvy flanks and not the kerb when parking.
Head-turning orange apart, I rather liked this car, not despite its inability to reach the frayed extremities of the ragged edge, but because of.
Some are harder and faster but don't make an everyday driver, whereas this TTS still will.