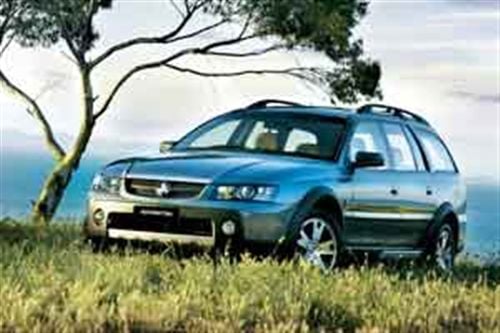 A V6 version, with an extremely useful off-road tool, Hill Descent Control (HDC), will join the existing V8 in the New Zealand range from May this year. The V8 and its four-speed automatic gearbox are not engineered to accept HDC.
At last Holden will have a car to take on Ford's ultra-successful AWD crossover vehicle, the Territory.
The Adventra V6, which carries the X6 nameplate, comes in three versions – the SX6 ($50,990), CX6 ($56,900) and LX6 ($62,900) – all powered by the higher-output, 190kW version of the new overhead camshaft, 3.6-litre Alloytec V6.
They join the existing LX8 (price unchanged at $68,000) which runs a 250kW version of the GEN III 5.7-litre V8.
The eight-cylinder Adventra range is now one model: the higher-spec LX8 made up more than 60 percent of NZ sales of the Holden AWD.
The V8 Adventra has struggled for acceptance both here and in Australia.
It has been perceived as particularly gas-thirsty, and as not being as dramatically different from the Commodore station wagon as it needed to be.
That said, the existing VY II Adventra is undeniably handsome, with eye-catching lines that draw favourable comment from onlookers.
The restyled VY takes the concept further, toughening-up the styling with a wide front fascia and air intake that give the wagon a far more aggressive and muscular look.
No V6 version was built initially because it was considered too expensive to adapt the car for the old 3.8-litre Buick pushrod V6 and then re-engineer it for the OHC 3.6 that would debut with the much-revised VZ Commodore range.
V6 Adventras come with the new five-speed automatic transmission that debuted with the VZ Commodore, but the V8 continues with a revised version of the familiar four-speed auto.
The higher-grade CX6 and LX6 models also offer Active Select with transmission paddle shifters on the steering wheel. No manual gearbox Adventras are offered.
All V6 Adventras get a standard Electronic Stability Program and Hill Descent Control.
HDC allows drivers to safely negotiate steep gradients in drive or reverse without having to touch the brake pedal. The system automatically applies the brakes and limits the speed of the vehicle, avoiding lock-up of individual wheels. Vehicle speed can be increased or decreased using the cruise control switches.
The standard speed is 5km/h, but HDC can be dialled up to 35km/h. It can be overridden by applying the accelerator pedal.
ESP greatly improves vehicle safety performance in situations where the driver takes emergency action to avoid a collision. By helping to control understeer and oversteer, ESP maintains grip and helps stabilise the vehicle.
Further active safety features are Corner Braking Control (CBC), Electronic Brake Assist (EBA) and Electronic Throttle Control (ETC).
The higher-riding Adventra – its ground clearance is 200mm – takes on the sharper design and strong graphic themes of the VZ Commodore range.
Design cues include twin spears on the bonnet and a bolder front fascia with fresh headlight treatments.
A broad air intake opening, black mouldings and aluminium protector plates accentuate a wider-track stance.
Adventra LX6 and LX8 models have 17-inch five-spoke alloy wheels with graphite inserts, jewelled projector headlights with optic fibre twin bar parking lights and black bezels, clear lens foglights and chrome grille headers.
Flared wheelarches and Euro-style roof rack emphasise the Adventra's crossover credentials. The rear tailgate glass lifts separately and can be operated remotely for easy loading of small items.
Rear seats split-fold 60/40, and fold almost completely flat to provide a maximum of 2683 litres of cargo space.
Along with new active safety technology and Cross Trac AWD grip, Adventra wagons share Commodore safety systems and body structure, optimised to minimise occupant injury risk. Complementing driver, front passenger and side airbags are front seat pyrotechnic seatbelt pre-tensioners and force limiters, anti-submarining ramps in all positions, child restraint anchor points. LX6 and LX8 have active front seat head restraints and Adventra's wide track and low centre of gravity also enhance safety performance.
Chassis, underbody and key components engineered for all-road applications include front and rear bash plate undertrays, heavy duty engine cradle, front strut bracing, reinforced front and rear suspension, heavy duty brake and cooling systems. The modified transmission is mounted on a two-piece system that doubles as an extra body brace and acts to improve safety performance in side impact crashes.
There are four new-to-the-range exterior finishes. Bright chromatic Impulse blue, dark mercury silver Odyssey, light to mid-green/blue metallic Barbados and Heron White join Quicksilver and Phantom metallic black and Shanghai Red.
Engine and transmission
The Adventra X6's lightweight, all-aluminium Alloytec 190 engine produces 190kW of power at 6500rpm and 340Nm of torque at 3200rpm.
Ninety percent of the torque is produced between 1570 and 5870rpm.
Improvements to the LX8 Adventra's 5.7-litre Gen III V8 bring electronic throttle control for improved driveability and durability, a smoother-shifting four-speed auto transmission and a 15kW boost in power to 250kW at 5600rpm. Peak torque of 470Nm is delivered at 4800rpm.
Holden's all wheel drive Cross Trac system is designed to provide high levels of traction on a wide range of surfaces, using automatic brake differential (ABD) software and electronic brake force distribution (EBD) to achieve desired levels of traction across all wheels.
The rear-wheel drive-biased torque split is 38 percent to the front wheels and 62 percent to the rear for maximum flexibility and stability.
Cross Trac software is calibrated to cope with gravel and loose dirt surfaces. Thousands of variables determine the amount of torque split required for maximum traction.
SX: model by model
SX6 standard features include 17-inch six-spoke alloy wheels, rear park assist, power windows, Compact Disc player, cruise control, auto headlights, trip computer, air conditioning, driver, front passenger and side airbags, fabric seat and door trim, power exterior mirrors, remote tailgate window operation, retracting cargo blind and chrome exhaust tip.
The CX6 adds chromed projector headlights, leather trim in neutral pewter, leather-wrapped steering wheel with Active Select, electronic climate-control air-conditioning, leather-wrapped transmission shifter and handbrake handle, six-disc CD player, graphic equaliser, multi-mode trip computer, satin chrome highlights, front spot reading lights, dash-top storage compartment, integrated rear storage compartments and power outlet.
The LX6 and LX8 Adventra have electric sunroof, level ride suspension, premium 10-speaker sound system with subwoofer and 260W amplifier, leather and suede interior trim, front sports seats with electric eight-way adjustment, sports profile leather-wrapped steering wheel with satin chrome spokes, heated exterior mirrors with memory, auto dip passenger side exterior mirror, dual zone climate control, high-mounted sports auxiliary gauges, roof rack with integrated luggage carrier, Priority Key, cargo and tie-down safety nets, stainless steel sill plates, first aid kit.
Optional equipment
Holden by Design
HBD options for the Adventra include a 16-inch more rugged all-terrain tyre and steel wheel combination.
You can also order an overhead DVD player; Bluetooth mobile phone kit; driving lights; roo bar; nudge bar; full underbody protection plate; headlight guards; car fridge; rear cargo organiser; roof pod; roof-mounted ski, bicycle and spare wheel carriers; folding third row, front-facing Plus 2 child seat; an electric sunroof (SX and CX models), and towing mirrors.
A folding rear seat option makes room for seven.
Wider Holden AWD range
The VZ Adventra is part of a Holden revamp and expansion of its all-wheel drive (AWD, permanent four-wheel drive) line-up.
The Holden Crewman-based Cross 8 is now joined by a Cross 6 V6 variant, running a 174kW version of the Alloytec motor.
New to the AWD range is a four-wheel drive version of the One-tonner cab and chassis ute. It is said to have the best off-road abilities of any of the Holden AWD range because of its steeper approach and departure angles.
However, Holden New Zealand has opted not to offer the AWD One-tonner in its range.
On the road
We drove the VZ Adventra in a range of on and off-road conditions in a sweltering Queensland last week.
The 190kW V6 provides brisk performance, despite the vehicle's hefty kerb weight which ranges from 1895kg to 1965kg.
Turn-in to corners is crisp and the ride is excellent, no matter what the surface. There's a fair amount of road roar on chip-surfaced tarmac.
The gravel road handling is excellent, the car remaining predictable and unfussed at speed. Gravel road ride is exceptionally good.
Cabin space and comfort is the normal roomy Commodore wagon's, and the air-conditioning is the usual efficient and unobtrusive Holden unit.
The five-speed auto works well and allows drivers to get the best out of the motor.
The Hill Descent Control is as intriguing as it is useful.
It's one of those switch-off-your-usual-behaviour systems.
You select it with a centre console-mounted button and then commit the car to the descent, taking your feet off both the brake and the accelerator. All you do is steer the car, the HDC system does the rest, maintaining a steady 5km/h which you can vary upwards by turning the column stalk-mounted Cruise Control speed regulator.
It's a weird feeling to be sitting in a car which drives itself down a steep hill.
As impressive as the descent of the test hill was the Adventra's behaviour in the super-tight hairpin which took us back on to the road to the top of the hill again.
A rear wheel would leave the ground, but the Cross Trac system would vary drive to the other three wheels, dragging the car upwards till the fourth wheel returned to the ground, bit, and then catapulted the car upwards.
The ESP was put through its paces in an induced "moment" on a loose-surfaced skidpan on a quarry floor.
First a Holden driving instructor demonstrated how the car reacted to a violent left turn at 50km/h with the ESP switched off.
The tail slid out, he caught it and the car slid back the other way, eventually spinning sideways as the pendulum tank-slapper effect outran his ability to continue to correct the unstable and heavy car.
With ESP on, things were much less dramatic, and you could bring the car to a safe halt without spinning.
Again this little exercise took some getting right – remembering not to brake and to take your foot off the throttle wasn't so easy.
Further demonstrations of Cross Trac were given – this time in Cross 8 and Cross utes – by towing caravans up ultra-steep gravel hills, where the Cross 8's progress was marked by chirps from the rear wheels and little jerking movements as the system varied the drive to individual wheels.
And on a series of sharp mounds where approach and departure and ramp-over angles were put to the test.
Through all the manoeuvres, the Cross Trac system shone with its prodigious capacity to retain traction.
On this brief evaluation on unfamiliar roads, the Adventra X6 seemed a winner with a poise and sharpness the VY II X8 never showed.
It still used plenty of gas, but what can you expect from two tonnes of car and these levels of power and torque?
The VZ Adventra looks more purposeful and more aggressive and, more importantly, has the equipment and chops to take the fight to Ford's Territory.
Words: Mike Stock
Photographs: Holden and Mike Stock