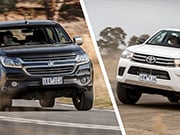 There appear to be no signs that the almost unbelievable popularity of dual-cab utes is slowing any time soon. Gone are the days when small hatchbacks fought it out from one month to the next as our favourite vehicle type – now it's one-tonners that are engaging in a heavyweight battle for driveways.
The Toyota Hilux has been a consistent top performer, only challenged recently by the Ford Ranger, but does it deserve the tradie truck crown? With so many other options in the growing market, including newcomers at the premium end such as the Volkswagen Amarok and Mercedes-Benz X-Class, the Toyota has never felt more pressure from rivals.
While Mercedes and Volkswagen wage a new posh truck war, an old adversary is encroaching and, following a significant update in 2015, Holden's Colorado has never looked so strong.
We pitch the universally improved Holden Colorado against the venerable Toyota Hilux to see which makes the most sense for buyers wanting to join the dual-cab revolution.
Price and equipment
Toyota Hilux: At $48,560 (AUD), the Hilux appears to be a bit of a bargain but that's before you see what's left out. To pick up standard navigation, climate control, 18-inch alloy wheels and keyless start to name a few standouts, you have to step up to the SR+ and spend $54,440 (AUD). Without the plus, the SR makes do with basics including fabric seat upholstery, vinyl on the floor, a seven-inch colour touchscreen with Bluetooth, automatic on/off halogen headlights, 60:40 split folding rear seats, side steps and body-coloured bumpers.
As this is the 4×4 version, a low-range transfer case and rear diff lock is included with electric switching for boosted off-road agility. Power comes from a 2.8-litre diesel four-cylinder, bolted to a six-speed automatic transmission that feeds 130kW and 450Nm to the wheels.
Safety gets a good look-in with a heap more standard gear included in the Hilux's latest update. In addition to all the required systems, the SR has a reversing camera, hill descent control, seven airbags, hill-hold, EBD and an ANCAP five-star safety rating.
Holden Colorado: Putting a Colorado LTZ on your driveway costs $52,690, which brings a generous amount of kit. An eight-inch touchscreen includes navigation, there's climate control, leather steering wheel, an electrically adjustable driver's seat, second row ventilation and remote engine start. The exterior is treated to an alloy sports bar and 18-inch alloys, while LED tail lights and DRLs at the front are part of a recent facelift that lends a more car-like look to the Holden.
Like the Toyota it's powered by a 2.8-litre four-cylinder diesel, but the Colorado ups the output to 147kW and 500Nm. It also offers four-wheel drive with an electrically-operated transfer case, plus a lockable rear diff and six-speed automatic transmission – although a manual is available for both models.
In the safety equipment stakes, the Holden gets forward collision and lane departure warning, seven airbags, tyre pressure monitoring, ISOFIX child seat anchors, EBD, trailer sway prevention, hill descent control and hill hold. The Colorado also shares the Hilux's maximum five-star safety rating from ANCAP.
Interior and connectivity
Toyota Hilux: You could argue that interior functionality has greater importance to a vehicle in this class than fit and finish – they are called light commercials after all, but as more and more drivers opt for a one-tonner as the main family vehicle, cabins are having to look less like a trade vehicle and more comparable to SUVs.
Unfortunately Toyota seems to have missed this memo and the Hilux, at least in SR trim, falls short of almost all other dual-cab utes, including more affordable options. Black plastic covers virtually everything, including steering wheel, handbrake and dash, and fake moulded stitching isn't fooling anyone. The layout is also haphazard and a conglomerate of plonked together pieces resulting in a busy and intrusive dashboard. The steering column adjusts in two axes but the telescoping direction offers a token few millimetres of travel. Taller drivers will find it hard to adjust to the best driving position and will continue to be frustrated by the lack of a digital speed reading.
There's better news when it comes to the central touchscreen which is modern and fresh in light of the rest of the cabin but still not best in class, the double glovebox adds more storage options and we suspect the plasticky construction will prove durable and reliable for years.
Connectivity tech is in relatively short supply with a 3.5mm Aux and USB inputs for hard connection and Bluetooth. Toyota Link is included however, and allows the connection of some Apple and Android smartphones. The system enables the use of Toyota's Link applications including weather, guidance and local fuel pricing services, for example.
Holden Colorado: Before its extensive update in 2015 the Colorado was not the strongest performer when it came to interior fit or features, but the revamped cabin is a big step up. Gone is the daggy and space-wasting circular button arrangement on the centre stack and in its place is a dash layout that is among the more car-like offerings in the segment.
The touchscreen is more seamlessly integrated, with graphics that are simple but don't look too basic. Like the Toyota there's acres of plastic, but different textures and tones break up the expanses. Second row passengers are treated to enough shoulder room for three adults, the window line is low enough to allow smaller occupants to take in the scenery and there's a centre armrest for when the rear seats have fewer than three on board – as there is in the Hilux.
Unlike Toyota's comparatively limited ToyotaLink system, the Holden's MyLink infotainment screen supports Apple CarPlay and Android Auto for a more full-featured smartphone mirroring capability. There's also Bluetooth connectivity and USB connection.
Ride and handling
Toyota Hilux: As with interior quality there is a degree of agricultural 'charm' you can forgive a vehicle in this segment, but again, as quality and consumer demand increases, inferior driving dynamics and ride comfort are less forgivable.
With the advent of coil-spring rear suspension as found under the tail of the Mercedes X-Class and Nissan Navara, ute manufacturers have never been more serious about imparting good road manners on their ute-bodied commercials.
The Hilux is still very much in the past with its set up, however, with a leaf-sprung arrangement that is very well suited to off-road and loaded work but less pleasant at other times. On imperfect surfaces, occupants are shaken and rattled particularly in the second row. Generally speaking, the Toyota chassis has been tuned for a confidence-inspiring feel no matter what the surface, and a rock-solid steering feel enhances that sense of stability. For its most recent update – also in 2015 – the Toyota received significant NVH and chassis updates and the Hilux cabin has never been as quiet, but that's relative. A heavy focus on engineering for Australian conditions has resulted in a far more obedient Hilux chassis on local roads and trail, but at a cost to pliancy and comfort.
Holden Colorado: While the Colorado has to be praised for across-the-board improvements, it is the road manner that is perhaps worthy of the greatest acknowledgment. Part of the revision brought all new spring and damper rates along with revised suspension bushing and body connection points, the result being a ute that has never felt more at home on Australian roads. It's still a stiff ride without a load in the bed, but the Colorado cuts a fine balance between hardworking truck and day-to-day family wagon. Its steering doesn't have the weight or confidence of the Hilux but the overall package is one that's far better suited to on-road passenger delivery rather than off-road load-lugging.
Performance and economy:
Toyota Hilux: The Japanese competitor here comes to the market with an engine and drivetrain that competes with many others in the segment – at least on paper. But as part of its most recent update, the Hilux gained a whopping 150kg while others strive to lose weight, and that has dented performance. In recent testing of nine dual-cabs, the Hilux put in the slowest zero to 100km/h acceleration time of 11.2 seconds and stressing its four-pot engine produces a gruff report that is loud in the cabin. The automatic transmission does a decent job and is a good match for the diesel, although it too is feeling its age in a time when even truck transmissions are gaining in sophistication.
Its extra heft is also apparent at the pumps. During testing, our Hilux used an average of 10.9 litres of fuel per 100km.
Where the Toyota gains back praise is in off-road manners, and its tried-and-tested formula stands confidently on unforgiving terrain thanks to particularly good rear wheel articulation and locking differential. It's also worth noting that, given the popularity and longstanding family lineage of the model in Australia, the Hilux is the ute most bush mechanics will know how to get back on its wheels fastest. If you're serious about hitting a long unbeaten track, the Toyota is arguably the one-tonner that will bring the greatest peace of mind.
Holden Colorado: Surprisingly, the Colorado manages to be among the fastest options on the market despite sharing the same engine size and configuration as the Toyota. It managed to hit the 100km/h benchmark in 9.5 seconds and the beefier torque and power figures are noticeable in virtually all driving. There were even more pleasant surprises and despite the impressive performance the Colorado used just 9.9 litres of diesel per 100km during our time with it.
There is still a familiar four-cylinder diesel clattery soundtrack from under the bonnet but NVH levels have been improved and the noise is less intrusive than the Toyota.
If your focus is to spend more time off-road than on, then the Hilux is the pick. But that doesn't mean the Colorado is a wet rag away from the blacktop. It can't brag the wheel articulation that the Toyota is known for but it competes about the middle of the one-tonne pack with a solid driveline, complimented by its six-speed auto trans for a point-and-go approach to all-terrain motoring.
Warranty and servicing
Toyota Hilux: Every Toyota is covered by a three-year or 100,000km warranty. Service intervals vary depending on driving style, environmental conditions and kilometres. The company offers Toyota Service Advantage which applies capped-price servicing costs for three years or 60,000km, or an extended deal of four years or 75,000km.
Holden Colorado: The Colorado raises the Toyota deal by two years for a five-year plan that also includes roadside assistance and does not limit the number of kilometres during the warranty period. All vehicles under five years old are offered capped price servicing.
Verdict
With a comprehensive revamp, the Holden Colorado has never been a stronger contender in the ute race. Dramatically improved over its lifespan to respond to consumer wants and pressure from newer rivals, the Colorado has managed to evolve to remain competitive.
In an almost polar opposite reaction, the Toyota appears to be resting idly on its laurels. Yes, it has also progressed and improved, but in incrementally small steps rather than leaps. No doubt, the Toyota will continue to sell strongly thanks to its 'unbreakable' reputation and its familiarity no matter where you go in Australia.
Excellent resale value is a key attraction to Hilux buyers, but that is largely driven by demand – and if a majority of those buyers weighed up the competition on objective terms it's likely many would be defect to another brand.
If a majority of your time behind the wheel is spent exploring far off desert climes and gnarly back roads, the Toyota may prove to be the wisest option, but if you see a dual-cab ute as the most sensible multi-purpose family car for doing the school run and occasional camping trip, the Colorado is the pick in almost every regard.