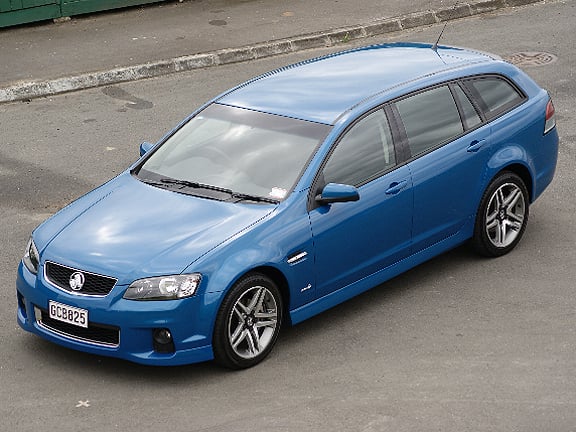 The biggest change for the facelifted (I use the term advisedly) Commodore SV6 is something of very little relevance to Kiwi buyers: like the rest of the VE II lineup, the 3.6-litre V6 models can now run on E85 biofuel.
These so-called Flex Fuel Commodores give owners the opportunity to enjoy their large cars while easing the conscience a little by running on a blend that's made up of a mere 25 per cent fossil fuel. In Australia.
In New Zealand, there's still only one mainstream filling station that can sell you E85: a Gull facility in Hamilton. Good if you live there. Bit inconvenient of you don't. And you wouldn't want to drive too far to fill up, as E85 costs more and doesn't take the car as far per litre.
That said, the SV6 still runs happily on ordinary fuel. The larger-capacity engine (other Commodore sixes have a 3.0-litre powerplant) goes some way towards justifying the SV6's sporty image and body kit, and it's still a great thing to drive on Kiwi roads. Rear-drive family cars are a rarity and when one's been set up by a maker as focused on driver appeal as Holden, you've got an entertaining vehicle that can carry five adults in comfort.
Even at $57,890, it's a lot of car for money. A bit old-school? Perhaps.
Even without E85 in the tank, the facelift Commodore is a little bit more green than it used to be. Just a little. There are range-wide changes to the six-speed automatic transmission to reduce friction, as well as modifications to the air conditioning system to mimimise its draw on the powertrain. The SV6 sportwagon eeks out another 0.1 litre per 100km – overall figure 9.8 litres. The entry Omega 3.0 sportwagon makes bigger gains, improving from 9.2 to 8.9 litres per 100km.
Inside, the Commodore's colour-touchscreen cabin control system has been upgraded, including Bluetooth compatibility with the latest smartphones, and there are minor trim changes depending on which interior colour scheme is chosen.
A this point you might be squinting at the images of the SV6 sportwagon and wondering what's changed on top. Very little, as it happens. There's some extra chrome highlighting on the grille and lower air intake, as well as the new colour featured here: Perfect Blue, a hue inspired by the most famous Peter 'Perfect' Brock road car, the HDT Group A VK SS from 1985. In fact, the new colour was created using a factory paint chip from the original.
Hmmm. In the words of another Melbourne icon, Daryl Kerrigan, they're dreaming. The SV6 sportwagon is a quick, entertaining car; but not quite that quick and entertaining. Nice colour all the same. Gives the car a good visual, er, vibe.