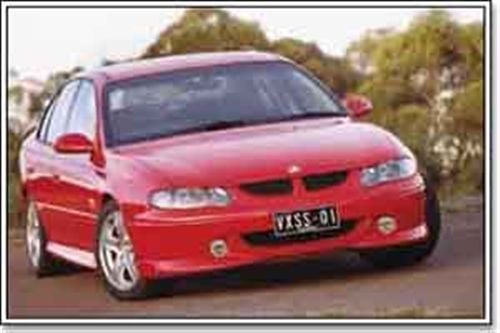 All cars, V6s and V8s, also get a 5kw horsepower boost. Styling differences are aimed at giving each model an individual look, without compromising the overall look that has made the outgoing VT model a best-seller.
"Our challenge was to take an extremely successful design and freshen it..," says Holden managing director, Peter Hanenberger. "The solution was to retain as much of the original VT as possible and introduce graphic cues that make each model in the range more distinctive."
As well as the styling changes, the VX offers greater refinement, and a series of design, engineering and safety upgrades. Hannenberger says Holden held a tight rein on VT pricing and aims to "preserve the value equation" with the VX Commodore.
Holden New Zealand won't divulge even indicative pricing, except to say the cars will be more expensive than the VT, but not by much.
The VX increases Holden's safety emphasis. ABS anti-skid braking is standard on all models, and an advanced new structural design improves protection in side-impact crashes.
Powertrains have been redeveloped to improve fuel efficiency, increase performance and upgrade driving dynamics. The Supercharged V6 is now available on Executive and Acclaim sedans, and Holden brings a touch of luxury car to all models, with a Compact Disc player with steering wheel controls.
Major features to differentiate the models include two different, new-tech headlamp designs; two rear decor panel treatments, and a selection of new bumper fascias.
Executives and Acclaims continue with the now-traditional twin-port Commodore grille. It's wider and deeper, and is flanked by teardrop headlamps with complex reflectors and polycarbonate lenses. A short overhang front bumper has a three-slot air intake. The rear decor panel is now body-coloured, has new-look transparent tail lamps, and a grooved bumper fascia incorporates slim, oval-shaped reflectors.
The S and SS have a lower, more purposeful, stance to emphasise their performance. A black-bladed, twin port grille is integral with a one-piece bumper and larger air dam. The cars have clear, teardrop headlamps – outlined with black bezels above circular foglamps on the SS. The cars have sculptured rocker mouldings, unique rear bumpers and new bootlid spoilers.
The luxury Berlina and Calais stand distinctly apart from the other models and are subtly differentiated from each other. They have full-width grilles flowing into rectangular-style headlamps. The rear treatment includes a full-width decor panel incorporating taillamps. Slightly extended bumpers make for a sleeker silhouette. Bright chrome highlights and machined finish alloy wheels complete the prestige theme.
Buyers can choose among 12 exterior colours, including six new ones. Interiors have completely new seat trim fabrics, colour-coded and using soft-feel fabrics.
The SS gets customised colour finishes on instrument clusters and metallised console fascias colour-keyed to complement exterior colours.
Propshafts now have dual rubber couplings and a faster, more powerful Powertrain Control Module (PCM). A larger idle air control valve improves cold start performance and idling; a more even distribution of positive crankcase ventilation gases between cylinders gives more balanced performance and better spark control.
The ECOTEC V6 has 5kW more power: 152kW at 5200rpm, with three to four percent better fuel economy. Holden quotes 11 litres/100kms on the city cycle and 6.6 litres /100kms on the highway cycle. A modified V6 automatic transmission shift pattern improves responsiveness and driveability.
The Chevrolet 5.7 litre GEN III V8 gets a higher-flow inlet manifold and higher dynamic range fuel injectors. Power rises from 220kW to 225kW at 5200rpm. New PCM software and recalibrations produce faster starts, and improved idle and automatic transmission shift quality. Economy is also improved.
Front suspension changes – to the lower control arm pivot and stabiliser strut link – give more progressive steering response and more predictable handling.
To complement the VX's smoother ride, cabin noise has been cut by foam-filled side pillars and a range of features which deflect and deaden airborne road noise and also lower wind noise.
A new concept in bodywork side structure improves occupants' protection from injury in accidents. The B pillar (the one between the doors) is designed to deform in a certain way when it is impacted, so that the highest loadings are directed downwards and away from the occupants' most vulnerable areas: the head, neck and chest. Further side impact injury protection includes energy-absorbing foam in doors, revised door trim profiles and breakaway interior door handles.
Traction control is available on manual transmission models.
Complex reflector technology improves low-beam headlamp performance with improved spread, penetration and evenness of beam pattern.
Executive, Acclaim and S models gain automatically-retracting power antennae; traction control is standard on the Berlina; and the Acclaim and Berlina have height-adjustable front seatbelts.
A driver's vanity mirror with sliding cover is standard across the range; the Acclaim has four power-operated windows, and the Calais has a boot-mounted luggage net for improved small item storage.