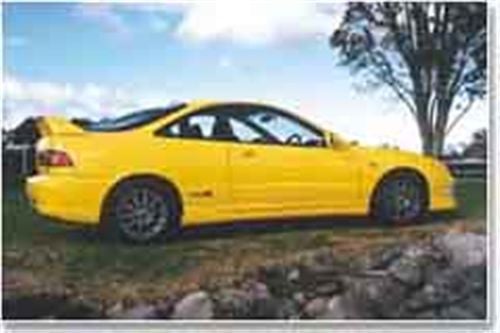 Similar coding identifies Honda's specialist performance cars. The Integra Type R launched in New Zealand earlier this year requires only mandatory safety equipment and a switch to competition tyres and brake pads to transform it into a highly effective racetrack or tarmac rally special stage performer.
With startling performance from a highly tuned 1.8-litre VTEC powerplant and a very well sorted chassis to harness it, the $40,000 Type R represents a top value speed-for-dollar alternative both for road or competition use.
Sure there are more powerful performance cars able to accelerate harder and reach higher top speeds. But you'd need to spend a lot more money on a specialist machine like a Porsche GT3 to find another car as sharply focused on competition. Not even the Subaru Impreza STi or Mitsubishi Lancer Evolution leave the showroom quite as race-ready as this Honda.
For competition use the Integra Type R is a prime candidate for production car racing, perhaps a Targa campaign or some tarmac rallying. And it has an enviable record for humbling larger engined and more powerful cars in disciplines from endurance racing to Targa Tasmania.
With such a keen focus on competition use how does the Type R stack up for everyday road work?
Though it's very much an enthusiast's car the answer is: with less compromise of refinement, comfort and everyday driveability than you might expect.
Honda's high-revving all-alloy VTEC engine is the heart of the Integra Type R and the 1797cc DOHC 16-valve powerplant unit is described by Honda as "largely hand assembled."
More precisely that means "factory blueprinted" with the low-friction pistons and high-strength steel con-rods selected to finer tolerances than mainstream production and with some hand-polishing of the intake and exhaust ports.
Other specialised ingredients include a larger throttle body and a lightweight large-bore exhaust system. An aluminium oil cooler helps dissipate the heat created in extreme applications.
Another clue to the engine's competitive streak is the 11.1:1 compression ratio.
The end result is 1.8-litres which enthusiastically punch out 141kW at 7900rpm (that's a touch better than 100bhp per litre) with peak torque of 178Nm not arriving till 6300rpm.
Yet despite the high state of tune the signatures of Honda DOHC VTEC performance – good flexibility at mid-range speeds and then a second stage of power delivery which "switches on" – is retained.
When the tachometer needle nudges 5800rpm and the VTEC mechanism takes on its higher lift and longer duration valve timing the engine note becomes hard-edged and the performance is unfaltering to the 8400rpm redline. It's as if the engine takes a deep breath and kicks like a champion 1500 metre runner hitting the home straight.
Slip your left hand across to the titanium gearknob and there are five closely-matched ratios with which to explore that power and breadth of rev range. The shift action is short and precise and has a satisfying weight. The short 4.785:1 final drive ratio means 100km/h equals 3400rpm in fifth gear; 4400rpm in fourth, and the engine is just nudging the torque peak at 6300rpm in third at the open road limit.
At times six gears might be an advantage, not necessarily for outright performance but more when it comes to relaxed open road cruising where a taller top gear could save some revs and take a little of the busyness out of the driving experience.
The engine's a gem but there's much more to this Honda's thoroughbred bloodline than a crisply-tuned powerplant and a close-ratio gearbox.
The brakes are highly impressive and needing to stop only 1087kg gives the Type R an immediate edge over heavier performance cars. Uprated to 282mm diameter by 21mm thick ventilated discs at the front and with larger calipers as well, the Type R scrubs off speed with reassuring stability from a quick dab of the pedal. It will also make repeated fade-free hard stops.
Sitting 15mm lower than a standard Integra GSi and with uprated sports suspension the Type R rides firmly and the car is well-balanced. Accomplished body control keeps its attitude flat under hard cornering.
Lifting the bonnet reveals a sturdy front suspension reinforcement which you might call a strut brace if the Integra didn't have Honda's double wishbone suspension design. There's also a beefy-looking rear suspension brace bar across the rear of the boot floor.
At low speeds across uneven surfaces the car feels quite rigid but harsh bump-thump responses are only produced by more severe level changes or big bumps and holes. Get it up to open road speeds and the ride becomes pretty comfortable.
Question marks about harnessing nearly 200 high-revving horsepower through the front wheels are quickly dispelled by one of the most neutral front-wheel-drive chassis I've ever sampled. The combination of assured brakes, quick and direct steering and quality Bridgestone Potenza RE010 195/55 R15 radials – on 10 spoke alloys – is given a further helping hand by Honda's highly-effective torque-sensing helical-type limited slip differential.
The differential makes a key contribution to how the Integra will maintain a tight line through slow speed corners which would normally see a front-drive car scrabble into determined understeer.
Feeding in the power helps to maintain that tight line and confirms the Type R as a car that rewards precision and being in the right gear with the engine on-song.
This car is all about quickness of steering, confident grip and responsiveness to throttle. Bring it into the corner hard on the brakes to a late apex and begin applying power a little earlier than you might normally dare and there's assured traction to drag the car out of the corner very efficiently. You simply unwind the steering again to find the exit point.
Along with the race-bred hardware and performance the Type R has some stylish competition-inspired goodies to widen its appeal and complete the image.
The Recaro sports seats in a cloth and Alcantara combination are grippy, well-sculpted and have the right sort of cushion length and lateral support. You hardly notice the lack of cushion height or tilt adjustment. The chairs grip your hips and ribcage and support the thighs and shoulder blades, just what such a car demands if it's to be driven as its designers intended it to be.
A three-spoke Momo steering wheel features a red stitch trim, the interior includes some carbon fibre trim inserts around the window switch panels, centre console and vents and the pedals are drilled alloy. Each Type R has an individual build number plaque on the centre console and of course there's that titanium gearknob to give final credibility to the race-ready image.
As standard equipment the Type R has central door-locking, a tilt-adjustable steering column, a simple single disc Compact Disc four speaker sound system, power front windows and power mirrors, dual airbags, ABS anti-skid brakes and a rear washer/wiper. Honda says it's in the interest of weight saving that air-conditioning is optional.
The test car was fitted with an optional body kit comprising side skirts and hi-rise rear spoiler.
Some of the competition focus results in compromises to the Integra's practicality. The big Recaro seats make access to the rear seats a little more difficult and if body rigidity was less of a priority the car would probably have a low-level luggage loading lip.
And not only is access into the rear seat pretty difficult for an adult but the headroom is restricted as well and anyone of average stature will find their head uncomfortably close to the rear glass.
But on the other hand there are convenient features like slim door storage bins, a lights-on reminder chime and front cup holders. A 50/50 split-folding rear seat backrest allows the moderate luggage capacity to be expanded and there's a removable parcel tray.
The Type R colour range is limited to Milano Red, Sunlight Yellow, Starlight Black and Championship White, a choice that's typically small for a specialist performance car.
Honda's thoroughbred coupe has a fully deserved competition reputation and as a road car demands fewer compromises than I expected. Rare, rapid and rewardingly poised it also delivers a speed-for-dollar equation that has only one contemporary rival in the New Zealand market – the new Renault Clio Sport.
AutoPoint road test team: CM.