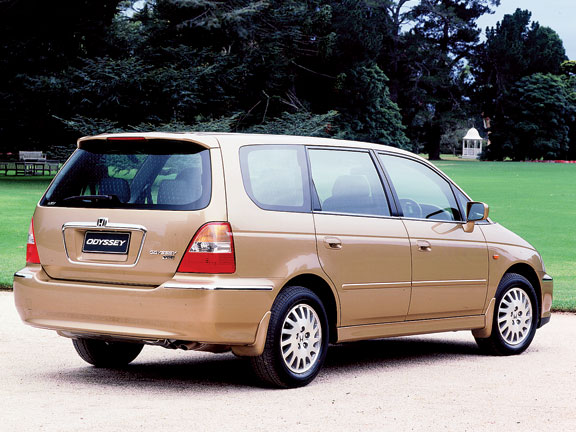 The number of New Zealand-new Odyssey models has been boosted considerably by a heavy influx of used imports from Japan. That's also opened up the availability of different versions, like the 4WD or All-Wheel Drive variant that was never sold new here.
Multi Purpose Vehicles (MPVs) can be reasonably heavy depreciators, but the big drop is experienced during the initial ownership.
The Odyssey retailed at $64,990 when new in 1995, but they can now be picked up at reasonable prices. A good selection within a tight price range means it's easy to find the good buys, and there's little excuse to pay too much.
Don't worry about walking away from a deal if you're unhappy – there will always be another used Odyssey just around the corner.
Based on the Accord platform, the Odyssey measures 4750mm. That's 75mm more than the Accord sedan of the mid-1990s but actually less than the Americanised Accord station wagon. The 2830mm wheelbase is 115mm longer than the Accord's although, remarkably, overall width of 1770mm is 10mm less.
Renault's trendy Espace was arguably the first MPV to arrive in New Zealand in 1984, although the Americans had started the class the year earlier with the Chrysler Voyager.
Toyota began selling the Previa MPV in 1990 so another four years passed before Honda tackled the market.
Though MPVs like the Voyager or Mazda offered sliding rear side doors, the Odyssey is more car-like, with its four hinged side doors and top-hinged single rear door.
Crumple space is the same as a conventional sedan and a ladder-type chassis embodies seven strengthening cross-members.
The key-operated central door-locking operates from both front doors and also on the tailgate.
When launched, the Odyssey was ahead of its time. Double wishbone suspension allows a lower floor and rear passenger and/or cargo space is enhanced by the compact suspension. Engineers lowered the suspension by connecting the upper transverse link directly to the hub assembly instead of using a long, vertical upright. Rear springs and shock absorbers are attached side-by-side rather than as concentric units.
Key features include four captain's chairs set in two rows, with a third-row bench seat that folds into the floor in nifty fashion to provide good load space, and a theatre-like seating layout. This means the second row is higher than the first, and the third higher than the second. For added versatility, the second row of seats can be quickly removed.
By locating the drivetrain well forward in car-like fashion, engineers were able to gain interior space.
Initially, only the 2.2-litre Odyssey was sold here, using a single overhead camshaft fuel-injected Accord engine with 104Nm of power and 196Nm of torque. Later 2.3-litre VTEC fours and the 3.0-litre, 154kW V6 motors with 270Nm of torque became available.
Silence and refinement are keys to the design, helped by a larger engine room than the Accord. That allowed Honda to alter the exhaust inlet length and increase the capacity of the resonator.
Odysseys are well equipped, with standard four-sensor ABS braking, dual airbags, dual air-conditioning, five-stud fixing alloy wheels and electric windows, but no rev counter on early versions.
There is no centre hump for the transmission and no provision for a manual transmission but almost all MPV buyers seek automatics.
The car-like driving dynamics of the Odyssey and a comprehensive specification have made this MPV a popular buy and, for many motorists, a notch above most rival models. 
What to look for
The Odyssey is a conventional front-wheel-driven vehicle and one that can be usually relied on for reliability with no major problems.
Most used examples are four-cylinder versions, with either 2.2-litre or 2.3-litre VTEC power. The 3.0-litre V6s are far less common and inevitably more expensive.
Our independent mechanic reported no special problems for a trouble-free vehicle that was quite expensive when new.
Remember that when things do go wrong, repair costs can be hefty. The rear disc brakes, for example, are sourced from the Honda Legend.
To reduce shock when drive is engaged from idle, Honda fitted electronically controlled hydraulic engine mounts with vacuum operated valves – expensive to rectify if they go wrong.
New Zealand-new Odysseys are Australian specification, and conform to the same ADR design regulations with a catalytic converter. Models imported from other territories are likely to have different pollution systems.
Honda dug into the Accord parts basket when developing the Odyssey, which can be good news when seeking certain components.
There is nothing odd or unusual about this Honda. Yet it pays to be vigilant when examining used import examples, as they can be specified quite differently to those originally sold new here.
Most Odysseys have not had a hard time because they tend to be owned by families and are not abused mechanically. Target audience for the model when new were high income Asian buyers with extended families, buyers aged 40-60, metropolitan bias and small businesses with tourism connections.
On the road
When Honda launched the first Odyssey here, there were claims that the model would score highly in driving dynamics, unlike most other MPVs of the day.
The tallish wagon was positioned against larger station wagons on the premise that it offered more people space, better visibility and was easier to drive and manoeuvre.
Performance is similar to the previous generation Accord even though the 1530kg Odyssey is 230kg heavier than an Accord sedan. To overcome this extra weight, the gearing on the MPV is lowered by seven percent.
Top speed is 170kph, and the two box Honda will accelerate to 100kph in 11.6 seconds, around 1.5 seconds slower than an Accord auto. Fuel consumption is about 12 percent inferior to the Accord's.
Even the early examples featured "grade logic" or fuzzy logic for the four-speed automatic which is controlled by a column lever. This offers better control because it uses throttle position, road speed, and rate of deceleration and acceleration to determine what conditions the car is being driven under. It then chooses the appropriate shift map for that situation.
The Odyssey drives better than most MPVs of the period despite the height of the vehicle. While the front suspension is essentially the same as the Accord, the track is different and there are stiffer bushings and increased roll stiffness to cope with the tall body and low roll centre.