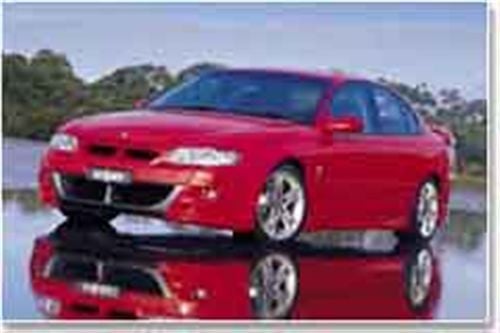 The VX HSVs feature the first major styling change in three years, have new parameters for suspension tuning, significant gains in safety and equipment, and further drive train refinements.
The nine-model VX line-up is based around the 5.7-litre, 255kW Chevrolet V8, though the entry-level XU6 uses a 180kW supercharged version of the Buick/Holden 3.8-litre V6.
The XU6 costs $67,000, and the volume selling ClubSport has a base price of $72,000. The more highly specified ClubSport R8 iss $84,000; the luxurious Senator Signature $93,000 and the range-topping 300kW GTS is $120,000.
All of HSV's VX models share several of the styling features – including headlights, rear d'cor panel and tail lights – of Holden's Commodore Berlina and Calais models. HSV has taken that approach to further differentiate its cars from Holden's Commodore S and SS sports sedans.
The ClubSport now has 18-inch wheels as standard.
HSV's new Touring suspension is now the standard suspension for all models except the GTS and Senator Signature. HSV says it provides a smoother, quieter ride over a wider variety of surfaces without compromising handling and roadholding.
A new R8 performance suspension, which retains the beefier rear control arm bushes and firmer damping control of the previous system, also delivers big improvements in ride and handling over a wider variety of surfaces. It's optional on XU6 and ClubSport and ClubSport R8.
A new Multi-link Performance suspension is exclusive to the GTS. It retains the additional lower control arms of the previous GTS but is extensively re-tuned for greater absorption of road disturbances and to minimise ride sharpness from the low profile 18-inch wheel and tyre combination.
HSV brakes have been upgraded. The standard fitment dual-piston front caliper design has higher specification pads. HSV's Performance brakes – standard on ClubSport R8, optional on all other models except GTS – now feature special grooved rotors which provide allow the gases generated during braking to escape. HSV's Premium brakes – standard on GTS, optional on other models – with cross-drilled rotors have a new fast single bleed for each of the four piston calipers.
HSV Performance and Premium front and rear brake hubs are now finished in silver for a cleaner look behind the new alloy wheel styles.
Power and torque outputs for HSV's LS1 V8 are improved with the extra torque arriving at low engine speeds. A new rear muffler design with new outlets matched to the new rear styling generates a more distinctive V8 engine note.
Driver, front passenger and side impact airbags are standard on all HSV models.
Traction control is standard across the range – including the six-speed manual for the first time.
The V8 now generates 255kW at 5600rpm and 475Nm of torque at 4000rpm – up slightly from its VTII Series predecessor's 250kW at 5600 rpm and 473Nm at 4400rpm.
The figures of 300kW at 6000rpm and 510Nm at 4800rpm on premium unleaded fuel for the Callaway engine in the GTS remain the same as those for the previous model.
HSV has re-calibrated the automatic transmission on V8 models for smoother gear shifts