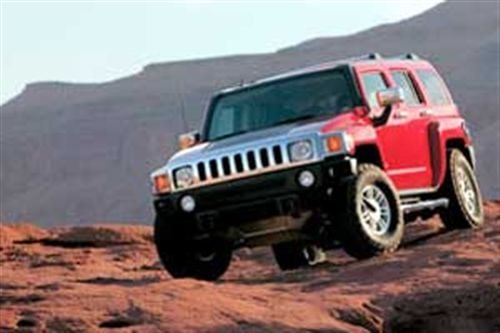 But being the baby Hummer doesn't mean there's anything featherweight about the H3. Its kerb weight is 2132kg, again ballpark with the likes of the Prado.
General Motors says the idea of the H3 is to provide "authentic Hummer style and off-road capability in a smaller, more fuel efficient package (it's projected to reach peak fuel economy of up to 20mpg)."
Its styling is similar to its H2 sibling's, but the H3 is 423mm shorter in length, 150mm shorter in height and 163mm narrower.
The H3 is designed to comfortably navigate city traffic and deliver Hummer's trademark crawling and climbing capability.
The DOHC, variable valve timing, 3.5-litre Vortec 3500 engine is an inline five-cylinder that develops 164kW at 5600rpm and 305Nm of peak torque at 2800rpm.
GM says it delivers acceleration that equals the V8-powered H2 in most driving conditions.
The H3 is the first Hummer to offer the choice of manual or automatic transmissions (the H1 and H2 are both automatics).
The gearboxes are a five-speed manual or a Hydra-Matic 4L60-E electronically controlled four-speed automatic. The auto includes shift modes specific to low-range operation, which, combined with speed-based throttle progressions, help optimise driveability in low-range, off-highway operation.
The H3 also has a standard new Borg-Warner two-speed electrically controlled full-time four-wheel drive system with a 2.64:1 ratio low-range gear reduction for highly controlled off-road obstacle climbing. An optional version provides aggressive low range gearing – a 4.03:1 ratio – for ultimate obstacle-climbing control.
There are two tyre packages – a Goodyear 32-inch all-terrain tyre and Bridgestone 33-inch, both larger than any other midsize SUV.
TheH3's more manoeuvrable size provides a tighter 11.3-metre turning circle.
Its 231mm ground clearance gives a maximum breakover angle of 25 degrees (with 33-inch tyres).
For serious off-road performance, the maximum approach angle is 40 degrees and maximum departure angle of 37 degrees. They allow the H3 to drive right into a hole and back out again, without getting hung up in front or rear.
Among its off-road capabilities, the H3 can ford 400mm of water at 32km/h or 600mm-deep streams at 8km/h, climb 320mm vertical steps and rocks, make its way through deep sand and race over sandy surfaces.
Front suspension is independent using short and long arms and torsion bars, and the rear is a Hotchkiss design multi-leaf, semi-elliptic, single-stage leaf spring set-up.
An optional Off-Road Adventure package delivers more extreme off-road capability.
Steering is power-assisted rack and pinion, and the ABS-equipped four wheel discs brake system has Dynamic Rear Proportioning, for quick, controlled stops.
The standard traction control uses a combination of engine intervention and brake management to allow as many as three wheels on a slippery surface and still provide strong traction capability. It also interacts with the transfer case to provide additional off-road operating modes.
The StabiliTrak vehicle stability enhancement system enhances safety, stability and control on all roads.
The H3's reinforced passenger compartment safety cage helps protect occupants in side or frontal crashes. Dual front airbags are standard, and side curtain airbags are optional.
Other standard safety and security features on the H3 include daytime running lights, an anti-theft system, remote keyless entry, battery rundown protection and an electronic tyre pressure monitoring system.
US sales start mid-May
The first H3s hit American dealerships mid-May, with an introductory base price of $US29,500.
The H3, Hummer's first midsize SUV, is aimed at a new group of customers.
"H3 will appeal to a slightly younger and more diverse group of customers, says Hummer boss Susan Docherty. "Though more approachable, H3 is a serious off-road machine, just like the H1 and H2."
The H3's introductory price includes standard equipment such as full-time electronic four-wheel drive, GM's OnStar safety and communication system, and a five-speed manual transmission.
The H3 will be available with two optional packages – Adventure and Luxury. The Adventure Series includes key off-road performance equipment such as huge 33-inch tyres, a 4:1 electronic transfer case and locking rear differential.
The Luxury Series includes heated leather seats and a leather-wrapped steering wheel. The Adventure and Luxury series can be combined.
RHD Hummer not for NZ
Next year General Motors will start building the M3 in right-hand drive for global markets.
But don't grab your chequebook and beat a path to your Holden dealer – not yet, anyway.
Holden New Zealand says it has no plans to import the H3 as an official model. That's despite a paragraph in a GM USA press release which says right-hand drive H3s "will be exported to markets such as the United Kingdom, South Africa, New Zealand, Australia and other Asian markets."
Holden Australia public affairs manager Jason Laird says there's been a lot of speculation about the H3 going to Australia and New Zealand, "but it's not a confirmed export programme. It's not a programme for us (at the moment). We're looking at the potential long-term, but there's much more to be considered than (importing) one vehicle, given that there's a whole Hummer range – the H1, the H2, the HUT. We'll make a decision over time."
Holden not planning to import the H3 leaves the possibility of some coming here as grey or used imports. Given the number of H2 Hummers on NZ roads it's inevitable some H3s will reach NZ.
GM will build right and left-hand drive H3s at its factory in Struandale, South Africa from late 2006. Most will be exported to markets outside America.
Hummer general manager Susan Docherty says assembling the vehicles in South Africa is an important step in making Hummer "a truly global premium brand."
Later in the programme a diesel engine will be added to the H3 range for international markets.
Comparative dimensions
Length: H3, 4742mm; Prado, 4850mm
Width: H3, 2170,5mm; Prado, 1875mm
Height: H3, 1893mm; Prado, 1905mm
Wheelbase: H3, 2842mm; Prado, 2790mm
Ground clearance: H3, 231mm; Prado, 207mm