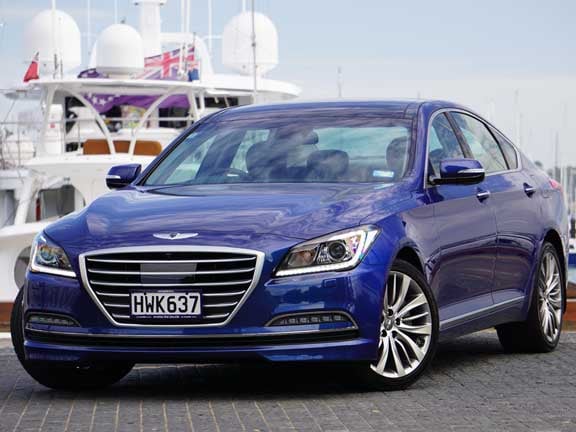 Base price: $99,990.
Powertrain and performance: 3.8-litre petrol V6, 232kW/397Nm, 8-speed automatic, rear-drive, Combined economy 11.2 litres per 100km.
Vital statistics: 4990mm long, 1480mm high, 3010mm wheelbase, luggage capacity 493 litres, fuel tank 77 litres, 19-inch alloy wheels on 245/40 front and 275/35 rear tyres.
We like: Sharp exterior, extraordinary refinement, lavish equipment, quality.
We don't like: Powertrain doesn't feel special, conservative interior, wriggly rear suspension.
How it rates: 8/10
WHAT DO I NEED TO KNOW? Hyundai is not the first mainstream carmaker to boldly step into the luxury sphere. But that does not make the new Genesis any less of a conversation piece.
This premium sedan offers near-limousine levels of space, equipment and build quality. It will also only give you $10 change from $100,000, which is good value for a full-size luxury sedan but a lot of money for a four-door Hyundai.
Hyundai insists that Genesis is part of its broader family rather than a separate luxury brand. Make of that what you will, but the fact remains that the Genesis name is used by more than one model in Korea and the United States – there's a premium rear-drive coupe that also wears the badge in those markets.
More to the point, you'll struggle to find a Hyundai badge anywhere on this car. The winged Genesis emblem is on the bonnet, wheel centres and even the steering wheel boss. It does carry the familiar H-logo on the bootlid – but nowhere else.
WHAT'S IT LIKE TO DRIVE? The Genesis is a blend of extraordinary refinement and a couple of ride/handling quirks.
The sole powertrain on offer is a 3.8-litre V6 petrol. Genesis makes no claims to be a sporting sedan but the engine and eight-speed gearbox do maintain that fine line between smooth delivery and a sense of urgency when pressed.
No major complaints about the V6, but you wouldn't necessarily say it's special when compared with the range of powerplants from rival models, which include turbo, diesel and even hybrid technology.
It's a shame that Hyundai couldn't also offer the petrol-V8 engine available in some overseas markets, which would have added even more prestige and character (and cost of course). But that model has not been developed in right-hand drive.
There's no doubt Genesis is a genuine luxury car in terms of refinement. It's an astonishingly quiet machine to travel in, even on New Zealand's coarse-chip roads.
Genesis is never going to be nimble, with a two-tonne kerb weight, but it does remain suitably composed in fast corners. It's a rear-drive chassis, remember, so only a very distant relation to Hyundai's front-drive sedans like Sonata and i45.
However, the dynamic package is partly undone by a strange handling quirk. At urban speeds the rear suspension often wriggles sideways over large bumps – not sudden, but prominent enough to make you sit up and take notice. Certainly enough for us to stop and check tyre pressures.
At higher speeds the shimmy continues, both in a straight line and through corners, up until about 80km/h. Then it disappears.
It's never enough to destabilise the car, but it is enough to become irritating after a while. Logic dictates that there might have been something amiss with our test car, but a subsequent drive in a different Genesis revealed the same issue. Odd.
The Genesis is fully loaded with driver assistance features and active safety equipment, including an excellent adaptive cruise control system, blind-spot warning, lane departure alert, rear cross-traffic alert, bending LED lights and 360-degree parking camera.
So, Genesis: very accomplished, but with one strange habit.
IS IT EASY TO LIVE WITH? Hyundai has taken a rather conservative path with the interior styling of the Genesis – much like Toyota did with its first Lexus models (no longer, though).
That works both for and against the car in its luxury mission.
On the plus side, the cabin is tastefully understated and unlikely to offend potential buyers. The instrumentation is crisp and the switchgear elegantly simple.
On the downside, on first impressions it doesn't look a whole lot different from a Sonata or i45, even though very little is shared. Those looking for a real sense of occasion in their left-of-centre luxury choice might be a little disappointed.
Needless to say, the quality of materials and fit/finish are faultless. There's also plenty of stuff to reinforce the fact that this is one very posh car: not just the sumptuous leather, shiny wood and three-zone air conditioning, but also cabin lights that welcome you to the car as you approach with the key (shining a massive Genesis logo on the ground beside the car at night as well) and even soft-close doors that power shut so you don't have to slam them.
SHOULD I BUY ONE? The Genesis won't appeal to those who expect brand status with their premium vehicle. But then that may work in its favour with some buyers, who want the knowing attributes of a genuine luxury car without the brand baggage that comes with the big names. That may carry a kind of status all of its own.
At any rate, branding issues are very much up to the individual. In terms of what the Genesis does (as opposed to what it may say about you), it's a deeply impressive car in terms of refinement, quality and equipment. You're certainly getting your money's worth – even if that's not always the primary consideration with luxury purchases.
EQUIPMENT CHECKLIST
Blind spot warning: Yes
Lane guidance: Yes
Cruise control: Yes adaptive with stop and go
Automatic lights/wipers: Yes/yes
Parking radar: Yes with camera
Self-parking technology: No
Head-up display: Yes
Satellite navigation: Yes
Keyless entry/start: Yes/Yes
Stop-start: Yes
Air conditioning: Dual climate with rear outlets
Heated/ventilated seats: Yes front and rear/yes front only
Power seat adjustment/memory: Yes/Yes
Leather upholstery: Yes
Power boot or tailgate: Yes
Split/folding rear seats: 60/40
Browse Autotrader's range of Hyundai cars for sale.