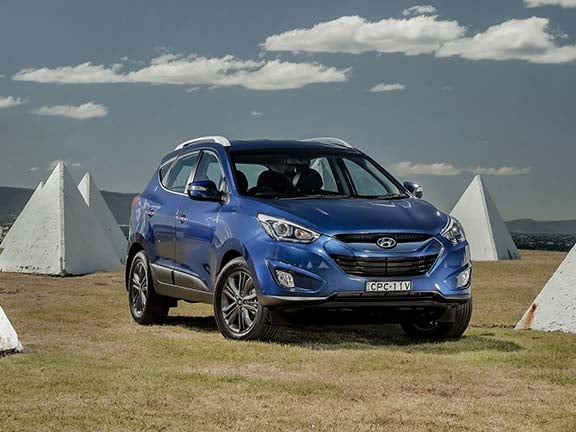 Base price: $48,990.
Powertrain and performance: 2.4-litre petrol four, 130kW/240Nm, 6-speed automatic, four-wheel drive, Combined economy 9.8 litres per 100km.
Vital statistics: 4410mm long, 1680mm high, 2640mm wheelbase, luggage capacity 465 litres, fuel tank 58 litres, 18-inch alloy wheels on 225/55 tyres.
We like: Smooth powertrain, distinctive styling, locking all-wheel drive for light off-roading.
We don't like: Gimmicky FlexSteer system, behind the times in driver-assistance technology.
How it rates: 6/10
WHAT DO I NEED TO KNOW? The ix35 crossover is a mainstay for Hyundai New Zealand, flying the company flag in what is arguably the most important passenger-car segment in the company.
But with an all-new model on the way, it's on borrowed time; the last of a line in more ways than one. Not only is its replacement a completely new car, it's also bringing back the Tucson name, which was the badge attached to the ix35's predecessor. Ours is not to reason why – only to say that Hyundai has been flip-flopping like this quite a bit lately, changing the i45 sedan back to the Sonata badge for the 2015 model.
So the ix35 is near the end of its life. Does it still have the talent to see Hyundai through until the third-quarter launch of the Tucson?
WHAT'S IT LIKE TO DRIVE? Our test vehicle is in flagship Elite specification and four-wheel drive, albeit with the direct-injection 2.4-litre petrol engine rather than the (more expensive) 2.0-litre turbo diesel.
The petrol engine has similar power to the diesel but is down a whopping 152Nm on torque. We're fans of Hyundai's oil-burner, but you do save a handy $6000 in opting for petrol, so the smart money is probably still on this 2.4-litre model unless you're planning to clock up some serious mileage.
The ix35 has never made any claim to be a great driver's machine, but the powertrain is smooth with a six-speed automatic gearbox and the car is competent in corners. Even if you've no intention of venturing off-road, the four-wheel drive system quells wheelspin on wet roads when the high-set Hyundai starts to roll around a bit; try the 2.0-litre Elite with front-drive only and you immediately feel the difference.
Should you want to venture into the (slightly) rough stuff, the four-wheel drive system can also be locked into a 50/50 torque split – not a common feature in this segment.
The weak point of the ix35's handling is still the FlexSteer steering system, which gives you a choice of three different weights but doesn't add a whole of communication regardless of which button you choose.
The Elite does look good on those 18-inch alloys, but bear in mind there's opportunity cost in ride.
IS IT EASY TO LIVE WITH? What was once considered fully loaded is now merely luxurious. The ix35 Elite has leather upholstery, heated seats, automatic lights/wipers, reversing camera and an excellent iPod integration system for the audio.
But it is lacking some of the equipment that its rivals now boast. You have to step up to the $52,990 Elite Limited to get satellite navigation for example, and you can't have adaptive cruise control or active safety features such as blind-spot warning and lane departure alert.
The cabin is spacious and the driving position commanding, although the front seats lack shape and support despite a power lumbar adjustment function: it feels like you're sitting on, rather than in, them at times.
SHOULD I BUY ONE? There's a certain aspirational quality to the Hyundai brand and the ix35's styling still stands out in what is a crowed segment, so it still has the ability to draw buyers after five years (there was a facelift in 2013).
But proceed with caution. There's been an influx of new crossover models since the ix35 was launched and class-standards for performance, handling and equipment are rapidly rising.
Not to mention the fact that Hyundai's all-new Tucson – with styling cues borrowed from the larger Santa Fe – will be with us before the end of the year.
EQUIPMENT CHECKLIST
Blind spot warning: No
Lane guidance: No
Cruise control: Yes
Automatic lights/wipers: Yes/yes
Parking radar: Yes with camera
Self-parking technology: No
Head-up display: No
Satellite navigation: No
Keyless entry/start: Yes/Yes
Stop-start: No
Air conditioning: Dual climate
Heated/ventilated seats: Yes/No
Power seat adjustment/memory: Yes/Yes
Leather upholstery: Yes
Power boot or tailgate: No
Split/folding rear seats: 60/40
Browse Autotrader's range of Hyundai IX35s for sale.