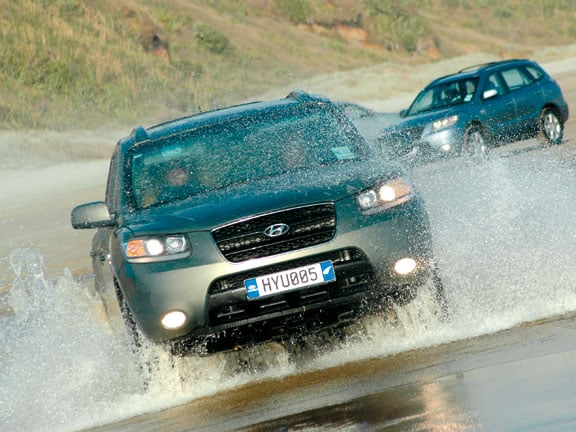 You can throw your preconceived notions about Korean cars out of the window when you drive Hyundai's Santa Fe compact SUV. This is one fine vehicle, one able to hold its own completely on its merits. There is good cabin room, the ergonomics are well-sorted and the controls user-friendly. The only wee glitch we find in the otherwise attractive and extremely functional dashboard is the woodgrain trim panel as we drive an Elite top-of-the-range diesel on the homeward journey from last week's media launch. Few manufacturers outside of Britain can do woodgrain well, and we could do without it on the Santa Fe. But for many buyers it might be an extra little touch of luxury that adds to the car's feel-good factor. Because there's plenty to feel good about.
Road noise is low, well-muted even on coarse chip-sealed surfaces. The performance from the 2.2-litre four-cylinder turbodiesel engine is strong and offers good down-low punch. We didn't try the petrol V6 version, driving a standard model CRDi on the first day, the Elite on the second. The five-speed auto's gearshifts are models of smoothness, its ratios well-matched to the diesel engine. We found the steering feel a little vague on the standard model. There was an impression that pressed really hard it would understeer quite strongly. But the general handling was user-friendly and efficient. That feeling may have had something to do with the standard Santa Fe's 17-inch wheels and 235/65 R17 tyres. On the return journey – an extended section of which included moderately-demanding roads from our regular test route – the Elite, on 18-inch wheels with lower-profile 235/60 R18 Kumho tyres offered extremely agile handling. Where the standard car had felt a little imprecise on the turn-in to corners, the Elite felt sharp, direct and rewarding. Its handling was pleasingly free of understeer.
Fuel economy on both models was in the low to mid nine litres/100km bracket. Both cars covered ground rapidly, effectively and in great comfort – Subaru's accomplished Outback popped into mind as a logical rival. One reservation – we'd almost certainly welcome a little more lateral support in the seats in really tight and twisty going. Both cars were well-built, the materials had a quality feel and there are some nice detail design touches. On first acquaintance we can't imagine you'd feel short-changed if you had a 2006 Hyundai Santa Fe in your garage.
The brand has been threatening to meet the Japanese and European opposition on equal terms for some years. In the new Santa Fe, we believe is has achieved that goal: this is as good as anything on the market and better tthan some. It's very good indeed and we look forward to an extended test – and to future products from Hyundai. The Korean car may be coming of age.
The range
Hyundai NZ is marketing the Santa Fe, in five separate models seating up to seven people. It uses an all-new unibody chassis/body and there's a choice of turbo diesel or V6 petrol engines. The seven-seat variants have a third row of seating that fold flat into the floor. As well as an Electronic Stability Program, all Santa Fe models have six airbags plus active head restraints on driver's and front-passenger's seats, along with front seatbelt load limiters and dual pretensioners.
The engines are a 2.2-litre turbocharged diesel four-cylinder or the smooth-running 2.7-litre petrol V6. Prices range from $45,490 to $54,990. The new Santa Fe is 175mm longer, 45mm wider and 65mm higher than its predecessor. At 2.7 metres, its wheelbase is 80mm longer than the old model. That provides the space for the third row of seats.
Santa Fes have front and rear foglights, alloy wheels, dual exhausts and, on Elite variants, a rear spoiler. In the cockpit there is a choice of full leather or cloth upholstery, plus electrically or manually adjustable driver's and front passenger's seats, including electrically or manually adjustable driver lumbar support. Upmarket Elite variants have dual-zone climate-control air-conditioning including an Air Quality Control System (AQS) with interior pollen filter.
The third row of seating in seven seat variants receives its own manual  air-conditioning.
When all seven seats are not required, the third row folds flat into the floor, and the second row of seating also folds flat to provide ample storage space when required. All models feature a foot-controlled parking brake and an electric chromic rear-view mirror that automatically dims at night to avoid headlight glare and includes a digital compass. The Santa Fe also has a trip computer plus steering wheel-mounted cruise control and audio system switches.
Mechanical stuff
The new Santa Fe's 2.2-litre diesel engine delivers 110kW of power at 4000rpm, and a very useful 335Nm of torque betwen 1800 and 2500rpm. The 2.7-litre V6 petrol engine produces 138kW of power at 6000rpm, and 248Nm of torque at 4000rpm. The diesel has high-pressure common rail direct injection and a Variable Geometry Turbo. Initially the diesel versions are Euro spec; later they will be replaced by diesels that comply with Australian Design Rules. The V6 petrol features Continuously Variable Valve Timing (CVVT), which delivers dynamic and robust power at high rpm, and increased torque at low rpm. The petrol engine is mated to a four-speed automatic transmission, and the diesel engine to a five-speed automatic transmission. Both feature sports shift, as well as the HIVEC computerised adaptive logic system, which recognises driving tendencies and will adjust automatic gear shifting sequences accordingly. There is MacPherson strut front suspension and multi-link rear suspension.
The Santa Fe has an electronic torque on demand 4WD system which uses sensors to monitor driving conditions. In non-demanding conditions it allocates nearly all of the available torque to the front wheels – effectively running in 2WD and improving fuel efficiency.  As road conditions or torque demand changes, it automatically distributes up to 50 percent of the available torque to the rear wheels as required. In particularly demanding conditions, a 4WD lock button lets drivers manually lock 4WD for a 50/50 torque split, which remains activated at speeds less than 40km/h. 
In addition, there is an Electronic Stability Program (ESP) as well as Electronic Brake-Force Distribution (EBD), which applies the optimum pressure to individual brakes in emergency braking situations. The Santa Fe also has a Brake Assist (BAS) system which applies maximum force to the brakes during emergency stops. The braking technologies are standard on all model variants and work in harmony with ABS.  There are dual front, dual side and dual (front to rear) roof-curtain airbags. Also featured are driver and front passenger active head restraints, as well as seatbelt load limiters and dual pretensioners for front seat passengers.  There are three-point lap diagonal (ELR) seatbelts for all passengers, and height adjustable front seatbelts.