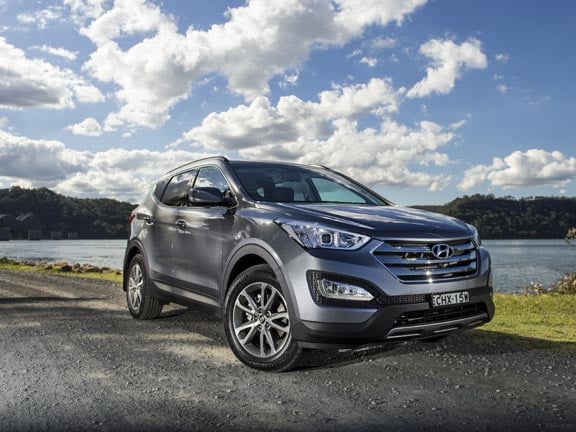 Base price: $73,990.
Powertrain and performance: 2.2-litre turbo-diesel four,145kW/436Nm, 6-speed automatic, four-wheel drive, Combined economy 7.3 litres per 100km.
Vital statistics: 4690mm long, 1690mm high, kerb weight 1864kg, luggage capacity 560 litres, fuel tank 64 litres, 18-inch wheels on 235/60 Nexen N8000 tyres.
We like: Exterior style, quality feel, muscular diesel.
We don't like: Fussy cabin, could do with more driver-assistance technology at this price.
How it rates: 7/10
WHAT DO I NEED TO KNOW?
The Hyundai Santa Fe Elite CRDi is the model in the range that seems to tick the most boxes: it has all the luxury equipment people seem to like on their crossovers and it has the R-series diesel engine that we all raved about in the last model.
Sounds like a great package, although it comes at a relatively high price: this CRDi (diesel) Elite costs $73,990, which is heading up into premium-brand territory. Is it justified?
WHAT'S IT LIKE TO DRIVE?
The turbo-diesel engine remains a mighty thing, with pulling power that belies its modest capacity. The six-speed gearbox is smooth but seems to be calibrated for economy above all else: it can be slow to respond to kickdown demands from the throttle, although that's not such an issue when there is so much torque to work with.
Santa Fe makes no claims about being sporty. Dynamically it's safe, with the front washing out into understeer in wet conditions or when cornering pace exceeds the comfort zone. This model has gained the FlexSteer system from the i30 and i40: you can select from three different levels of assistance depending on the driving conditions. None add what you'd call a lot of communication, but it's still a nice feature that allows you to personalise the driving experience a little.
IS IT EASY TO LIVE WITH?
If bling is your thing, the Santa Fe's cabin will please you. The layout could be simpler to be honest, but there's no doubt that the big Hyundai creates quite an impression when you get behind the wheel. The centerpiece is the long console, with a 'pinched' section in the middle and plenty of silver garnish.
The Elite comes with seven seats (lesser models have five) and is well-equipped with leather upholstery, satellite navigation with Suna real-time traffic updates (Hyundai is still the only local car brand to use this technology), seat heaters front and rear and a premium audio system
What more could you want? Well, at this price a few things, to be honest. The Elite still doesn't have adaptive cruise control and self-parking technology – unlike the flagship Sorento from subsidiary Kia. That will smart a bit for the potential buyer, especially when the Sorento is not quite as up to date design-wise as the Santa Fe (although the two do share a platform).
SHOULD I BUY ONE?
Lots of people do! The Santa Fe is certainly not a cheap vehicle, but the quality has risen in concert with the retail price. It's a very appealing and desirable vehicle, and certainly one that shows Hyundai is now an aspirational brand.
Just one thing though: the 2.2-litre R-series diesel is a fine powertrain, but it commands a $6000 premium over the petrol model. That's significant when there's a new 2.4-litre direct-injection engine on offer in the petrol Santa Fe that's quite impressive: it has similar power, but far less torque (242m versus 436Nm).
Whether the diesel is now worth the extra is up to you – but try them both before you buy.
EQUIPMENT CHECKLIST
Air conditioning: Dual climate
Audio: CD, iPod compatible
Automatic lights/wipers: Yes/yes
Blind spot warning: No
Bluetooth: Yes
Cruise control: Yes
Driver footrest: Yes
Gas discharge headlights: No
Head-up display: No
Heated/ventilated seats: Yes/No
Keyless entry/start: Yes/Yes
Lane guidance: No
Leather upholstery: Yes
Parking radar: Yes with camera
Power boot or tailgate: No
Power seat adjustment/memory: Yes/No
Remote audio controls: Yes
Satellite navigation: Yes
Seat height adjustment: Yes
Self-parking technology: No
Split/folding rear seats: Middle row 60/40, third row 50/50 (folds flat)
Steering reach adjustment: Yes
Stop-start: No
Trip computer: Yes
Find a Hyundai Santa Fe Elite HERE