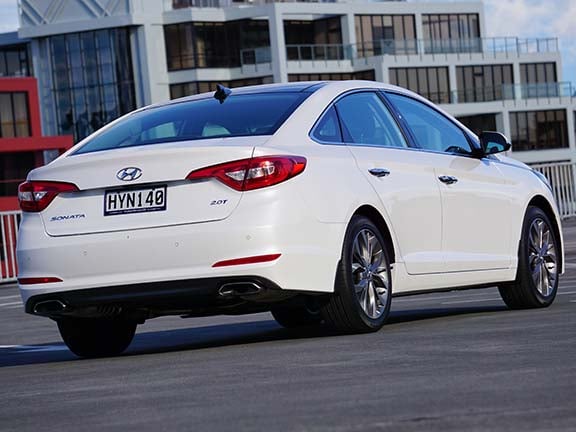 Base price: $55,990.
Powertrain and performance: 2.0-litre turbo petrol four, 180kW/350Nm, 6-speed automatic, front-drive, Combined economy 9.2 litres per 100km.
Vital statistics: 4624mm long, 1429mm high, 000mm wheelbase, luggage capacity 495-1500 litres, fuel tank 57 litres, 19-inch alloy wheels on 000/00 tyres.
We like: Startling performance, comfortable cruising car, lots of luxury equipment.
We don't like: Chassis can be scrappy under power, conservative cabin, no lane-guidance system.
How it rates: 8/10
WHAT DO I NEED TO KNOW? There's a lot going on in the new flagship Hyundai Sonata Elite Limited.
First and most obviously, the name has changed… back to Sonata, from the previous i45 badging. Why? Nobody at Hyundai seems quite sure, but at least it makes things a bit less confusing for people shopping for a mid-size sedan with the Korean brand.
Hyundai still offers two completely different models in this segment. There's the Sonata (previously i45), which is essentially aimed at Asian and American markets. Then there's the i40, which is designed primarily for Europe and has a different (smaller) body shape, diesel engines and sharper chassis dynamics. So now one's a name and one's a number, which makes things simpler.
But there's more to the Sonata than that. While the bulk of the range is powered by a 2.4-litre petrol engine, the top-of-the-line Elite Limited tested here boasts a high-powered 2.0-litre turbo powerplant. It's tuned for ultimate performance rather than a flat torque curve, which is why it's become informally known as the Sonata turbo.
You even get a bright blue 'T' badge on the back, old-school style.
WHAT'S IT LIKE TO DRIVE? Pretty wild at times. One hundred and eighty kiloWatts is a ridiculous amount of power to feed through the front wheels of a softly sprung luxury sedan and sometimes it's a matter of just hanging on and hoping for the best.
There's a slightly menacing edge to the soundtrack even at low speed. You couldn't complain of turbo lag by modern standards, but there's a perceived delay in the power delivery because it comes on with such ferocity past 4000rpm.
The traction control can't always contain all that power and torque. You're not going to spear off the road unexpectedly, but wheelspin and torque steer is not difficult to provoke in anything less than completely dry conditions. It's never dull.
The Sonata/i45 has has a problematic history with its handling. It's built to cater for more comfort-oriented tastes and the first iteration of the previous-generation model was heavily criticised for its soggy chassis and poor body control. It was fixed with a suspension retune by Hyundai Australia: still soft, but much more predictable and stable at speed.
This latest model strikes an even better balance between comfort and control. It's still a car built primarily for comfort, but the steering is consistent and the chassis tracks through bumpy corners in a faithful manner. It's not in the least bit sporty, but there's an air of composure about the Sonata that inspires confidence.
Just as well when you learn what happens with a firm right foot.
IS IT EASY TO LIVE WITH? The Sonata picks up many styling cues from Hyundai's new luxury model, the Genesis, inside and out: it's sharp but extremely conservative.
So don't expect to be wowed by the cabin styling, which is dominated by flat surfaces and large switchgear. But many will see virtue in this simplicity and there are some standout features, such as the crisp, clear and intuitive touch-screen.
As the Sonata flagship, the Elite limited has its share of luxury equipment: leather upholstery, heated/cooled front seats (also heated in the back, which is very rare), keyless entry and power everything.
It's pretty well served for driver aids and active safety features, although the Sonata is not fitted with a forward-facing camera so you don't get adaptive cruise control or lane guidance (both of which rely on this technology).
But the Hyundai does have parking radar front and rear, reversing camera, blind-spot warning and Hyundai's very clever boot-release system, which will unlatch the lid as long as the car is locked and you're standing behind it with the keys.
SHOULD I BUY ONE? Previously, the i45 (now Sonata) was the worthy-but-dull member of the Hyundai sedan family, while the i40 was the stylish and sharp one. The latter remains the most dynamically accomplished, but the most interesting? With the arrival of the Sonata turbo wearing Genesis-generation clothes and packing a massive performance punch, that's debatable.
EQUIPMENT CHECKLIST
Blind spot warning: Yes
Lane guidance: No
Cruise control: Yes
Automatic lights/wipers: Yes/yes
Parking radar: Front and rear with camera
Self-parking technology: No
Head-up display: No
Satellite navigation: Yes
Keyless entry/start: Yes/Yes
Stop-start: Yes
Air conditioning: Dual climate
Heated/ventilated seats: Yes/Yes (also heated in rear)
Power seat adjustment/memory: Yes/Yes
Leather upholstery: Yes
Power boot or tailgate: No
Split/folding rear seats: 60/40
Browse Autotrader's range of Hyundai Sonata cars for sale in New Zealand.