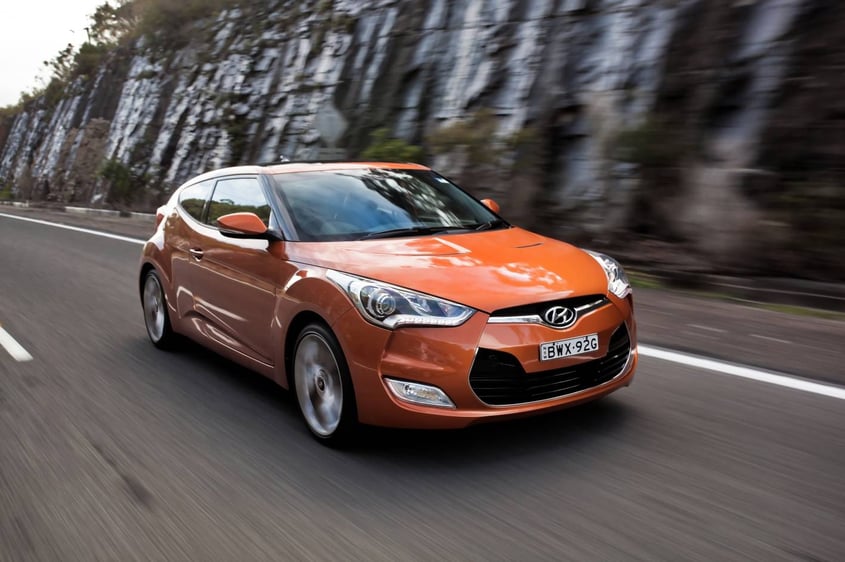 So the fact that Hyundai's new Veloster is a four-door – one aperture on the driver's side, two on the kerbside and a hatchback – is not the most interesting thing about the car.
Really, Veloster just dips into many genres that Hyundai knows well already. The Korean maker has many dramatic-looking cars in its range already. Hatchbacks?  Good at those. It even has a history with coupes; the so-called Hyundai Coupe (later Tiburon) from 1996 was arguably the first car from the brand with truly international appeal.
Point is, despite its claim to quirkiness, the Veloster should be a pretty polished effort and in most respects it is. It's solidly put together, well-equipped and pretty decent to drive. Not sporty – it's based on the Elantra platform, after all – but competent and a pleasant day-to-day companion.
Perhaps the most interesting thing about the Veloster is what you can't see: its powertrain. It has a direct-injection 103kW/167Nm 1.6-litre engine and it's the first Hyundai sold in New Zealand to have the new dual-clutch six-speed automated-manual gearbox that'll eventually find its way into other small cars from the Korean brand. In this application it achieves combined economy of 6.4 litres per 100km.
Hyundai obvious wants to push the green credentials of this car: the touch-screen allows you to play a curious game where you get 10 minutes to get a big an eco-score as you can be driving thriftily. I managed 20,000 points at one stage, which is really good. Or average. Or perhaps very bad, I'm not really sure. The kids liked it, anyway. Veloster's power-to-weight is slightly inferior to that of the Elantra so don't expect it to be quick (0-100km/h in 9.5 seconds). But the new engine is a crisp performer in the upper reaches and the dual-clutch transmission gives a lot more bite than a conventional automatic, given that it's direct-drive just like a manual gearbox. Which it is, despite only having three pedals (it's similar technology to Volkswagen's DSG or Ford's PowerShift).
So it's not thrilling, but Veloster is an enjoyable car by taking care of the small details – perhaps a sign that Hyundai really has matured.
While power-to-weight is not stunning, that's more to do with modest power than a lot of weight. Veloster tips the scales at less than 1300kg and that does bring benefits in the handling feel. It's not agile, but the Hyundai does flow nicely from corner to corner, albeit with the occasional rattle from the steering rack on bumpy bits of tarmac.
The cabin styling will be a bit garish for some tastes (it's a Hyundai thing) but the $44,990 flagship Elite model is well-finished and impressively well equipped for the money, with some unexpected goodies like panoramic glass roof, reversing camera and tyre pressure monitoring. As well as the usual gear like leather upholstery and Bluetooth. It's still a practical four-seater of course, with a 320-litre boot and split/folding rear seats.
So even when fashion and novelty value desert you – could happen any time, to be honest – you're still left with a useful hatch-coupe-thingy in the garage.