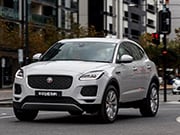 TELL ME ABOUT THIS CAR
Jaguar's new E-Pace is a fun-driving and spacious small-SUV that's expected to become the British brand's biggest seller. The E-Pace range starts at $47,750 (AUD), with the P250 S priced from $57,600 – about nine places down the 38-variant E-Pace range.
The 'P250' suffix signifies the gutsy 183kW/365kW 2.0-litre turbocharged 'Ingenium' engine, which is the smaller of the two turbo petrols in the E-Pace range. The S marks it out as the second-tier spec-grade, which brings additional features over the standard P250, including signature daytime running lights; auto-dimming interior mirror; auto-dimming, power-folding, heated-door mirrors with puddle light; power-adjusted leather seats, satellite navigation and bigger 18-inch alloy wheels.
STRENGTHS
It's fun to drive, especially around town. The steering is light and direct, the wheels feel well planted and the throttle response is instant requiring a light foot if you want to maintain a constant speed with the cruise cntrol off.
The powertrain is excellent, with the 2.0-litre turbo petrol engine providing plenty of oomph, which is complimented by the smooth-shifting nine-speed automatic transmission that has no trouble keeping up with throttle or brake inputs.
It's comfortable. The front seats feel like they're hugging you and afford a relaxed driving position with good forward vision.
The rear comfortably seats two adults or three children, with excellent leg and headroom. Conveniences include air/heating vents, deep door bins, map pockets, and three USB ports that should help avoid arguments from backseaters on long trips.
The wide rear-door entrance makes getting in and out, or placing babies in car seats, easy.
It's quiet, with minimal wind and tyre noise. Jaguar has added a synthetic engine noise that's pumped through the front speakers when you put the foot down. It sounds quite genuine and rather pleasing, unlike similar systems in some other cars that sound fake and get a little grating.
The boot space measures a very useful 484-litres with the rear seats in place.
The E-Pace isn't the most striking Jag ever designed, but it has attractive styling that makes it stand out amongst its peers.
WEAKNESSES
It's heavy. The E-Pace has a hefty 1832kg kerb weight which is more than many bigger medium-sized SUVs. Next to its main rivals, it's about 120kg more than a similarly sized Volvo XC40 and about 230kg more than the Audi Q2.
That weight makes it a little thirsty for a 2.0-litre-turbo small-SUV, with the claimed combined fuel economy rating of 7.7L/100km pushed out to 10.7L/100km during our testing.
The E-Pace's heft also affects its high-speed handling on country roads. The ride is pretty bouncy and there's plenty of body roll which is particularly felt in the rear seats. That lean is eased a little when switching from Comfort to Dynamic drive mode.
The standard black interior colour scheme is a bit dull and robs the E-Pace of the elegance that's usually associated with Jaguar cars. 

 
While the features list is pretty long, there are costly options that would be standard kit in other competitor SUVs such as high-speed automatic emergency braking, adaptive cruise control, blind spot monitoring, keyless entry and heated front seats.

 
ARE THERE ANY RIVALS I SHOULD CONSIDER?
Other premium small-SUVs/crossovers include the Audi Q2 and A3, BMW X1 and new X2, Mercedes-Benz GLA and Volvo XC40.