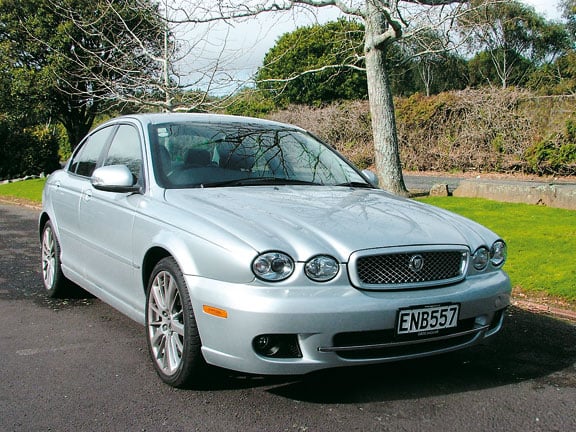 What is it with Jaguar's X-Type compact luxury sedan? I've had two for Road Test and each time one has been in my hands the weather has been absolutely appalling.
The first X-Type we sampled was the 3.0-litre Sport, complete with all-wheel drive transmission and a nice turn of speed. We waited for days for the weather to break and when  it didn't, and Sunday had come around and the baby cat was due to go back on Monday, we had no choice but to drive it, regardless of the weather.
And it provided one of the most satisfying drives of my life, the 4WD Jaguar completely unfazed by roads that were doing a good impression of shallow rivers and offering unshakable grip. In fact, we ended up searching out more and more demanding roads and only reluctantly headed home.
You can't saunter into a Jaguar showroom in New Zealand and drive out in an X-Type Sport AWD any more. The $79,990 X-Type range flagship is a special order-only car. Your instant-buy choice now is between two front-wheel drive models, the petrol 2.1-litre Sport and the turbocharged 2.2D diesel Sport. They're mirror-priced at $64,990.
We've yet to check out the 2.1-litre petrol V6 version, but have just spent a highly-satisfying week with the diesel.
The petrol motor develops 117kW of maximum power at 6800rpm, 200Nm of peak torque at 4100rpm, and pushes the five-speed automatic gearbox X-Type to 100kph in 10.8 seconds with quoted fuel use of 10 litres/100km.
The diesel produces less horsepower – 107kW at 3500rpm – but almost doubles the torque, pumping out a stout 366Nm at 1800rpm.
It cuts the X-Type's 0-100kph time to 9.9 seconds and consumes diesel at a quoted rate of 6.9 litres/100km. On paper the choice looks a no-brainer, the diesel winning on both performance and economy and only being hobbled by the crazy road user charges.
We were being lashed by ferocious weather when the X-Type diesel was in our possession, though things did clear up enough to take the car on a leg-stretching open road run.
In daily commuting and on the open road, the FWD diesel reinforced our conclusion – based on the AWD car's stellar wet road performance – that the X-Type is a credible compact luxury car.
There was a time when the words diesel and high-performance seemed incompatible – I can remember vividly the somewhat ludicrous sight of a spoiler-festooned car with a noisily rattling diesel motor sitting roadside in Milan, Italy, 20 years ago.
But nowadays, the diesel motor is no longer an incongruous power unit for a car with sporting intentions – after all, Audi has used diesel-powered cars to win the Le Mans 24-hour sports car race in France for three years' running.
You're aware of the Jaguar's motor being a diesel only on initial start-up. There's some muted rattling and a high-pitched chatter when you accelerate before the motor is properly warm. After that you're unaware that it's an oiler. It's smooth, quiet and delivers creamy torque.
It's also difficult to detect that you're at the helm of a front-wheel drive car. There was no wheelspin accelerating from rest on slippery wet roads, and no intrusive understeer. The car turned-in with precision and directness and tracked accurately. The variable-ratio, speed-sensitive power steering was a little lacking in feel at the straight-ahead position but weighted up nicely and offered good feel in open-road cornering.
Grip was formidable, even on wet roads and the X-Type proved an accomplished open-road cruiser, with a nicely-balanced blend of agility and bump-absorbing ride quality and nigh-undetectable understeer. In fact, in most conditions you could have been fooled into thinking it was all-wheel drive.The ride is exceptionally-good and there's little bump-thump on uneven surfaces.
When the car was pushed hard on a winding road there were some complaints from passengers that the Jag felt a little "floaty", but from the driver's perspective the trade-off between agility and ride quality was more than acceptable.
It's a supreme cruiser for State Highway 1 or motorway journeys, covering ground effortlessly and in impressive quietness, even on chip-surfaced roads. The cabin is comfortable and lavishly-equipped and has a true luxury car feel. The excellent seats are upholstered in soft-grain leather finished in a diamond-sewn pattern.
There's good front cabin legroom and the rear cabin is roomy enough, though legroom will be somewhat compromised if the driver is tall and has the seat set far back. Front seats are electrically adjustable.
The test car was finished with piano black veneer accents. The cabin is a nice play to be and complemented the seven-CD, six-speaker sound system perfectly.
Standard equipment is comprehensive, and Jaguar offers no optional extras for the diesel X-Type. For your money you get automatic air-conditioning with pollen filter, a leather-wrapped four-spoke steering wheel with audio and phone controls, Bluetooth connectivity, a trip computer, automatic on-off headlights, rain-sensing windscreen wipers, one-touch power windows, twin cupholders front and rear, 70/30 split-folding rear seat, a carpet mat set, 18-inch alloy wheels, front foglights, a bootlid spoiler (discreet, of course), an alarm system with engine immobiliser, and power exterior mirrors that can be folded for parking.
Dynamic equipment includes cruise-control and rear parking sensors.
Safety gear is comprehensive and includes front and side airbags for front seat occupants and side curtain airbags the length of the cabin; traction control; Dynamic Stability Control; ABS anti-lock braking with electronic brake force distribution and emergency brake assist.
We don't think any X-Type diesel buyer will feel short-changed.
Much has been made of the X-Type being based on the Ford Mondeo chassis. However, it's a very different car, building on the excellent handling and dynamics of the Ford platform and achieving a true Jaguar feel.
Styling is always a contentious issue, and some people commented that the X-Type didn't look like a "real" Jaguar, whatever that might be. I think the stylists have made a good first of achieving a Jaguar look in a much smaller car than is usually associated with the marque.
To me the X-Type looks and is every inch a Jaguar – a blend of elegance with a strong flavour of athleticism, superb ride comfort, finely-honed road manners and, with the excellent diesel motor, strong and smooth performance.
It's a very credible entry in the compact luxury sector, rewarding to drive and nice to be in and brimming with feel-good factor.